Post by deathroll on Sept 19, 2014 12:57:19 GMT -5
The Gators hired Coach Tom Lieb from Loyola Marymount to restore the program in 1940. Having been an assistant under Knute Rockne, Lieb was a practitioner of the "Notre Dame box" (option) Offense which utilized motion and ball-faking which he would implement in place of the power based Offense the Gators had utilized without much success in the late 30's under Josh Cody. In 1940, the team went 5-5 with notable wins over Georgia, Georgia Tech and scUM, and losses to Auburn, Texas, Tennessee.
The 1941 season proved to be a disappointment at 4-6. Although the Offense was slightly more effective than the year before especially with the outstanding play of Ends Forest "Fergie" Ferguson and Nick Klutka, the team still struggled against SEC competition as it had for much of the 30's going 1-3 in-conference. Two weekends after the attack on Pearl Harbor, the Gators played their final game of the season against UCLA in Jax. 1942 saw a mass exodus of students from the all-male campus and the football team was no exception. Some programs (like Georgia) were able to keep their teams partly or completely intact depending upon a variety of factors while others lost almost all their players to the war effort. UF was one of the latter.
Though severely depleted, the university decided to field a team from the students who remained. The team finished 3-7. UF did not field a team the following year due to a severe lack of players. The campus was largely empty. The team was reconstituted in 1944 and played an abbreviated 7 game schedule in which it finished 4-3. In 1945 with World War II in its final stages, UF played a full 10 game schedule. The 4-5-1 record and continued inability to beat Georgia however led to great frustration on the part of students and alumni and as an expression of their frustration, students hurled coach Lieb into a lake. His contract was not renewed.
Raymond "Bear" Wolf was hired as head coach in 1946. He had been a TCU standout and then the head man at North Carolina until the military brought him to the rank of Major during WW II. Returning war veterans arrived on campus in force in the fall of 1946. The 1946 Gators finished 0–9, the worst football season in Gators history. Wolf's debut run of 13 consecutive losses upon taking over in 1946 earned his coaching tenure the sarcastic term of "The Golden Era" - because it wasn't. His Double Wing offense never really got off the ground with 1948's 5-5 record the high-water mark. Even with talented HB Chuck Hunsinger, famous enough to have a song written and sung about him throughout the South and a good 28-7 win over an uncharacteristically weak Georgia team, Wolf's 4-5-1 record in 1949 would not be enough to hold his job. Florida would remain a tough place to win until changes were made in admission policies.
One bright spot during the immediate post-war years was "Mr. Two Bits", who attended his first home game that fall, and began his personal sixty-year tradition of leading Gator fans in the "two bits" cheer at Florida Field. Even the governor became involved, wanting the state to have a football-playing university that was representative and could on occasion, beat their neighbors from Georgia. On January 6, 1950, Baylor head coach Bob Woodruff was hired but only after he insisted on a commitment that would at least give him a fighting chance to compete. He insisted upon and received the commitment to expand Florida Field and play home games there instead of barnstorming all over the state as had been done previously. Increased admissions standards instituted because of Florida's expanding population including a placement test and the need for higher grades made the Gators' admission requirements much more stringent than those required for other SEC schools-which hampered recruiting and left many excellent Florida players to attend out-of-state rivals. Florida's 33-50-3 record (40.1% winning percentage) marked the 40's as the worst decade in the history of the program.
Jimmy Kynes: C/LB 1947-1949
- Kines was the Gators' first All-SEC lineman as a Center in 1949 and was the last Gator to play 60 minutes in a game, averaging 55 minutes that season. He is best remembered for his play in the 28-7 win over Georgia in '49 that broke a seven-game losing streak to the Bulldogs. He became the youngest Attorney General in Florida in 1964.
Floyd Konetsky Guard 1940-1942
he was selected in the 1943 NFL draft.
Chuck Hunsinger Tailback 1946-1949
had a brilliant career at UF rushing for over 2,000 yards. He was the 3rd overall selection in the 1950 NFL draft. Vs Georgia in 1949 rushed for 174 yards on 18 carries and scored 3 TDs leading the Gators to victory.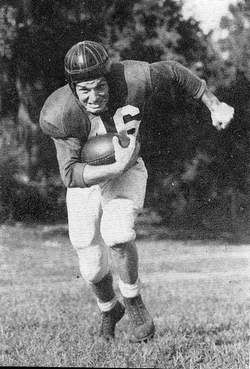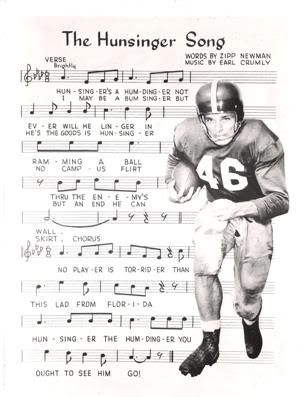 Paul Duhart Back 1942
Paul Duhart played freshman football at UF before serving in the Armed Forces during WWII. After his discharge, he played a year with the 1944 NFL Champion Green Bay Packers before becoming the second overall pick in the NFL draft by the Pittsburg Steelers in 1945.
Nick Klutka End 1940-1942
was drafted into the NFL in 1946 after being discharged from his wartime military service he played for one season with Buffalo.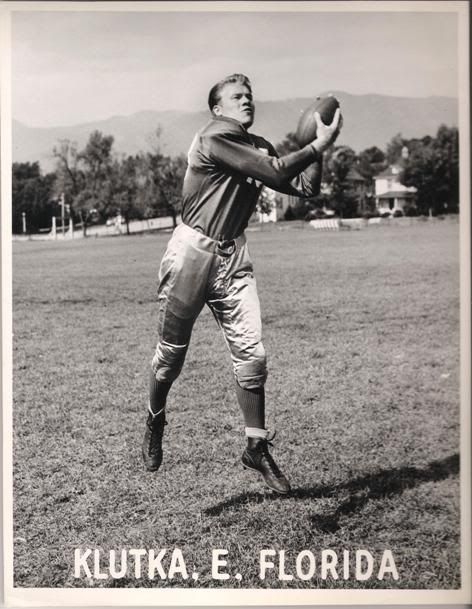 Forest "Fergie" Ferguson –End 1939-1941
starting every game in his Gator career, Ferguson was a star receiver and DB who was named as an All American in 1941. He was also the state boxing champion in 1942 and a track star, winning the national AAU javelin title. Ferguson set receiving records that stood until the pro-style passing attacks of the 1960's. Severely wounded in battle on D-Day, he never really recovered and passed away from his war wounds in 1954.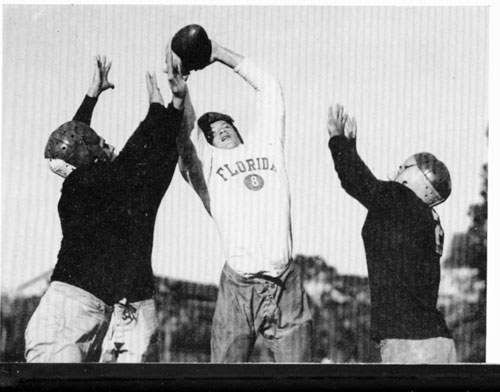 Hal Griffin 1946-1949 Halfback/Punt Returner
Griffin still holds the UF and SEC records for highest average on punt returns for a season at 26.7 in 1947. He also holds the UF record for average for a career at 18.6. Of the 14 longest punt returns in the history of the school, Griffin still owns four of them including the top two.
Hal Griffin #80 with head coach Raymond "Bear" Wolf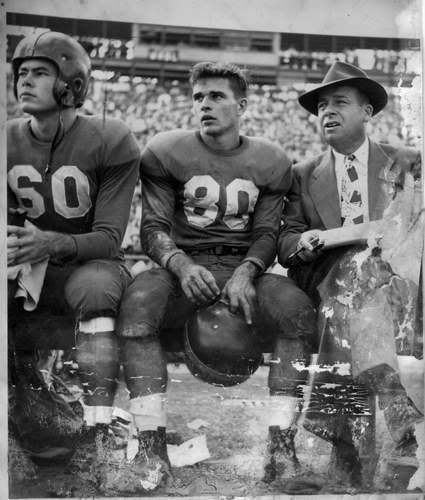 Frank Dempsey late 40's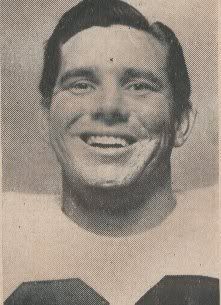 Bill Corey – Fullback and team captain 1942
he was inducted into the army upon graduation and lost his life while serving in General Patton's 3rd army in its drive across France
Head Coach Raymond "Bear" Wolf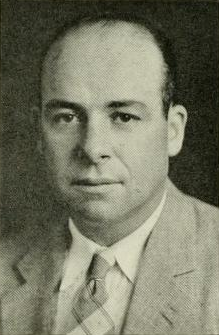 Players give Coach Bear Wolf a victory ride after the 1949 victory over UGA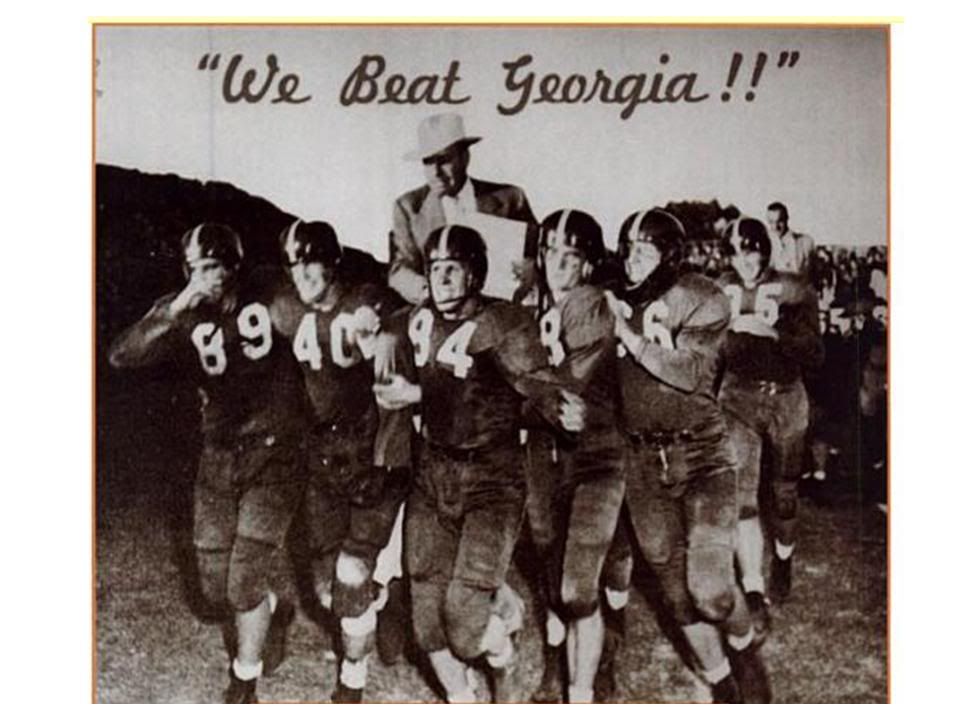 Head Coach Tom Lieb
Head Coach Tom Lieb on left
Gator Helmet 1940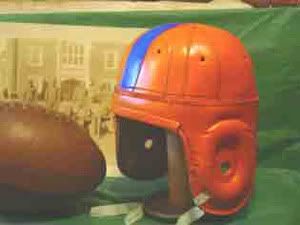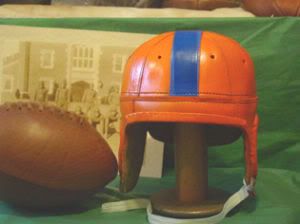 Gator Band 1948
Gator Uniform 1944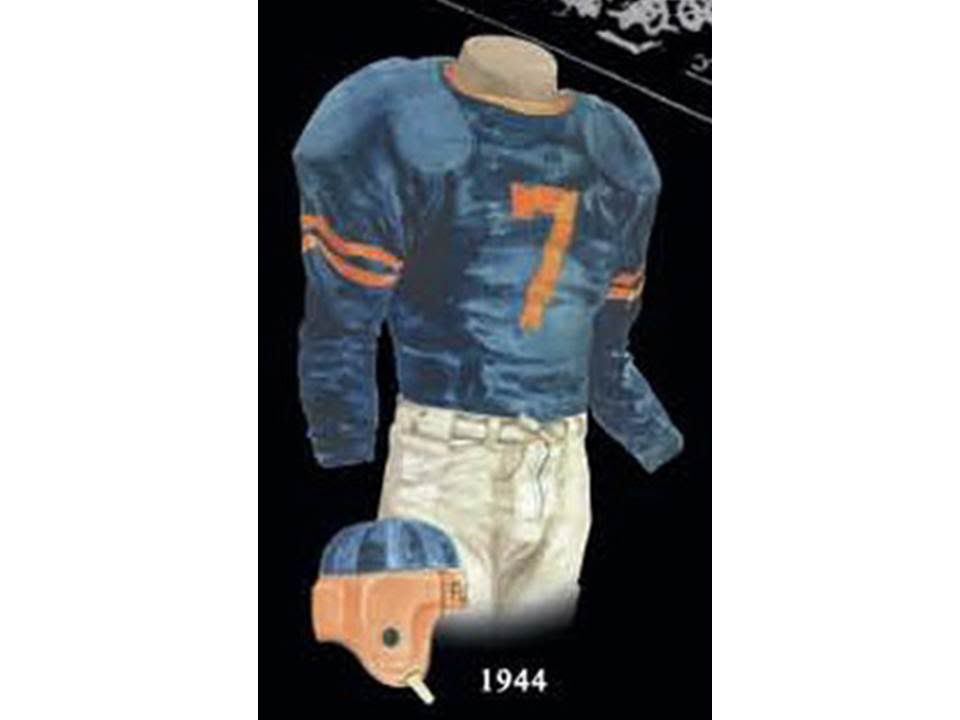 Gators 1941 Team photo
First Plastic Helmet 1949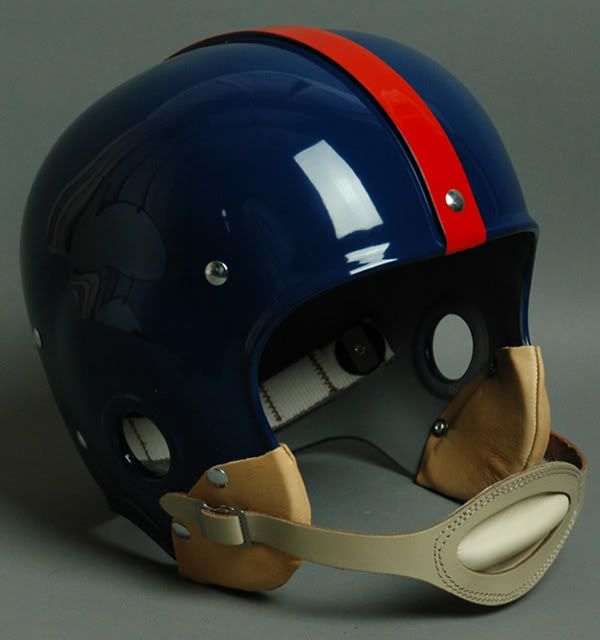 Gators in the dugout with fans behind 1940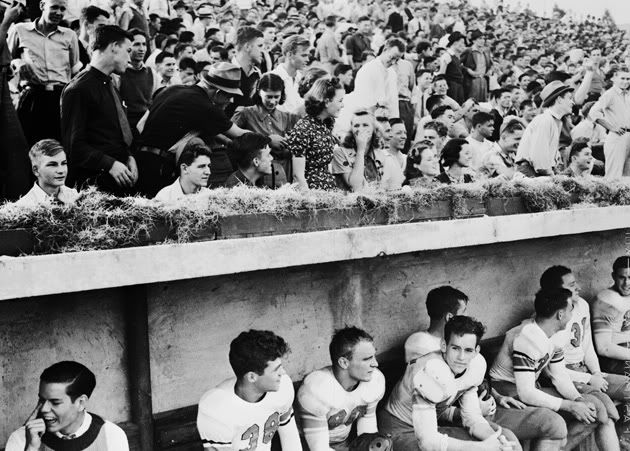 Gators 1940's game action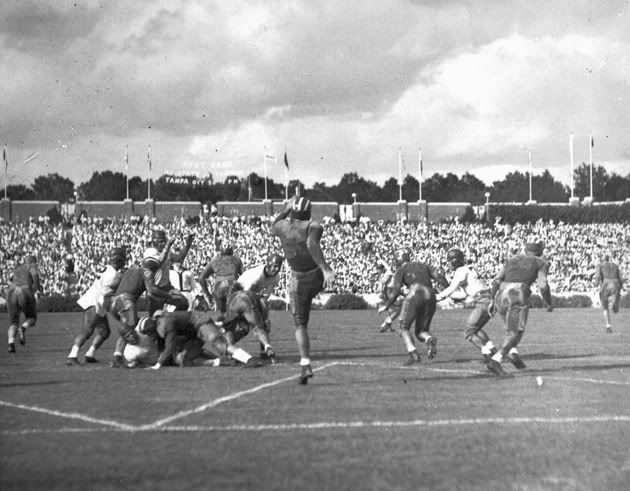 Gators 1940's game action
Gators 1940's game action
Gators vs Ga Tech 1940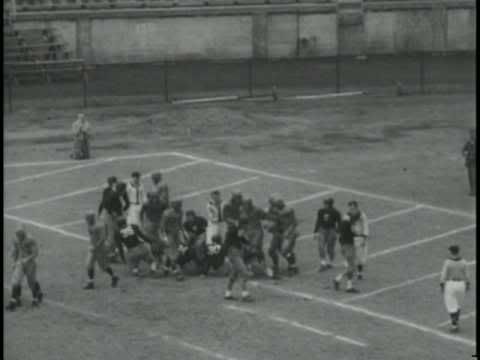 Mr Two Bits started attending Gator games immediately after WWII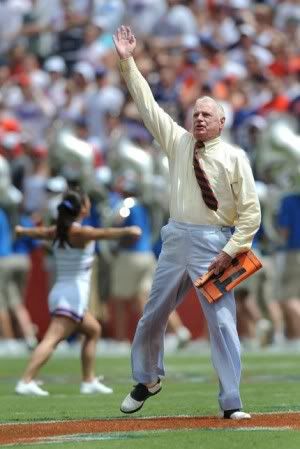 Some things never change