Post by deathroll on Sept 23, 2014 13:55:08 GMT -5
After nearly two decades of Florida not being competitive in the SEC, Governor Fuller Warren promised to ease the crippling academic restrictions in place on state schools (Florida had not allowed any exceptions for admittance unlike every other state in the SEC area which left UF unable to sign the kinds of athletes it needed to compete). After obtaining assurances that he would have a more level playing field to work with, stodgy Bob Woodruff was hired from Baylor in 1950. He went 53-42-6 in 10 seasons. Under Woodruff, the Gators had a pattern of opening the season strongly and then fading down the stretch. To his credit, Woodruff stabilized the program financially, beat Georgia six times, churned out a handful of All-America linemen and led the team to its first bowl appearance, a 14-13 victory over Tulsa in the 1953 Gator Bowl.
But Woodruff was not exactly Knute Rockne in the locker room; he deemed himself "the oratorical equivalent of a blocked punt," and his rallying cry was "ooski wow-wow!" After a 13-13 tie with Rice in 1959, during which Woodruff had opted to run out the clock rather than risk an interception in his own territory, the coach's own words no doubt hastened his ouster. "I'll gamble to win," he said, "but I'll never gamble to lose."
After two years of decent 5-5 records (that represented an improvement over the dreadful records of the 30's and 40's, the 1952 Gators led by a stoud Defense featuring All-American Tackle Charley Lepradd and powerful Fullback Rick Casares on Offense broke out for an 8-3 season and the first "official" Bowl Game, the 1953 Gator Bowl (at the time probably about the 5th biggest bowl game in the country after the Orange, Sugar, Rose and Cotton Bowls) on January 1st, 1953 which UF won 14-13.
The return of two platoon football in '53 left Florida with many gaps due to a lack of depth. As a defensive specialist, "Burly Bob" as the head coach was often referred to in deference to his 290-pound heft, often kept the offense hamstrung with his conservative approach and play-calling. HB Mal Hammack was the main Offensive threat and was spelled by Tailback Don Chandler who doubled as a punter. Not surprisingly, 1953 proved to be a subpar season at 3-5-2. The typical fast Florida start slowed with losses in the last three contests with QB a problem through all of '54. The defense was solid but Woodruff contributed to his reputation of losing the big ones, going down to Georgia Tech, Auburn, Kentucky, and Miami in close, winnable games.
After a disappointing 5-5 1955 season, 1956 was the final year of his contract and Woodruff was feeling the pressure but he had some weapons to work with. John Barrow was an All American guard, QB Jimmy Dunn who signed with the Gators despite the protests of Florida State that he had committed to them was, at 147-pounds, what Woodruff termed "the best pound-for-pound player I have ever coached". Sophomore DT Vel Heckman proved to be a real player as did DB John Symank. Soph HB-DB Bernie Parrish looked like a winner too. Dunn led the team to a good 6-3-1 season.
Bad luck hit the team immediately in 1957. NCAA probation for the illegal transport and feeding of basketball and baseball recruits also sanctioned football and an outbreak of Asian flu among the Gator players caused the cancellation of the opener against UCLA. The defense rose up to stuff Billy Cannon and upset powerful LSU 22-14 and they won 22-0 against Georgia. Bernie Parrish played both ways effectively but was especially noted for being a blanketing defender. QB Jimmy Dunn and a fairly stout Defense led the team to a good 6-2-1 record though the fans were often bored by the lack of offense and willingness to punt or quick kick on third down on a regular basis.
The start of the series with Florida State after years of argument and resistance, a 21-7 Gator win, highlighted the 6-4-1 season of '58. Vel Heckman was named an All American tackle. Against defensive-minded Ole Miss in the Gator Bowl, some quipped that the game could be a 2-0 affair and they weren't far off as Ole Miss won a defensive battle, 7-3 despite the offensive acumen of QB Jimmy Dunn. With a great freshmen class in the wings, Woodruff wanted to stay at Florida but knew the heat was on for '59. The Gators beat Florida State and Miami but 5-4-1 wouldn't be enough to save Woodruff's job. His 53-42-6 record and wins in six out of ten Georgia games raised Florida from a "have-not" to respectability but it was not good enough and Woodruff was fired.
Rick Casares Fullback 1951-53
: A two sport star at UF out of Tampa, (he also played basketball) he was a first round draft pick of the Chicago Bears and went on to play 13 years in the NFL.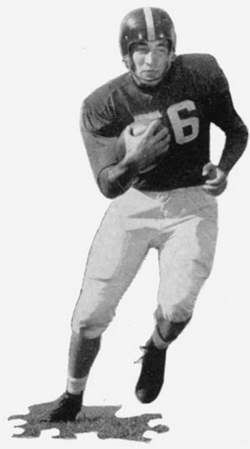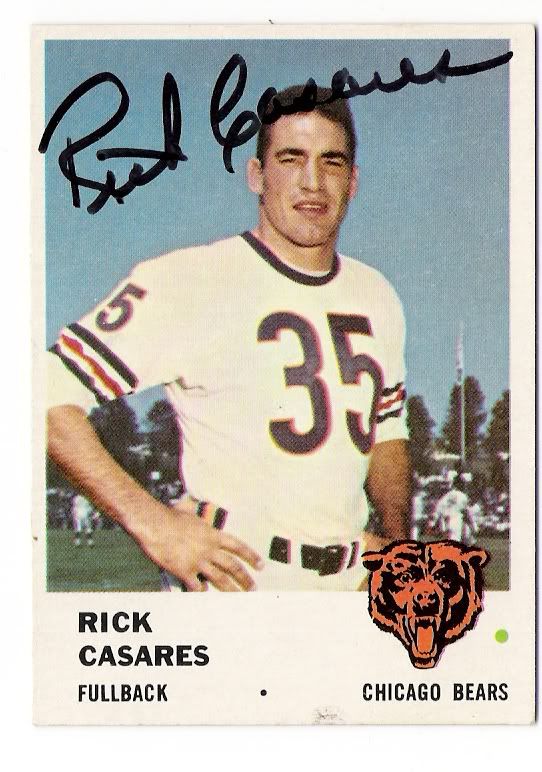 Charlie LePradd Tackle1950-1952
. A first team All-America at Tackle (back when players played two ways) after having been a US Army paratrooper prior to attending UF.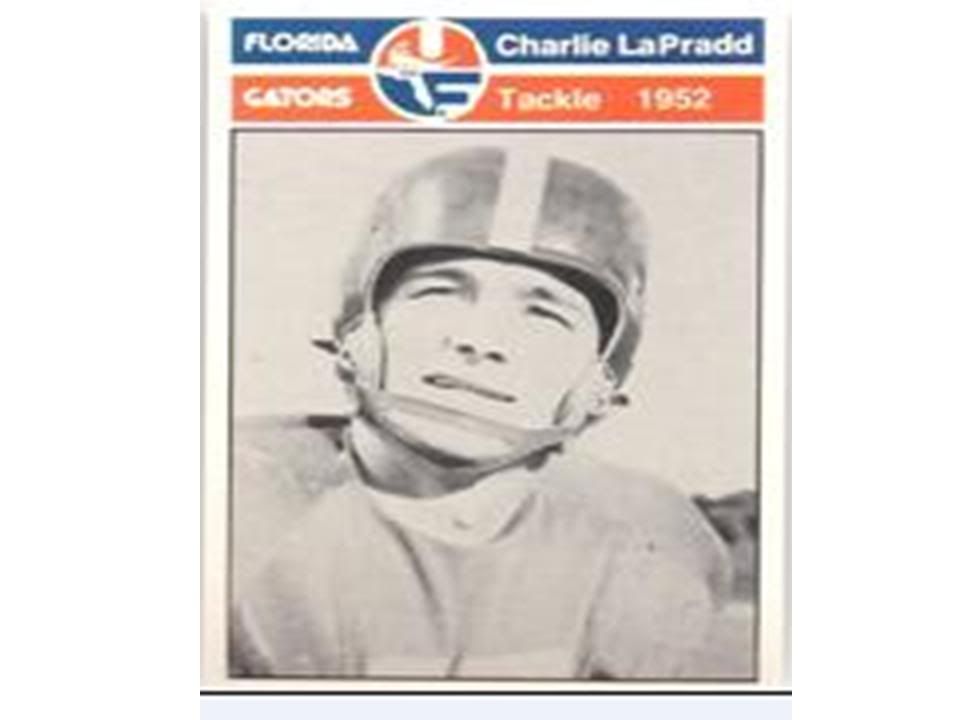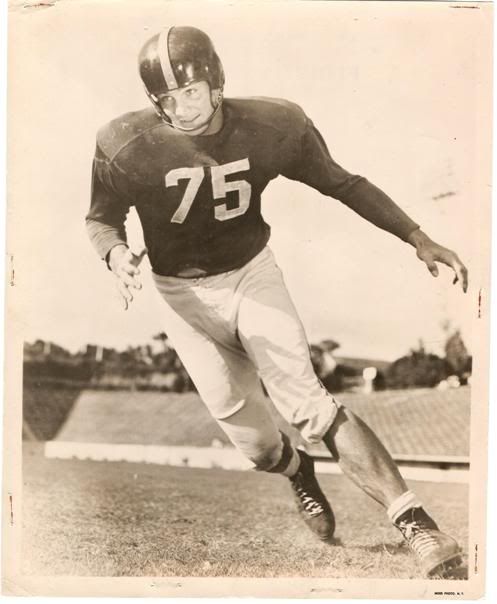 John Barrow Defensive Tackle 1954-1956
. First team All-America and SEC lineman of the year. Was persuaded to play football in Canada and passed up the NFL. He ended up playing 15 years in the CFL.
Don Chandler Kicker/Punter 1954-1955.
Transferred into UF from tiny Bacone College in Oklahoma. Played 12 years in the NFL including the first two overtime games (the 1958 classic between the Colts and Giants being one of them) and was named to the NFL's all-decade team for the 60's.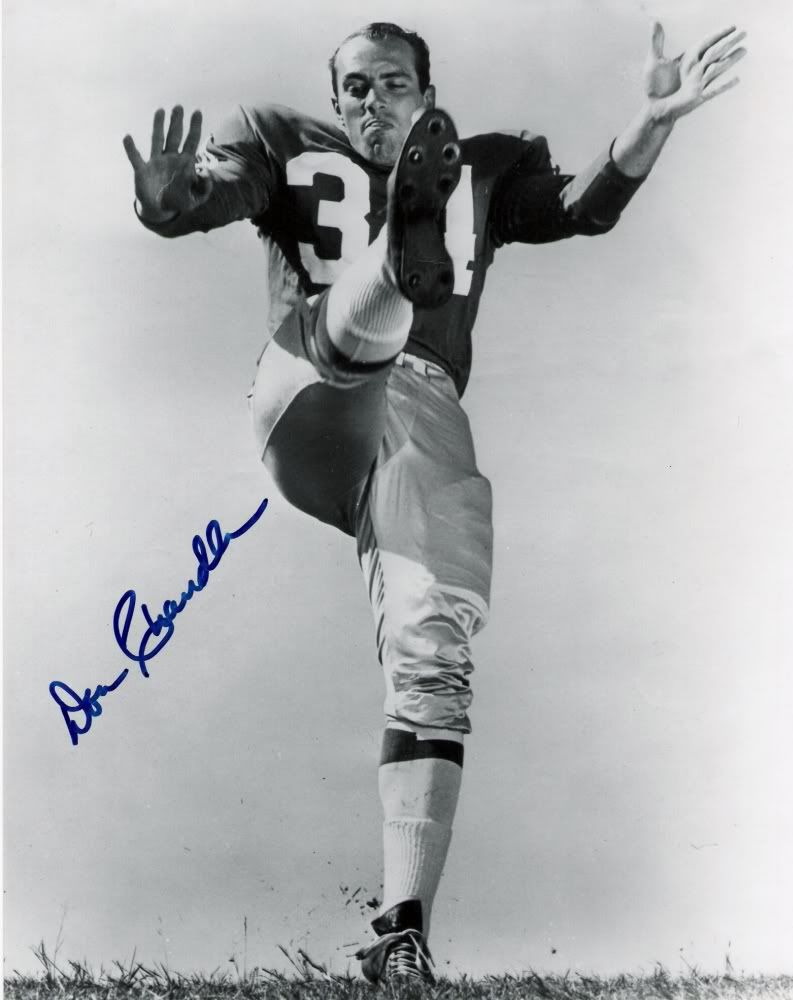 Vel Heckman Defensive Tackle 1956-1958
was an undersized but very quick Defensive Tackle. He earned first team all-America status in his senior season of 1958.
Mal Hammack Fullback 1954
Juco from Roscoe, Texas, played 12 years in the NFL.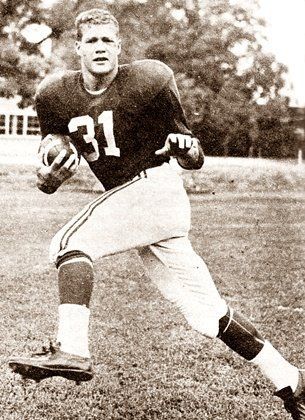 Bernie Parrish Tailback/Cornerback 1955-1957
Parrish's list of athletic accomplishments is long. A legendary high school athlete who was named to All-State teams in football, basketball, and baseball, Parrish went on to play for the Gators. He was named the best blocker and tackler in the SEC by that conference's head coaches.. Continuing his baseball career, Parrish was named an All-American in that sport as well. He went on to a 9 year pro football career passing up a professional baseball career after having been drafted by MLB as well. Later he became a bestselling author of They Call it a Game about the NFL.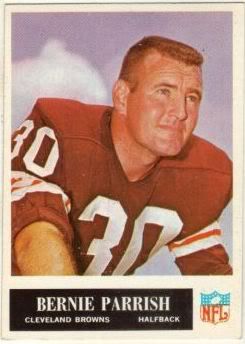 Jimmy Dunn Quarterback 1956-1958
Despite the protests by fsu that Dunn had committed to them, he signed with the Gators and although a pint-sized 5'10' 147 pounds, Dunn was nonetheless and effective runner due to his excellent quickness.
Jimmy Dunn and Don Fleming 1958
Jimmy Dunn carries vs fsu 1958
John Symank Defensive Back 1955-1956
transferred from Arlington (Tx) State Junior College he played 7 seasons in the NFL .

Haywood Sullivan Quarterback 1950-1951
was the starting Quarterback but left school after being selected in the major league baseball draft (he was also a star on the Gator baseball team). He went on to become a catcher in Major League baseball late a manager, general manager and club owner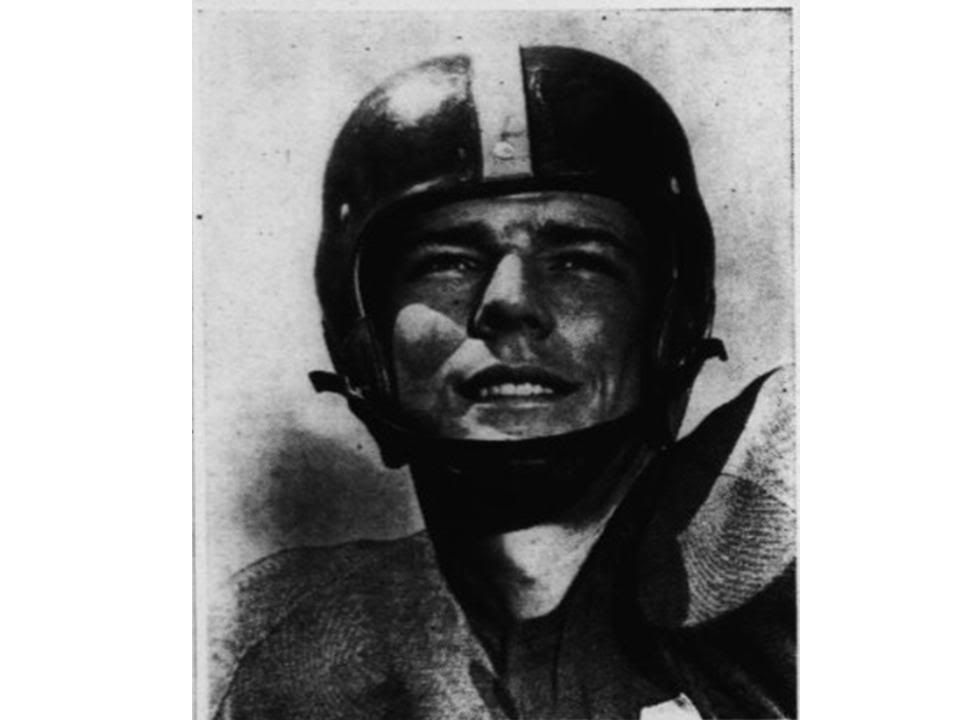 John "J. Papa" Hall Tailback/Defensive Back 1950-1952
Also a track star at UF, he teamed with Buford Long and Rick Casares to give the Gators a powerful rushing attack in the early 50's. He was the MVP of the Gators' first bowl game-a victory over Tulsa in the 1953 Gator Bowl
Buford Long Defensive Back/Tailback 1950-1952
One of the Gators' star backs in the early 50's he went on to play 3 seasons in the NFL.
Buford Long scores vs Kentucky 1952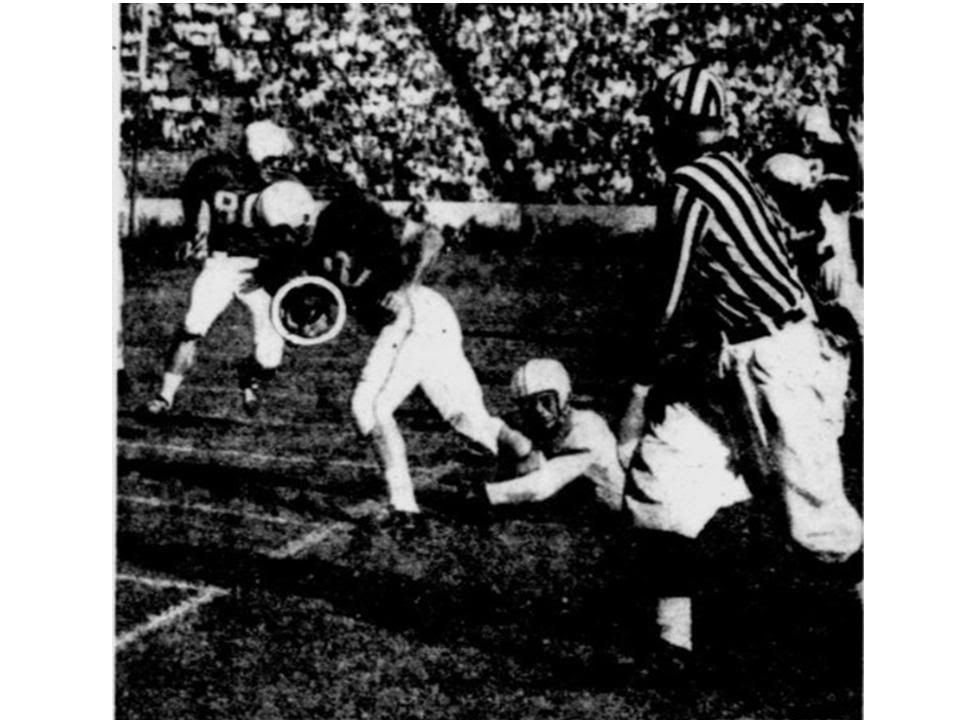 Bobby Joe Green kicker/Tailback 1957-1959
Played 14 years in the NFL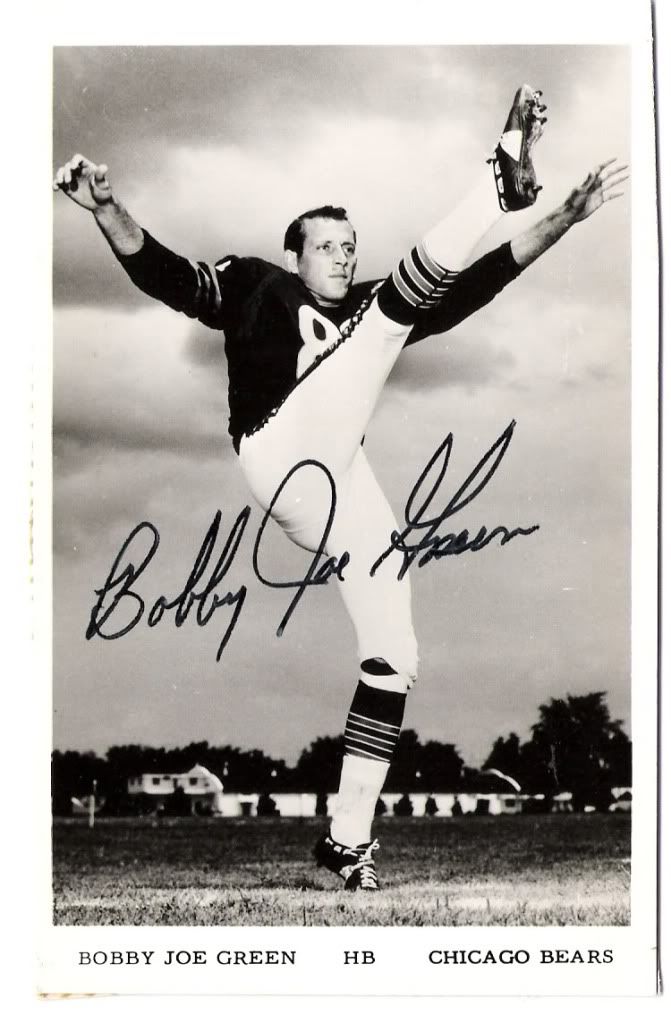 Jim Rountree Defensive Back/Wide Receiver 1955-1957
First team all SEC played 10 years in the CFL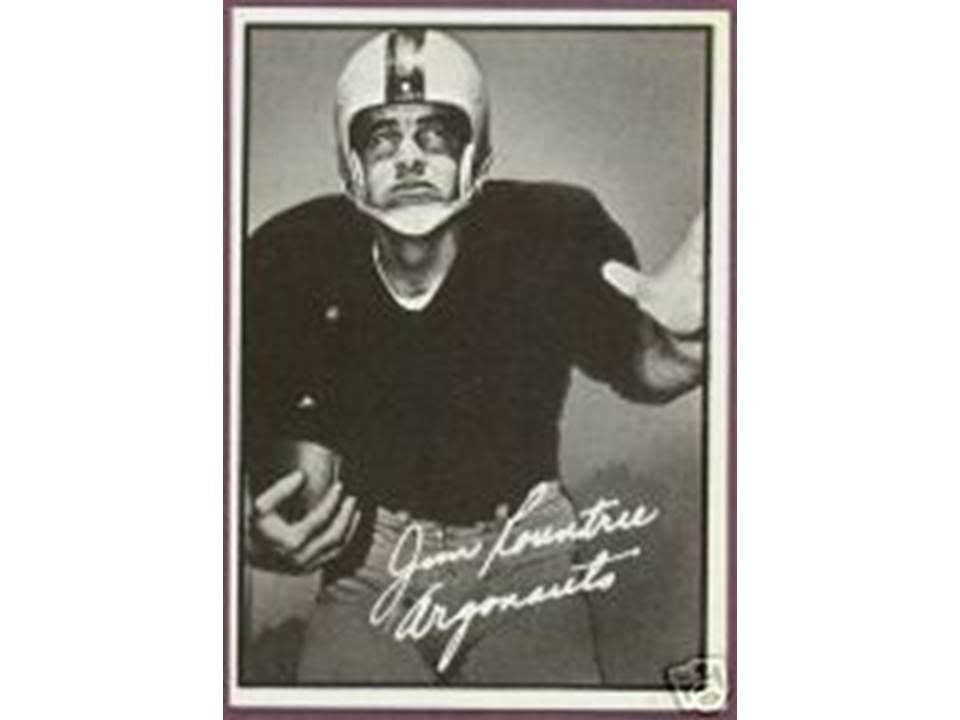 Don Fleming Safety/Wide Receiver 1956-1958
Played 4 years in the NFL and was named All-Pro in 1962 before his death in a construction accident in 1963
Don Fleming scores vs UGA 1957
Joe Brodsky Fullback 1954-1956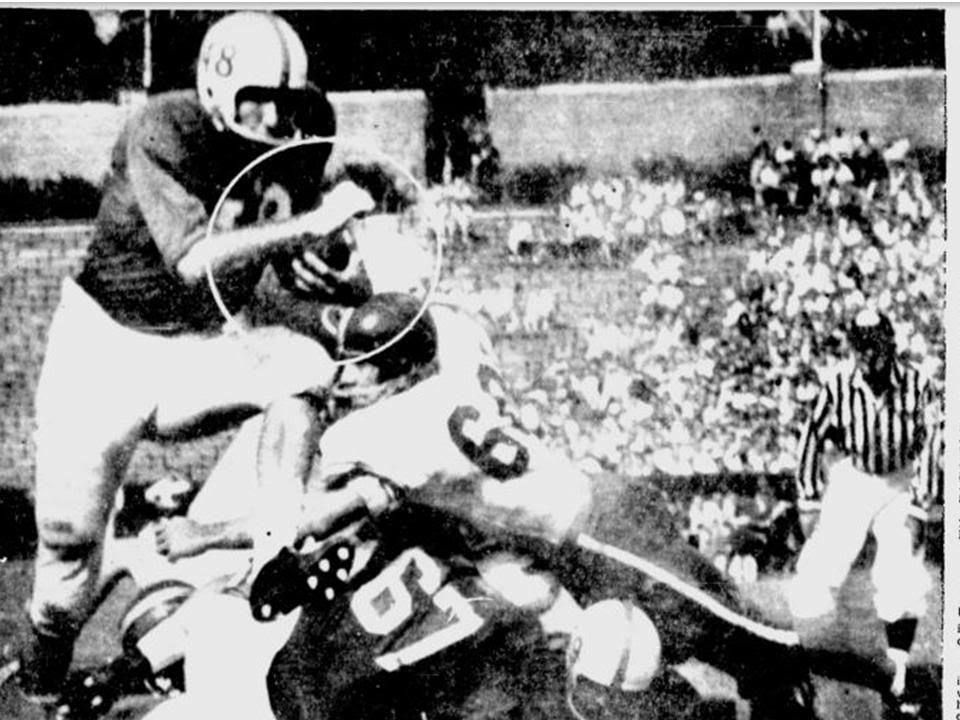 Joe D'Agostino LB/OG 1954-1956
a three time all SEC selection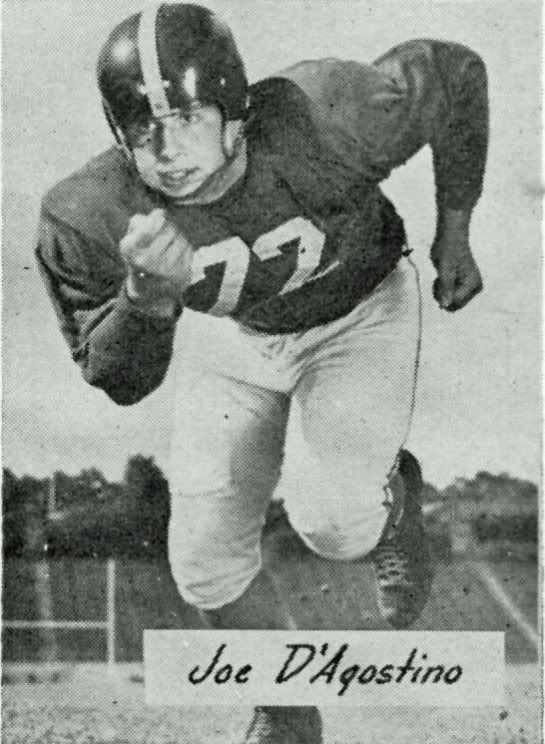 Billy Reddell Tailback 1951-1953
Doug Partin Tailback 1953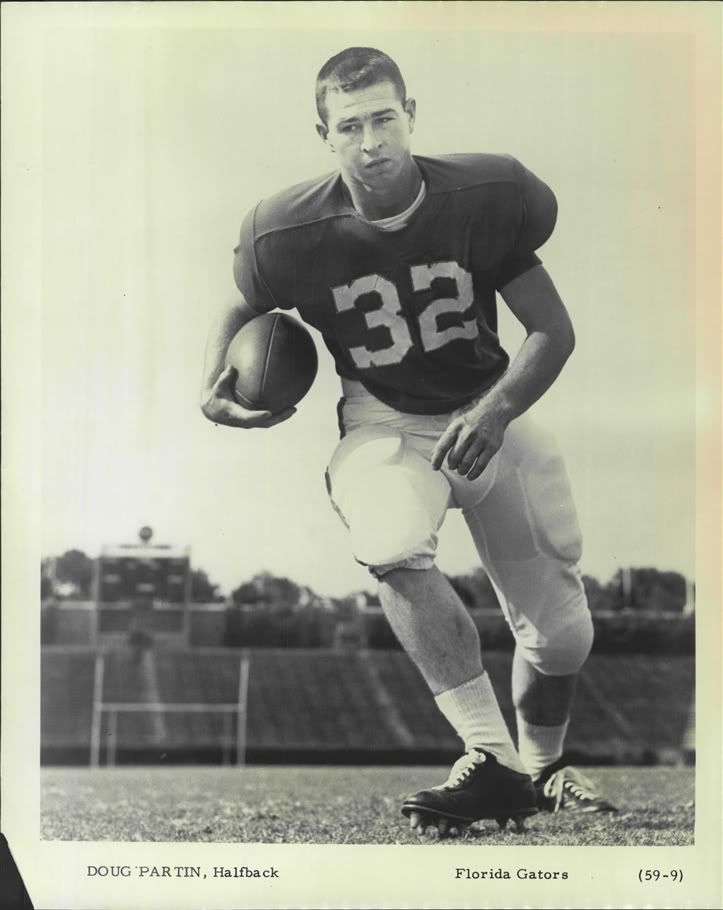 Head Coach Bob Woodruff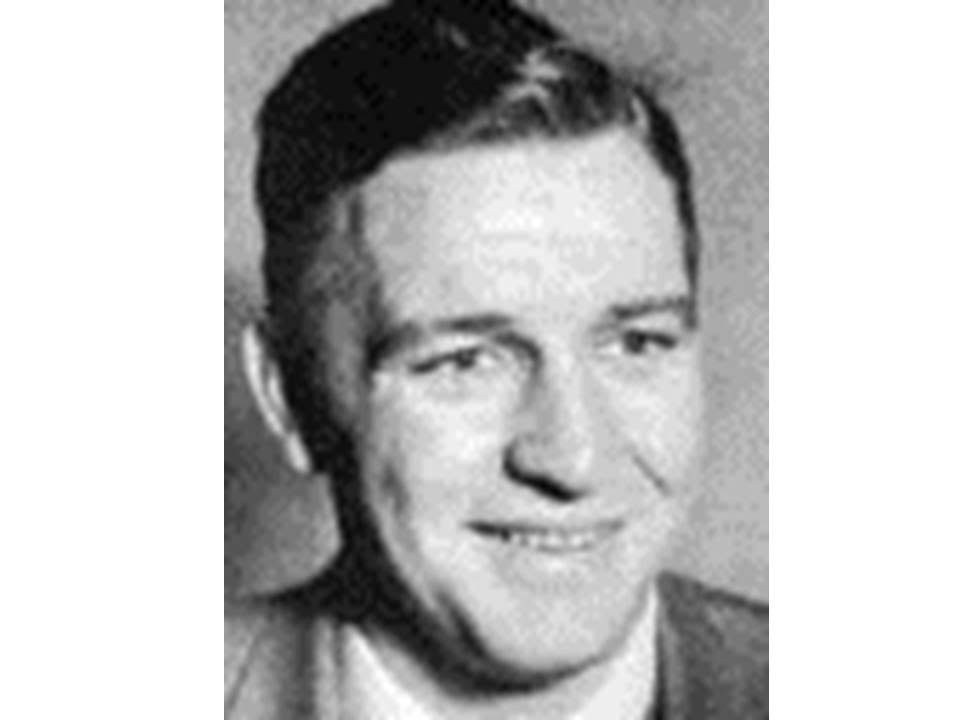 Gators vs LSU 1957 Jackie Simpson scores on an 80 yard punt return
(Simpson went on to play 4 years in the NFL as a DB)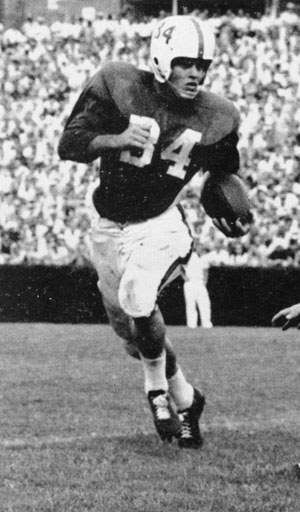 Gators vs Virginia 1959
Gators vs Arkansas State 1958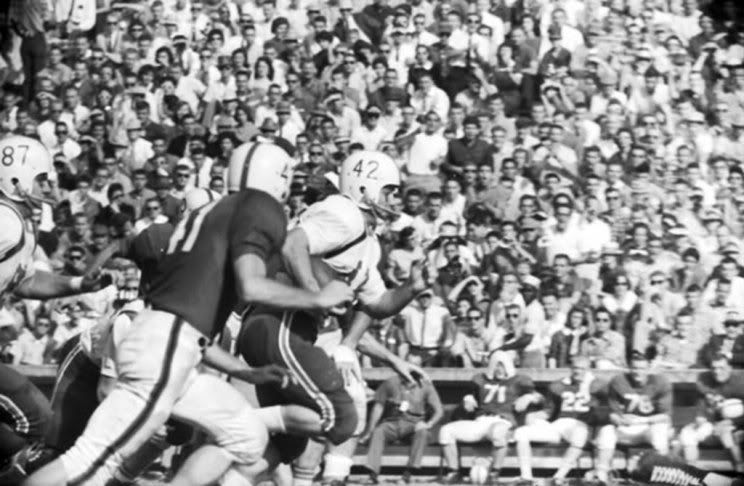 Gators vs Arkansas State 1958 part 2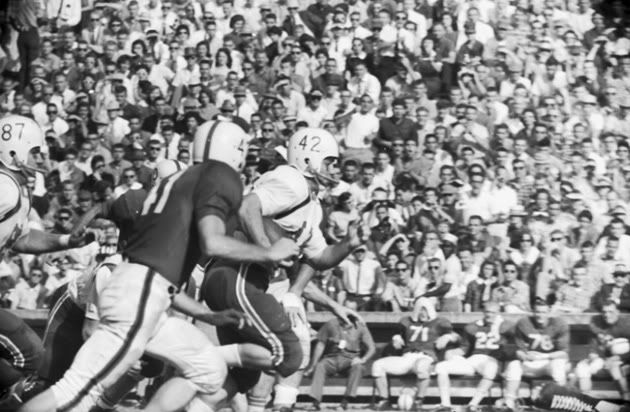 Gators vs Furman 1950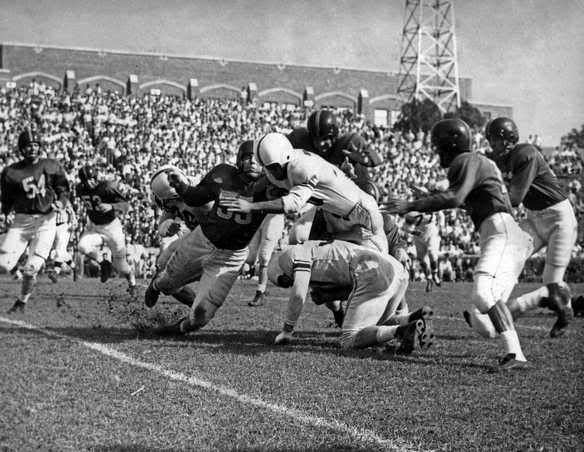 Gators vs Furman 1950

Gators vs fsu 1958 QB Jimmy Dunn
Gators vs fsu 1958 Dave Hudson catches a TD pass from Jimmy Dunn
Gators Late 50's game action
Gators vs Vandy late 50's
Gators 1958 vs UGA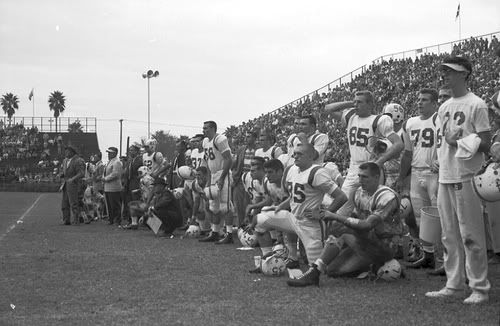 Gators vs UGA 1958 QB Jimmy Dunn splits the Defense on his 76 yard game winning TD run
Gators vs UGA 1958 scoreboard
Gators early 50's game action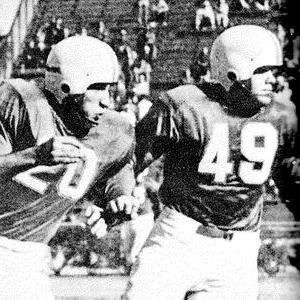 Gators 1953 Gator Bowl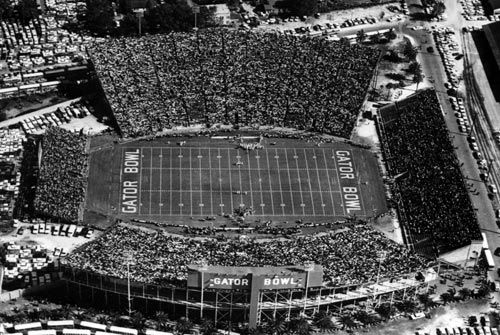 1953 Gator Bowl vs Tulsa Coach Woodruff given a victory ride by players
Gators vs UGA 1952
Gators 1950's game action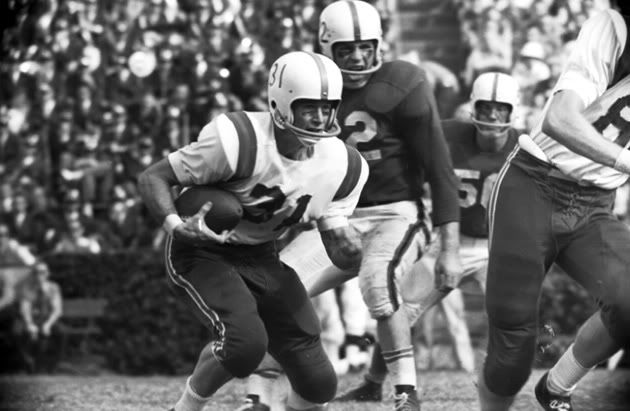 Gators 1958 Gator Bowl vs Ole Miss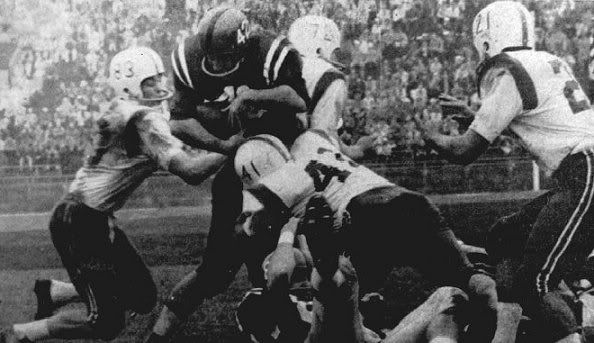 Gators 1958 Gator Bowl vs Ole Miss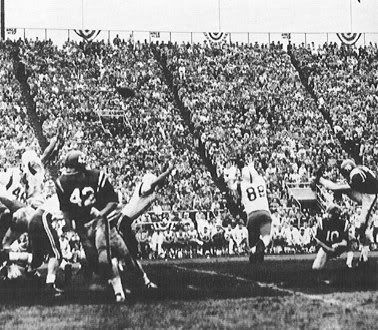 Gators 1958 Gator Bowl vs Ole Miss
Gators 1951 Game action
Gators 1958 Game Action
Gators vs Tulane 1958
Gators vs Tulane 1958
Gators vs Auburn 1950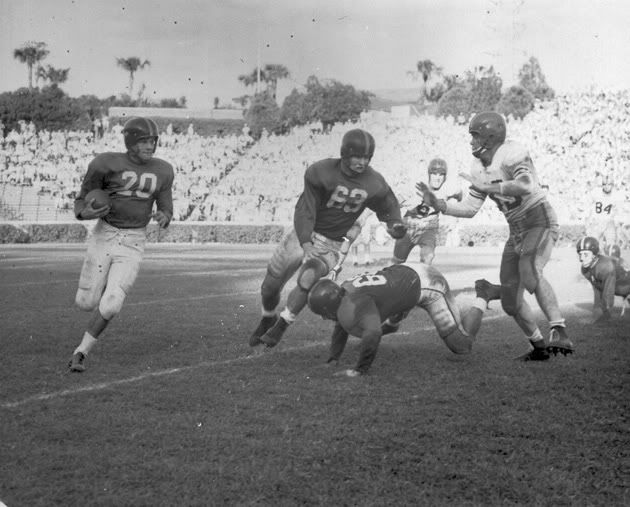 Gators vs Auburn 1950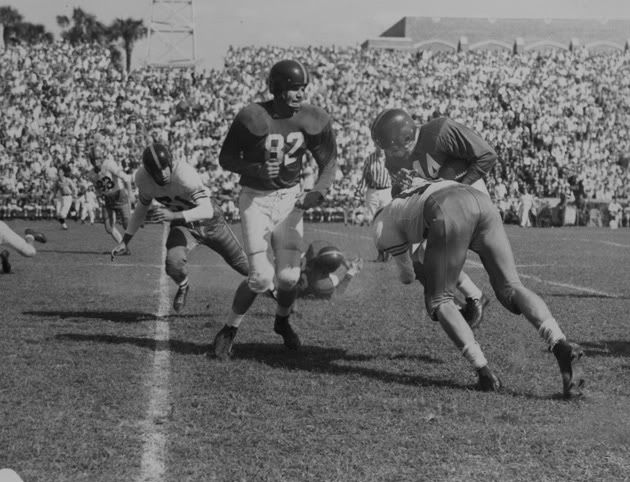 Gators vs Auburn 1950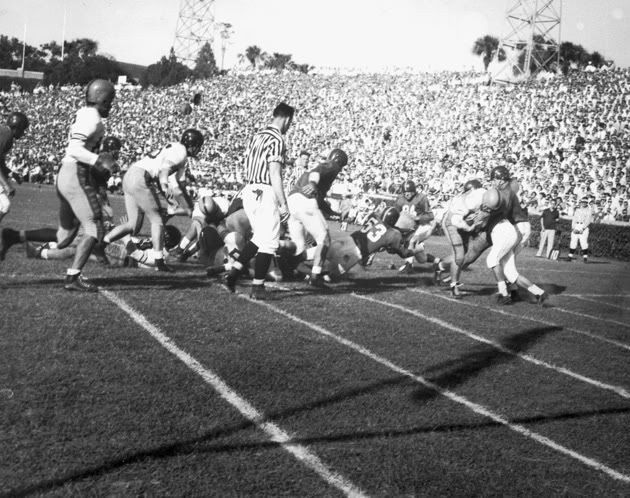 Gators vs Auburn 1950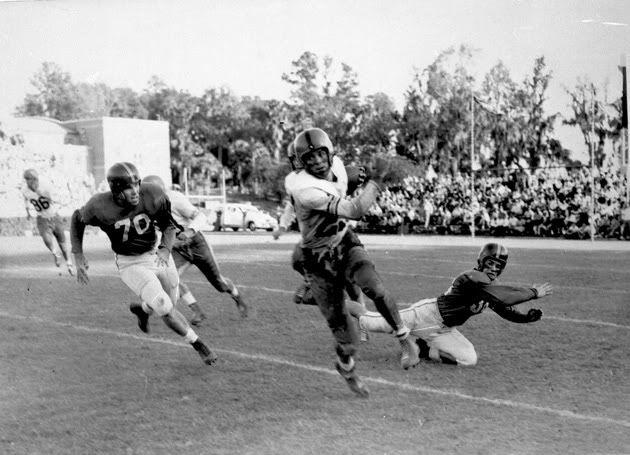 Gators vs Auburn 1950
Gators vs LSU 1957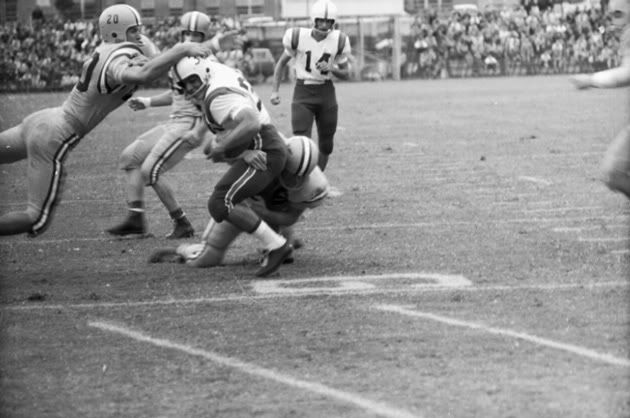 Gators vs LSU 1957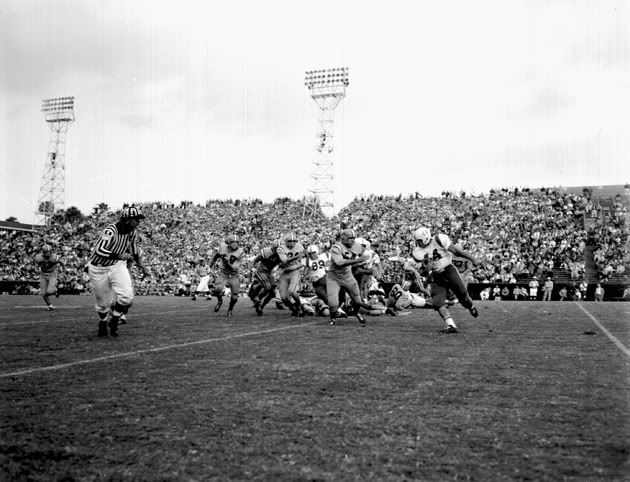 Gators vs Mississippi State 1957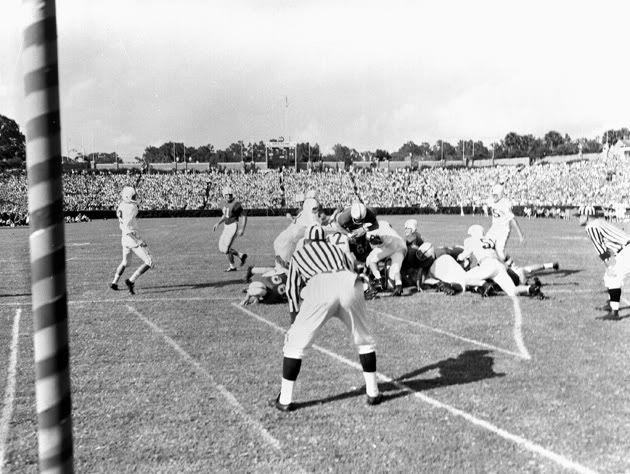 Gators vs Rice 1956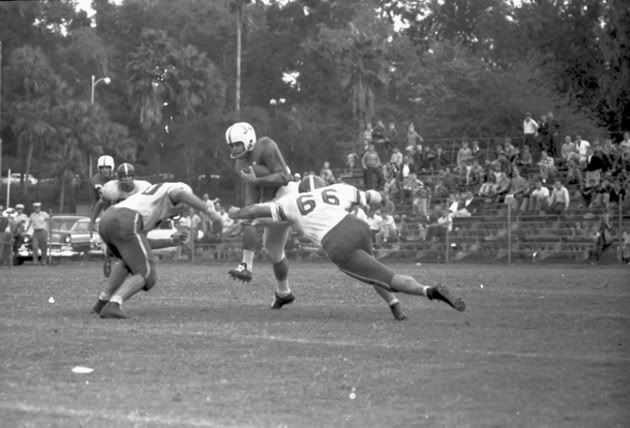 Gators vs Rice 1956
Gators vs UGA 1957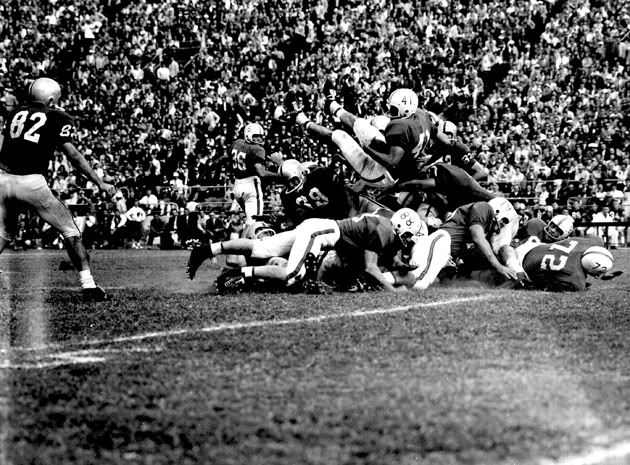 Gators vs Wake Forest 1957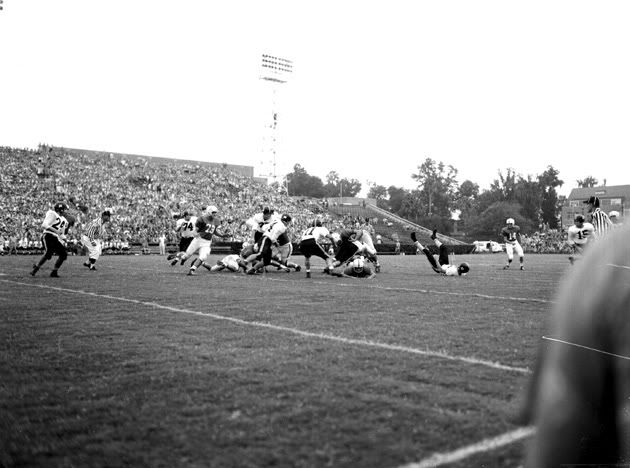 Gator Uniform 1952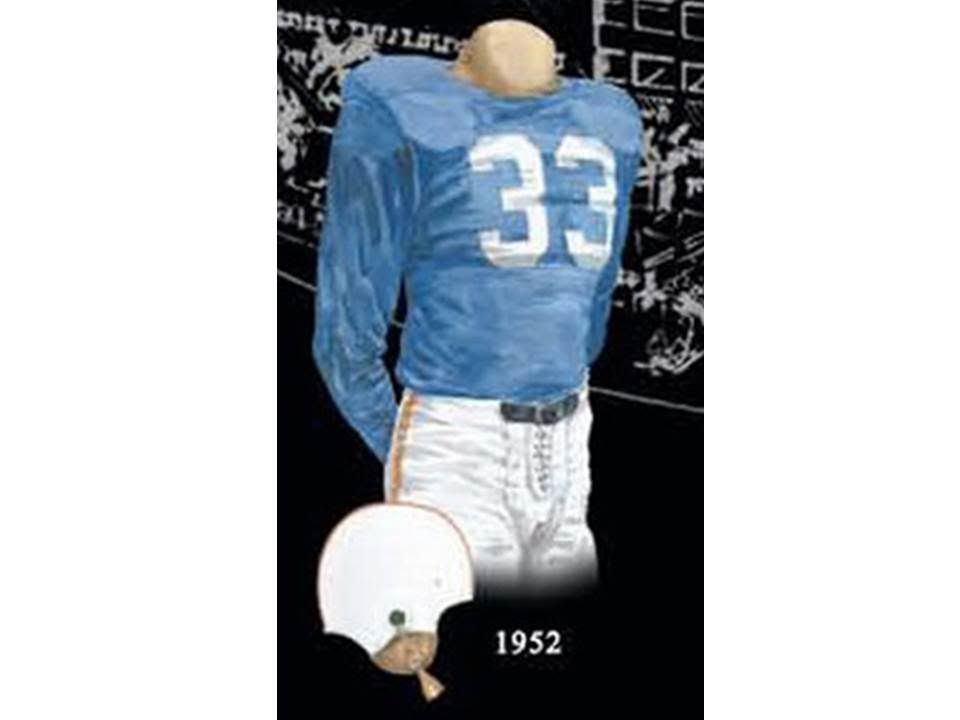 Early 50's Gator Helmet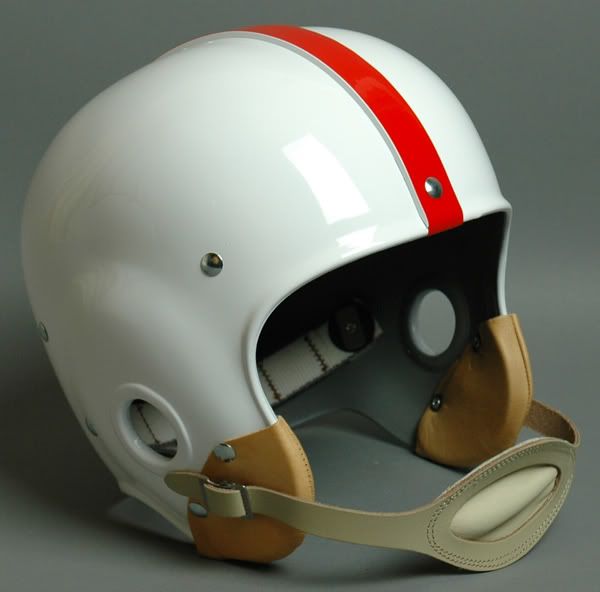 Late 50's Gator Helmet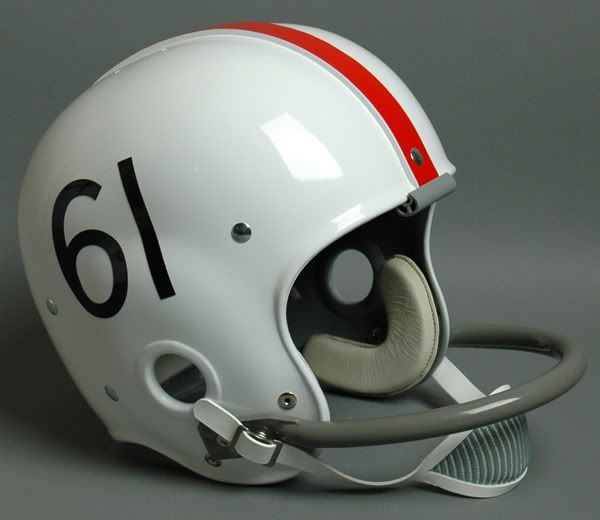 Swamp Expansion to 44,000 in the 50's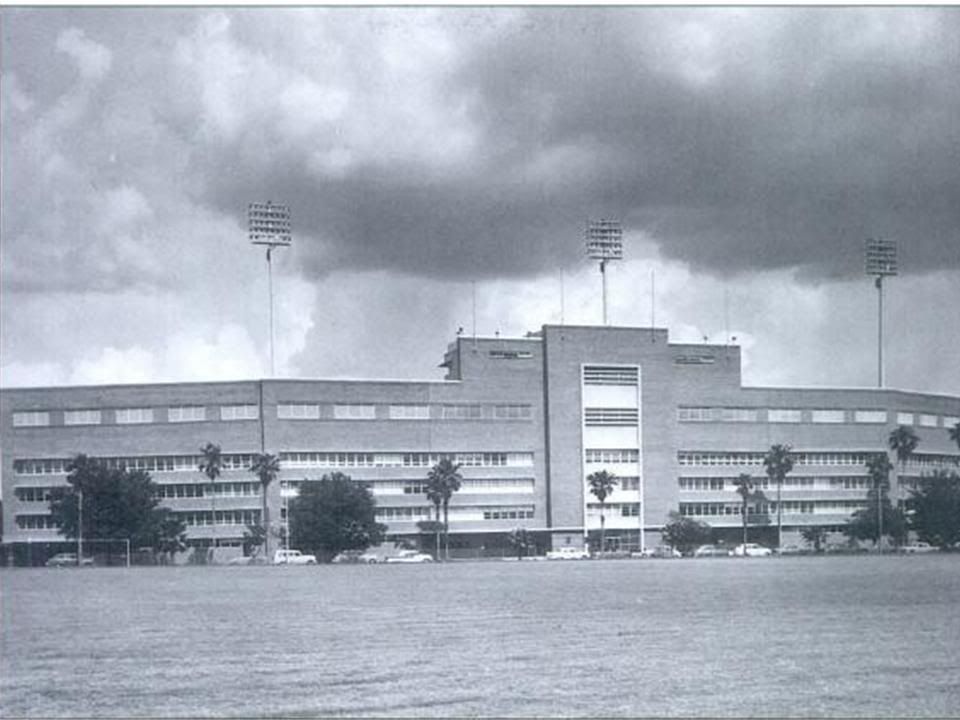 Pressbox addition to the Swamp made for TV broadcasts
Card Section at the Swamp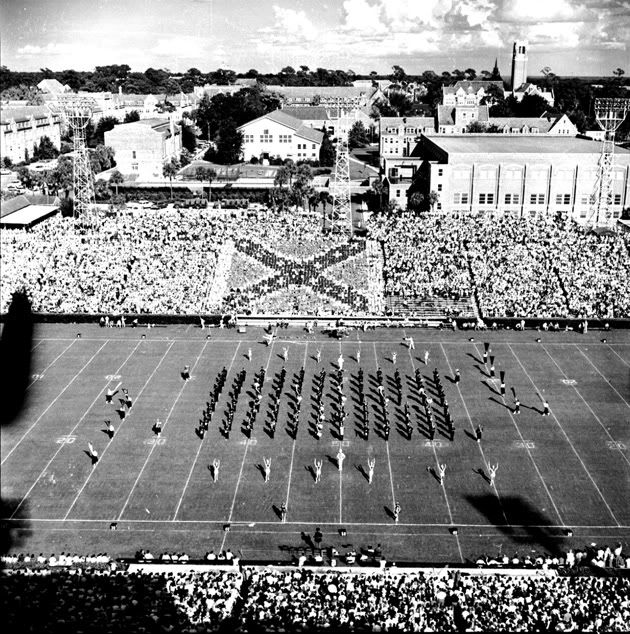 Gators 1956 team photo