Post by deathroll on Sept 25, 2014 13:29:59 GMT -5
Former Tennessee and Philadelphia Eagle end Ray Graves, a Georgia Tech assistant, was anointed as Florida's new head coach for the 1960 season and his staff included Gene Ellenson, young Air Force offensive coach Pepper Rodgers, and former Gator QB Jimmy Dunn. He would leave it to offensive-guru Rodgers to leave the Woodruff era behind. The more open and productive Offense paved the way to a 9-2 finish that included a 13-12 Gator Bowl victory over Baylor, with Auburn, the only SEC loss. That 10-7 disappointment cost Florida the SEC crown but upsets over Georgia Tech and LSU made Grave's debut memorable. HB Lindy Infante scurried to a TD that made the Tech game close at 17-16 with only thirty-three seconds left. The two-point conversion won it 18-17 which greased the skids for the rest of the season.
An offensive collapse that brought but seven points in three games despite good play from Florida's tiny QB Larry Libertore and RB's Lindy Infante and Bob Hoover left the Gators with a surprisingly poor 4-5-1 mark at the end of the '61 season. The 7-4 team of 1962 played erratically although Soph FB Larry Dupree led the SEC in rushing with 619 yards and was SEC Sophomore Of The Year. Teaming with RB's Infante and Bob Hoover, QB Tom Shannon led a good offense in a three-unit rotation. Leading Duke 21-0 at the half and losing 28-21 mirrored the unpredictable play. Still, the team came to the Gator Bowl to defeat highly favored Penn State by 17-7 as defensive coach Ellenson presented his new Monster Defense which effectively shut down the Penn State Offense.
"If we had won, it would have been a mockery to everything for which football stands…We weren't ready for the game and Florida was."—Penn State backfield coach Joe Paterno when explaining Penn State's 17-7 loss to Florida in the 1962 Gator Bowl.
The 6-3-1 team of 1963 was epitomized by the heart of Larry Dupree whose baby was stillborn and buried the next day while his wife lay ill in a hospital bed. With her encouragement and sleep-deprived for three days, Dupree's father-in-law, the head of the area Highway Patrol, gave him a police convoy that got him to the Georgia game by kickoff where the Gators won the 21-14 contest. QB Tom Shannon led the charge in the 10-6 upset of Bama-Bear Bryant's first in Tuscaloosa.
There was excitement on campus and among members of the staff in 1964 as sophomore QB Steve Spurrier took the reins of the Gators and took them to a 7-3 season that included upset wins over LSU who was Sugar Bowl-bound, Auburn, an Miami. With FB Larry Dupree missing time due to injury, the big contest was against Alabama, both undefeated going into the season's fourth game which Alabama won in a hard fought 17-14 contest.
Spurrier at times had senior QB Tom Shannon filling in for him and Charley Casey was a reliable receiver for both. Spurrier finished the season ranked third in the SEC in total offense in a preview of more to come. It was clearly Spurrier's team in '65 with soph Harmon Wages backing him up. Offensive coach Pepper Rodgers had taken the head coaching job at UCLA and Graves was now inclined to allow Spurrier to throw almost at will. With receivers Richard Trapp and Charley Casey who led the SEC in receiving, the strategy was sound. The payback wins over Georgia by 14-10 and Florida State in a 30-17 finale, were offset by upset losses to Mississippi State and Miami. All American safety Bruce Bennett was the hub of the defense. The Gators 7-3 mark put them into the Sugar Bowl against Big 8 champ Missouri where they lost in a furious comeback attempt, 20-18 after going for 2 point conversion attempts and failing after all 3 Touchdowns.
If Steve Spurrier was not there for his senior season of glory, Larry Smith, a sophomore Fullback out of Tampa would have been everyone's season highlight favorite, leading the SEC in rushing and adding twenty-three receptions out of the backfield.. Smith was the total package who could and would block, run, throw, or catch. However, All American Steve Spurrier was back for his final campaign and he made it a dandy. Leading what Head Coach Ray Graves called "My best team, all around", Spurrier had the rushing of Smith to to balance out his passing to Richard Trapp. The team ripped off seven straight wins. Spurrier had a rare bad day against Georgia, throwing three INT's in six passes, falling 27-10 to the Bulldogs which once again cost Florida the SEC title. scUM upset them 21-16 in the year's final game as Ted Hendricks controlled the field, but 9-2 got them to the Orange Bowl where Spurrier led Florida to a 27-12 victory over Georgia Tech. Larry Smith had a memorable 90+ yard touchdown run despite the fact that his pants were falling down as he broke free. Steve Spurrier capped the season by becoming Florida's first Heisman Trophy Winner-a result that was all but assured after his late game heroics in a victory over Auburn which included Spurrier kicking the game winning field goal.
The Gators 1967 season ended in a decent but disappointing 6-4 record after would-be starting QB Harmon Wages was suspended for disciplinary reasons. While the program was solid and the teams most often competitive, it seemed that their inability to capture an SEC title while loaded with talent was unacceptable and frustrating to their fans and alumni. 1968 had the mix of a great sophomore class and some seasoned vets as well. Larry Smith, the offensive leader pulled a hamstring muscle before the season's opener and suffered further injury against Vanderbilt later in the year. Despite good play from junior DB Steve Tannen, soph DE Jack Youngblood, and a 4-0 burst out of the gate, what had become an almost annual swoon ruined the year. After a devastating loss to Georgia, many felt it was time for Graves to step down. Winning the final two games brought a respectable 6-3-1 but far from the expected championship-run season. Not yet having won an SEC title, and appraising the high level of talent in his '68 freshmen players, Graves decided to give it one more shot and announced that he would coach another season.
Ray Graves did a terrific job recruiting, especially with the limitations imposed by Florida's stricter-than-the-rest-of-the-SEC academic qualifications. This gave him teams that were always solid and competitive, but teams that also disappointed the boosters and fans because the ever-elusive SEC title was expected at some point in time. He wanted one more season to enjoy the "Super Soph" class, as they were known, and make a bid for a major bowl game and the conference championship.
QB John Reaves was the sophomore leader and he didn't disappoint. Following neighbor and former Gator RB Larry Smith to Gainesville, he set the bar by taking on top ten Houston in the opener and put on such an exciting show, including a 70-yard TD bomb to Carlos Alvarez on his first pass in the 58-34 win, that paying customers who had heard the game on the radio were still streaming in during the fourth quarter. Sophomore RB's Tommy Durrance did the pounding as Reaves threw to TE Jim Yancey and sophomore consensus All American Carlos Alvarez, a Cuban refugee who was so fast he needed a double team at all times. Upperclassmen Kim Helton at center and captain and tackle Mac Steen led up front. The defense was tough with DE Jack Youngblood and senior DB Steve Tannen patrolling the secondary.
The Gators, lost only to Auburn although the 13-13 tie with Georgia stung because once again, it cost them the SEC title. If the 1969 season would have ended at 8-1-1, Graves could have retired gracefully but SEC Champion Tennessee and Florida agreed to meet in the Gator Bowl while rumors swirled about UT head coach Doug Dickey, taking over as Florida's head coach. Both teams were angry and distracted and when Florida beat the SEC Champion Vols 14-13 in the Gator Bowl, the players could only see that they were getting "the losing coach" as their new mentor. Compounded by Graves "second thoughts" that perhaps he should stay for another title run, his retirement and move to full time Athletic Director proved to be messy and had a psychological carry-over into 1970.
Lindy Infante 1960-1962 Tailback
- was a productive starting Tailback for the Gators. He went on to be an assistant coach at UF before becoming head coach of the USFL's Jacksonville Bulls and the NFL's Green Bay Packers for several years.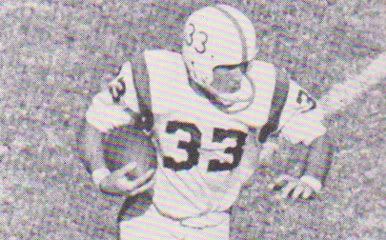 Larry Smith 1966-1968 Fullback
- was a dominant player who was named a first team All-America in 1968. Despite injury which limited his production that year he was a first round draft choice of the Rams.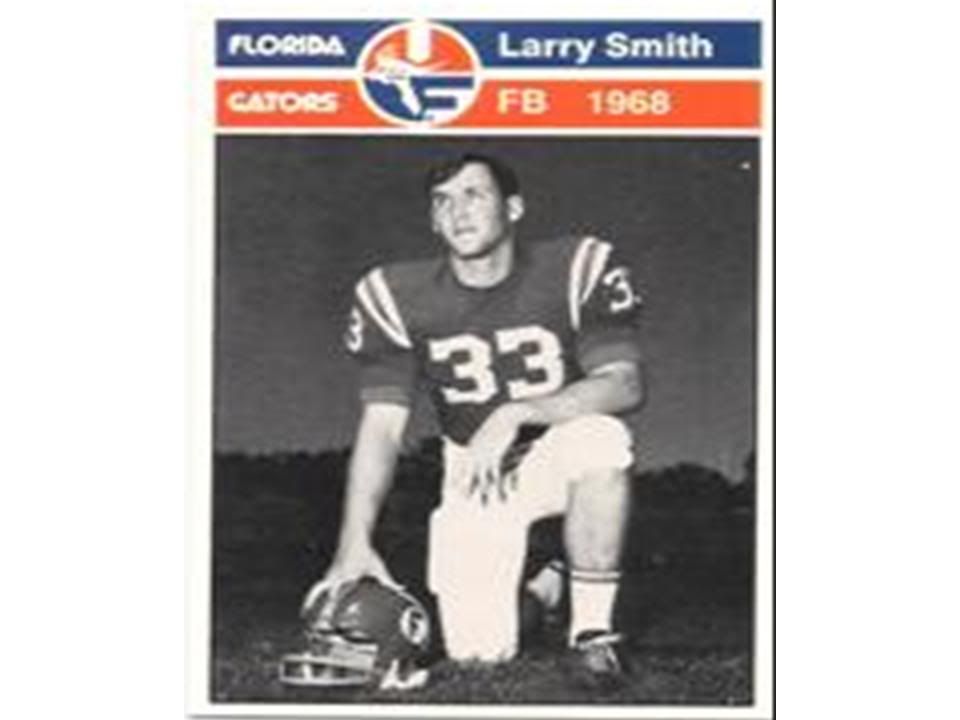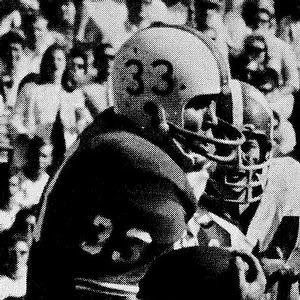 Steve Tannen 1967-1969 Safety
- one of the Gators' leading career interceptors, he was named a first team All-American in 1969. Tannen was not a huge hitter but with his great instincts and hurdler's speed, he was a very effective ballhawk. He went on to become a first round draft pick of the NY Jets and played 8 years in the NFL.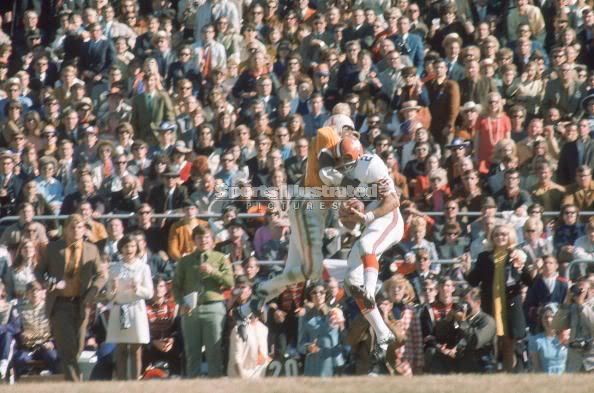 Steve Spurrier 1964-1966 Quarterback
- Florida's first Heisman Trophy Winner he was a first round draft pick of the San Francisco 49ers. He went on to a 9 year NFL career before enjoying a brilliant career as a coach at Duke, with the USFL's Tampa Bay Bandits and with the Gators..
Steve Spurrier and Coach Graves
Tom Shannon 1962-1964 Quarterback
- he was a highly rated recruit who could have excelled at DB but was moved to QB due to Florida's need at the position. The talented Southpaw did a good job at the position and later became a very successful businessman.
Tom Shannon and Steve Spurrier 1964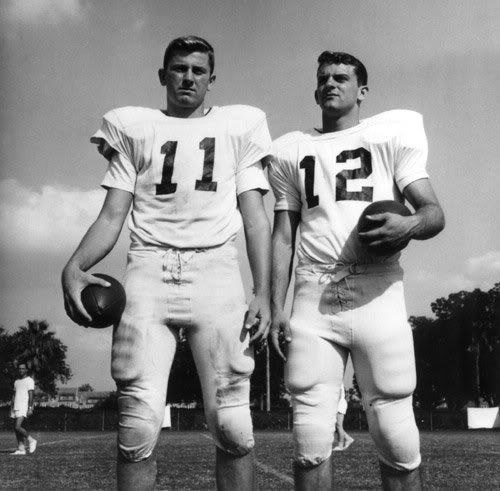 Larry Dupree 1962-1964 Fullback
- Dupree was a powerful runner and a dangerous receiver out of the backfield. Upon his graduation, he was one of only 3 backs in league history to be named first team All-SEC for 3 straight years. He was named an All-American his Senior season. Dupree finished his career as the Gators' 3rd all-time leading rusher.
Larry Dupree scores vs UGA 1963
Larry Dupree on right
Bruce Bennett 1963-1965 Safety
- Bennett was twice named All-SEC and in his Junior and Senior seasons. He was also named a first team All-American his Senior season. Bennett set the then school career record for interceptions with 13.
Charley Casey 1964-1966 Wide Receiver
- Casey was a two time All-SEC selection and was named All-American his Senior season. He was noted for his great hands and quickness and finished his career as the leading receiver in SEC history with 123 receptions.
Ray Graves was named Gators' coach in 1960 his 70-31-4 record (69.3 % winning percentage), 5 bowl appearances and 4 bowl victories were all highs for the Gators to that point. The revival of the Florida program after years of struggle in the 30's and 40's especially laid the foundation of the modern Florida program. Graves served as UF's Athletic Director from 1960 through 1979. Graves was inducted into the College Football Hall of Fame in 1990.
Coach Graves with UF President J Wayne Reitz 1961
Coach Graves with assistants
Coach Graves given a victory ride by players after upsetting Bear Bryant and Alabama in Tuscaloosa
– UF was the first team to do so 1963
Jim Yarbrough 1966-1968 Tight End
- played nine years for the Detriot Lions after being a 2nd round selection, and proved to be a very good player for them despite moving from Tight End to Offensive Tackle.
Jim Yarbrough #88
Guy Dennis 1966-1968 Offensive Guard
- A two year All-SEC selection, he played 7 years in the NFL.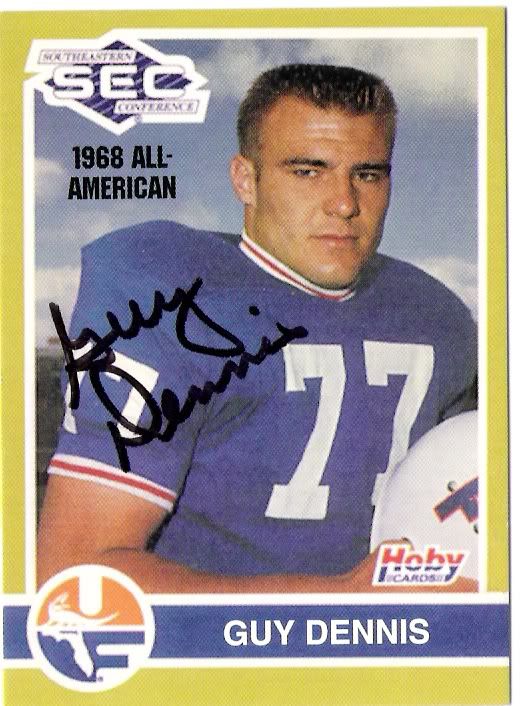 Bill Carr Center 1964-1966 Center
. Carr was named All-SEC and All-American his Senior season. He went on to become Athletic Director at UF from 1979-1986.
Lynn Matthews 1963-1965 Defensive End
. - Named as an All-SEC and All-American selection his senior season he was considered Florida's finest Defensive End prior to Jack Youngblood. Mathews was particularly noted for his big play ability. He racked up numerous sacks and caused numerous fumbles.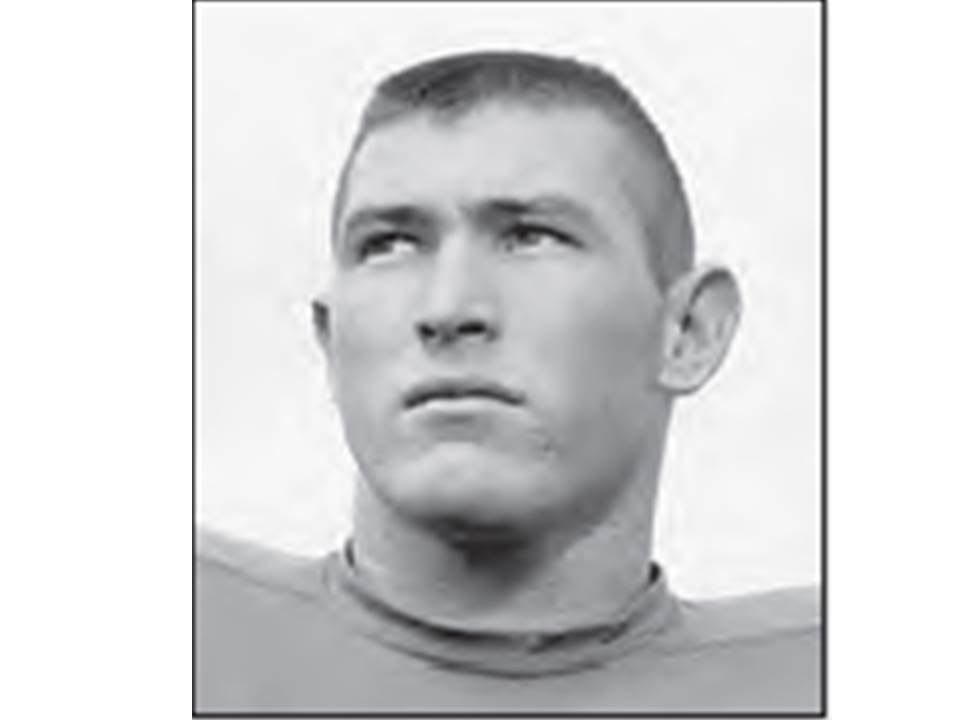 Larry Gagner 1963-1965 Offensive Guard
– after converting to Guard at UF (he had been a Fullback in high school), Gagner was a second round draft choice of the Pittsburgh Steelers he went on to a seven year NFL career.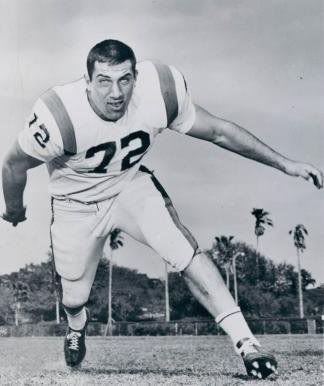 Richard Trapp 1965-1967 WR
named all SEC in his Senior season, his spectacular catch and run in which he made 9 tacklers miss vs UGA won the game for UF.
Kay Stephenson QB 1964-1966
Despite being a career backup at UF, Stephenson went on to play 4 seasons in the NFL
Frank Lasky OT 1963-1965
named all SEC as a senior and played several years in the NFL
Billy Cash TE 1958-1960
Phillip Culpepper Center, Team Captain 1962-1964
Jack Card LB 1963-1965
Allen Trammell DB 1964-1966
Larry Libertore QB 1960-1962
1960 Gator Bowl vs Baylor
1960 Gator Bowl vs Baylor Hagood Clarke catches a TD pass
1960 Gator Bowl vs Baylor
1960 Gator Bowl vs Baylor
1960 Gator Bowl vs Baylor
1960 Gator Bowl vs Baylor part 6 Bob "the Mover" Hoover scores a Gator TD
Lindy Infante carres vs fsu 1960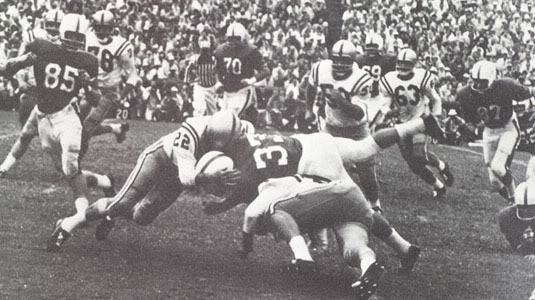 Larry Libertore passes vs fsu 1960
Gators vs fsu 1961
Gators vs fsu 1961
1962 Gator Bowl vs Penn State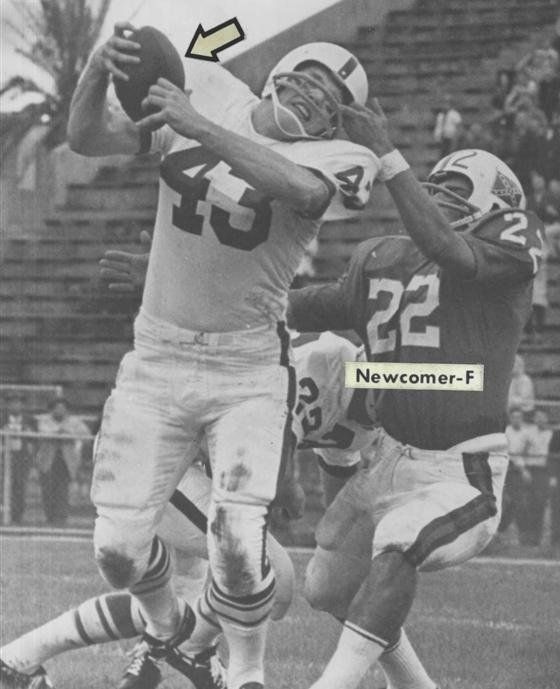 1962 Gator Bowl Coach Graves given a victory ride by players
1962 Gator Bowl vs Penn State Bruce Starling intercepts a pass
1962 Gator Bowl vs Penn State Tom Shannon throws a 4th quarter TD pass to Hagood Clarke
1962 Gator Bowl vs Penn State Tom Shannon throws a 2nd quarter TD pass to Larry Dupree
Gators vs Richmond 1963 Allen Trammell carries
Gators vs Richmond 1963 Randy Jackson pursues the Richmond QB
Gators vs Richmond 1963 Charlie Casey catch and run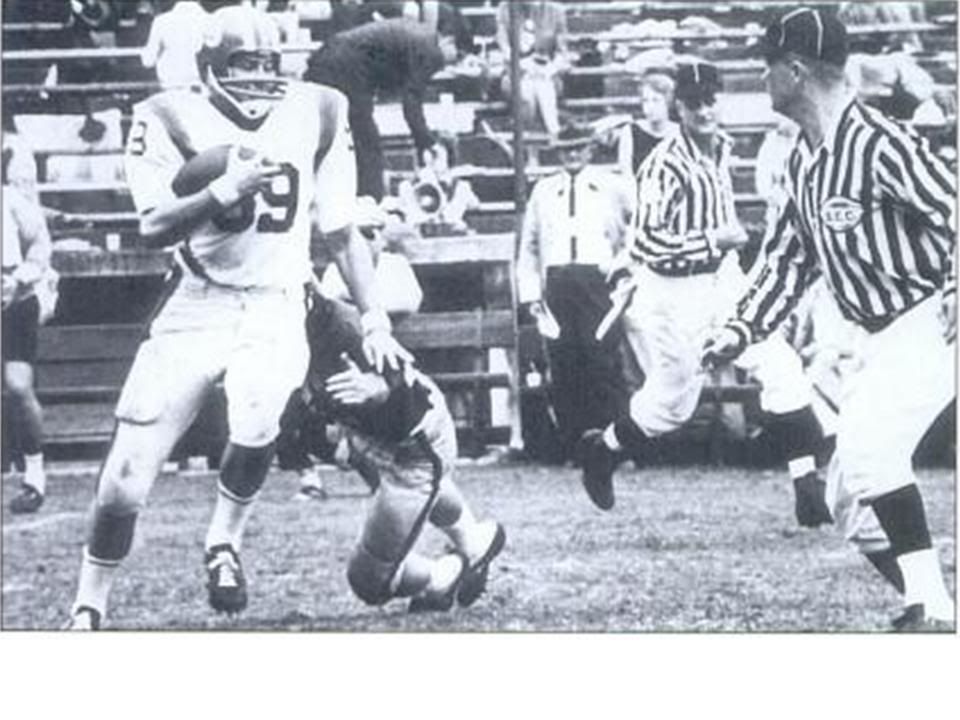 Gators vs UGA 1963 Larry Dupree scores
Gators 1965 game action
Gators vs fsu 1965
Gators 1967 Orange Bowl vs Ga Tech - Spurrier scrambles in the 2nd quarter
Gators 1967 Orange Bowl vs Ga Tech
Gators 1967 Orange Bowl vs Ga Tech
Gators 1967 Orange Bowl vs Ga Tech - Larry Smith carries
Gators 1967 Orange Bowl vs Ga Tech
Gators vs scUM 1968 Larry Smith scores the game winning TD
Gators vs fsu 1968 #70 Mike Healey and Britt Skirvanek #81 bring down fsu QB Bill Cappelman
Gators vs fsu 1969
Gators 1969 Gator Bowl vs Tennessee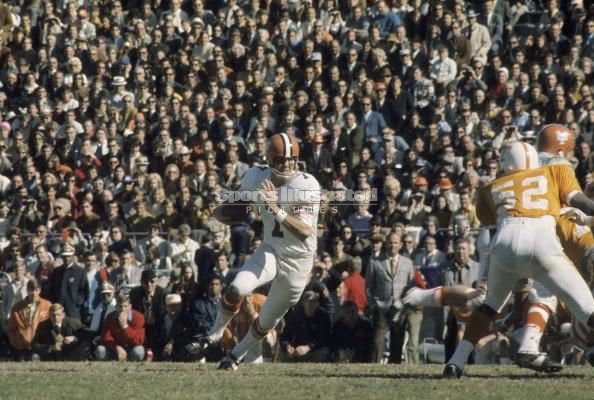 Gators 1969 Gator Bowl vs Tennessee
Gators 1969 Gator Bowl vs Tennessee
Gators 1969 game action
Gators 1960s game action
Gators 1960s game action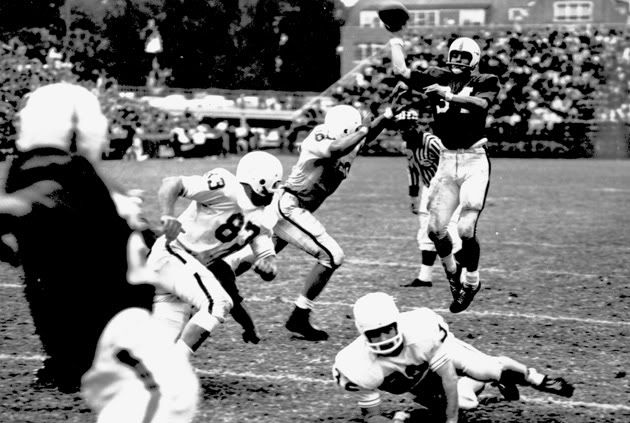 Gator Band 1961
Gator Helmet 1961-1963
Gator Helmet 1964-1965
Gator uniform 1966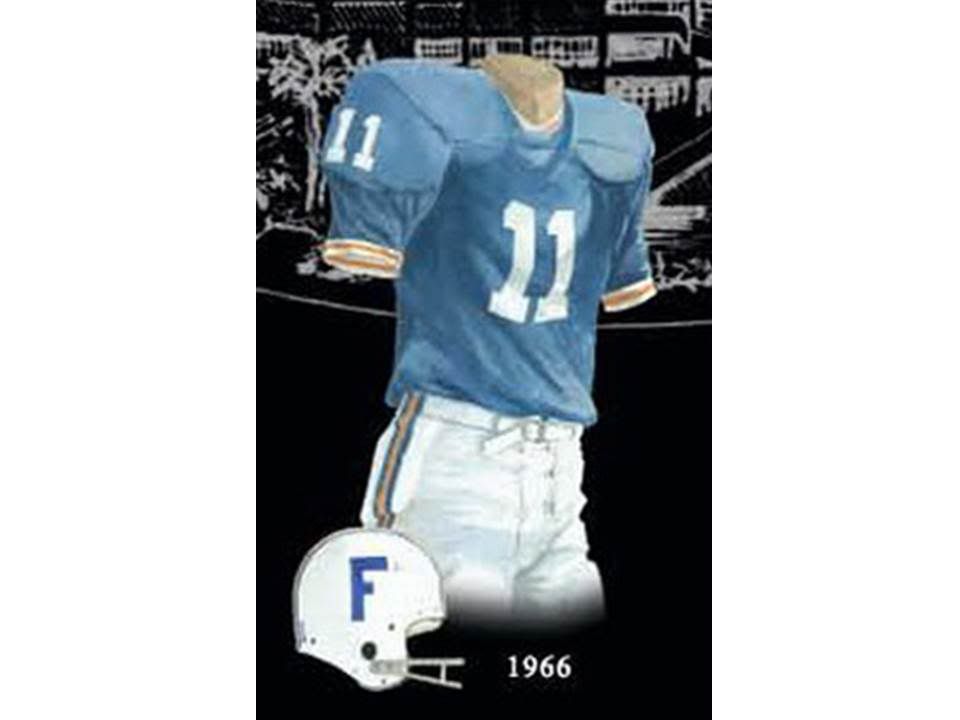 Gator Helmet 1966
Gator Helmet 1967
Gator Helmet 1968