Post by deathroll on Oct 14, 2014 13:53:51 GMT -5
In 1970 with former Tennessee head coach Doug Dickey taking over Graves' vacated position, there was turmoil among the players who felt they were deceived regarding the coaching change. This, combined with media and player support for former Defensive Coordinator Gene Ellenson meant Dickey's transition was anything but smooth. A rebuilt O-line in front of RB Tommy Durrance wasn't enough to keep the heat off of Reaves and after opening at 5-1, losses to Auburn and Tennessee derailed any SEC title hopes. The Gators closed the season against Georgia, Kentucky, and Miami. Despite the All American play of DE Jack Youngblood the team limped in at 7-4 to close Dickey's inaugural season.
Dickey's recruiting picked up as the State Of Florida altered the admissions rule and allowed 145 yearly admissions to in-state high school graduates that had a minimum of a C average but who otherwise did not score high enough on the admissions entrance exam finally bringing Florida in line with other states in the SEC area 37 years after the founding of the league.
Injuries to receiver Carlos Alvarez made him ineffective during the 1971 season and the team which had been recruited to run Graves more wide open passing Offense was not well suited to Dickey's Wishbone Offense. RB Tommy Durrance had only guard Fred Abbott as a consistently outstanding O-lineman. Consequently, the team endured a miserable 4-7 season except for beating fsu setting up the final game of the season vs scUM. QB John Reaves came into the game with an outside chance of exceeding Jim Plunkett's NCAA marks. Reaves needed 344 yards to become the NCAA all-time career passing leader and the Gainsville boys came out throwing. Willie Jackson, Durrance, and a semi-healthy Alvarez caught everything thrown their way. It was Florida 17-0 at the half and they continued the air attack. Needing but thirteen yards for the record and little time left, Miami though behind, was playing keep-away and running out the clock, only to frustrate Reaves' record-breaking attempt. With 1:20 left and Miami at the Gator seven, the entire Florida defense dropped onto their bellies or their backs without being touched by a Hurricane so that Miami's QB could literally walk into the end zone on a roll-out. Florida took the kickoff and Reaves threw completions to wrap up the career passing yardage mark with a five-yard cushion, a total of 7,549 yards. Completing 33 of 50 passes for 348 yards also completed Reaves great Gator career. To celebrate Reaves' record as well as the 45-16 crushing defeat inflicted on favored scUM, the entire team spontaneously charged toward the Orange Bowl end zone and dove into the pond and fountain that housed Miami Dolphin mascot Flipper.
In 1972, Dickey led the team to yet another subpar record at 5-5-1. The offense had a new look. QB Chan Gailey who had played in Reaves' shadow started the season but gave way in the SMU opener to David Bowden. Dickey had a surprise find that was neither in the press guide nor in the opening day game program. Assistant Lindy Infante had insisted on recruiting Carlos Alvarez when few thought he looked like a big-time player. Now, after watching a pick-up basketball game in a Miami park, he pushed hard to bring in another obscure find, a former Miami Jackson H.S. football player who had gone to Tennessee-Martin to play basketball, dropped out, and was now delivering Kosher food in Miami Beach. Exploding as a runner and receiver in the first game of the season, Nat Moore was destined to be one of the most exciting and effective players the SEC had seen in decades. His 845 yards on the ground, 25 receptions, 13 TD's, and 20.8 yard kickoff return average earned him All SEC honors and some All American mention. Wins over Florida State and Miami, and the emergence of Moore at least gave Gators a feeling the team might yet turn the corner with a team of Dickey's own recruits.
Much was therefore expected in 1973 despite a "killer" schedule. Unfortunately, Nat Moore went down with a foot injury in the Mississippi State game which made for a four-game skid, all to SEC opponents. At 2-4, a press conference was held where Dickey stated he would not resign due to fan unrest, and he had the backing of the University President. The players pulled together and with new QB Don Gaffney they utilized All SEC WR Lee McGriff and TE Hank Foldberg, Jr. to catch enough passes to upset Auburn 12-8, upset Georgia 11-10, and terrorize fsu as Moore returned with a great 105 yards in 15 carries in a 49-0 drubbing of the sows.. LB's Glenn Cameron, Ralph Ortega, and Sammy Green contributed to the 7-4 season which ended with an embarrassing Tangerine Bowl loss to Miami (Ohio), 16-7.
With FB Jimmy DuBose clearing the way, freshman RB Tony Green burst upon the scene in 1974 to break the single-season rushing record with 856 yards to augment the running-before-passing approach of QB Don Gaffney in the Florida Wishbone. The strength of the defense was in the linebackers, Glenn Cameron, Ralph Ortega, and Sammy Green. Wayne Fields did an effective job in the defensive backfield and the 8-3 record put them into the Sugar Bowl against powerful Nebraska where they lost 13-10.
The Wishbone clicked again in '75 with QB Gaffney, FB Jimmy DuBose who set a single-season school record with 1307 yards, and Tailback Green although Green was inconsistent and often played poorly. The 302.4 per game output was better than the vaunted Alabama attack but had a disturbing tendency to not work well in the biggest games. WR Wes Chandler added his 457 yards in receptions to the overall yardage total with ends Derrick Gaffney and Lee McGriff lending support. LB Sammy Green was the defensive star, and the Gators beat everyone they were supposed to except Georgia, losing 10-7 in a game that cost them the SEC title. The season was completed in the Gator Bowl, dropping a 13-0 contest to Maryland. The 9-3 record and third consecutive bowl game was an improvement but Dickey's inability to win an SEC title or consistently beat Georgia and dismal bowl record were still causes of concern.
Despite having standout receiver (and punt return man) Wes Chandler and Derrick Gaffney as the number two WR, Dickey stuck to his Wishbone attack under the direction of QB Terry LeCount with big Earl Carr at FB and Tony Green bouncing back for a big year in 1976. Chandler put up ten TD's on forty-four receptions and he had a twenty-two yard per catch average. Scott Hutchinson and freshman Scott Brantley were outstanding LB's. The 7-4 record including a disappointing second half collapse in a loss to Georgia and a close win over fsu earned the Gators the right to face Texas A&M in the Sun Bowl where Dickey kept his bowl game streak alive, dropping the game by 37-14.
The 6-4-1 season of 1977 was a clear sign that the Dickey regime had hit its high water mark, failed to win an SEC title and was in a downward spiral. The senior talent never jelled as a unit and as QB Terry LeCount stated, "we had too many chiefs and not enough Indians" leading to dispirited play at times with the seniors unable to work together. From 1967 until the game in '77, fsu had been unable to defeat Florida but like a number of things that went bad in this season, the sows gave Blotchy his first victory in the rivalry and the 37-9 contest wasn't close. The Gators' season highlight may have been their 17-17 tie with mighty Pitt. Rumors of racial strife on the squad and the disappointing record had many calling for Dickey's head once again.
Coach Dickey began the season in early January of 1978 by shaking up his staff and bringing in former Gators Steve Spurrier and Lee McGriff to revamp the offense to a pro style attack. With only rivals fsu and scUM left on the '78 schedule, the Gators limped to that point with an erratic 4-5 team that had electrifying wins against Mississippi State and Auburn and horrid losses to LSU, Alabama, and Georgia, the last a 24-22 heartbreaker. QB John Brantley, LB Scott's brother, played well enough so that highly-touted soph QB/receiver and former high school track star "Cadillac" Cris Collinsworth was moved permanently to WR where he was All SEC with 745 yards on 39 receptions and an excellent kick return man. The rushing attack was the worst in the SEC however, with freshman Tailback Cal Davis the leading rusher with a paltry 186 yards. The LB's once again led the defense with Scott Brantley polling 193 tackles and five interceptions. Fellow LB David Little, younger brother of Dolphin great Larry Little, was almost as good with 138 tackles and four INT's. The fsu loss at 38-21 had Dickey fired before finishing his preparation for the final game against scUM. His contract was bought out and he coached the scUM game as a farewell - a bitter one that ended in a 22-21 loss. The Gators' 4-7 record that season marked the end of the Dickey regime.
In 1979, new Coach Charley Pell brought in from Clemson had a gigantic mess to clean up. UF's facilities had fallen way behind other SEC programs, booster support was also lacking in comparison to other top tier programs, in-state rivals had come to dominate on the recruiting trail and the team was lacking at several key positions such as Quarterback and Running Back. Pell admitted he had to devote more time and energy to courting well-heeled boosters such as Citrus magnate Ben Hill Griffin, Wendy's founder Dave Thomas and NY Yankees owner George Steinbrenner among others to obtain the funding needed to replace UF's woeful facilities. Furthermore, recruiting contacts throughout the state had to be cultivated in order to rebuild the program. Pell secured an agreement from the university to expand the stadium by enclosing the south endzone thus raising seating capacity to 75,000. Given the massive cleanup job and the lack of talent on Offense, combined with injuries to a few key players such as LB Scot Brantley, it is therefore not terribly surprising that Florida suffered through its worst season in history at 0-10-1.
Decade record 58-53-3 for a 52.093% winning percentage
Carlos Alvarez
Wide Receiver 1969-1971 named an All American in 1969 he finished his career with 176 receptions. He still holds Gator records for receptions in one game (15), one season (88), receiving yards (2,563), tied for most 100 yard receiving games in a season (8), though his career reception record has since been broken. Persistent knee injuries limited his effectiveness later in his career and precluded the possibility of an NFL career. This Cuban refugee from Miami was fortunately also a 3 time academic All American and went on to a successful career as an attorney.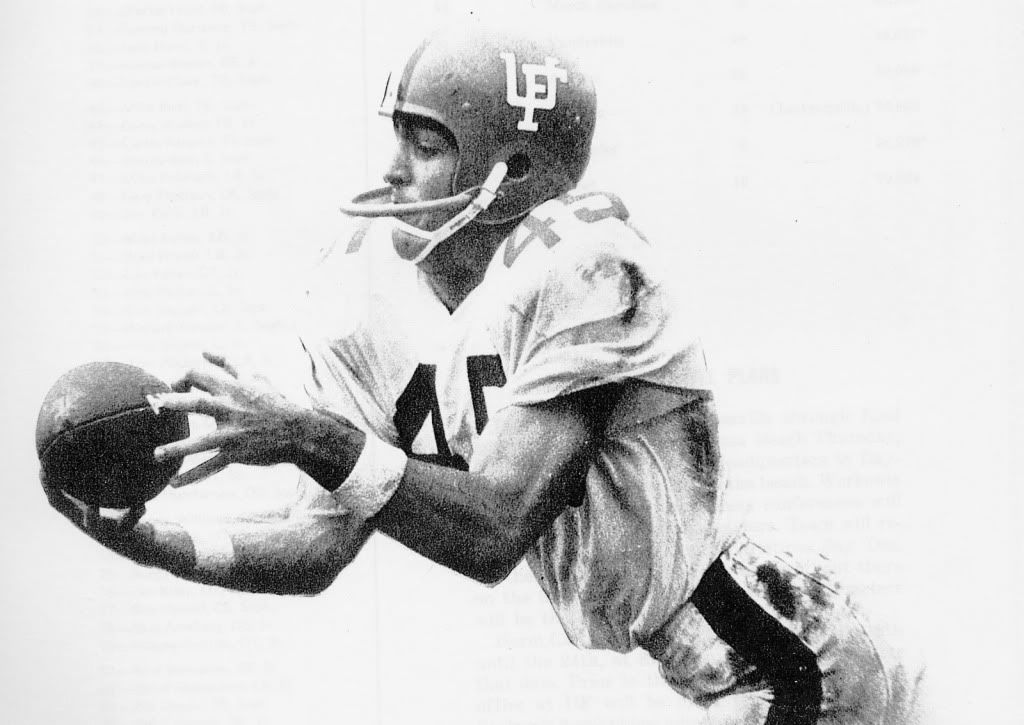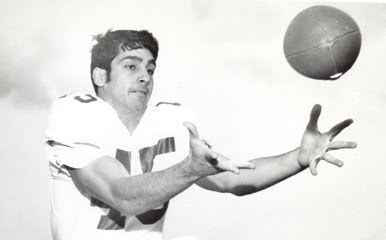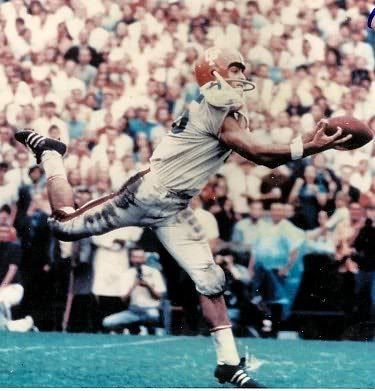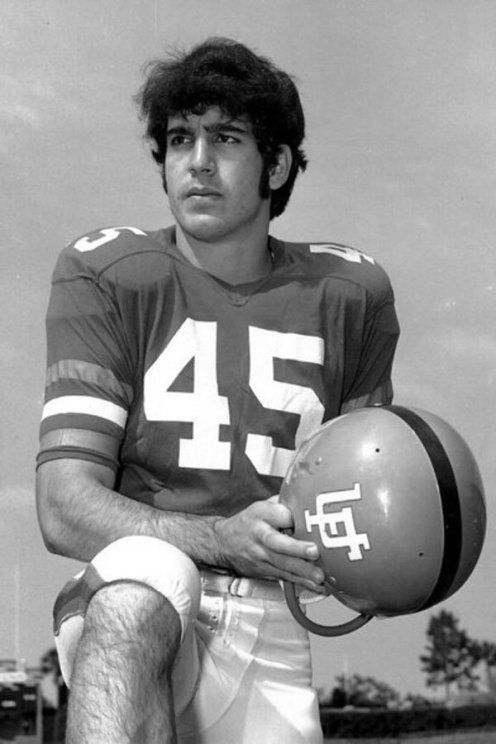 Carlos Alvarez catches John Reaves' record breaking pass vs miami 1971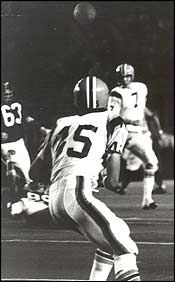 John Reaves
1969-1971 Quarterback The triggerman of the "Super Sophs" he was named All American in 1971, and finished his Gator career as the NCAA career passing yardage leader. He was a 1st round draft pick who played 11 years in the NFL and 3 more in the USFL.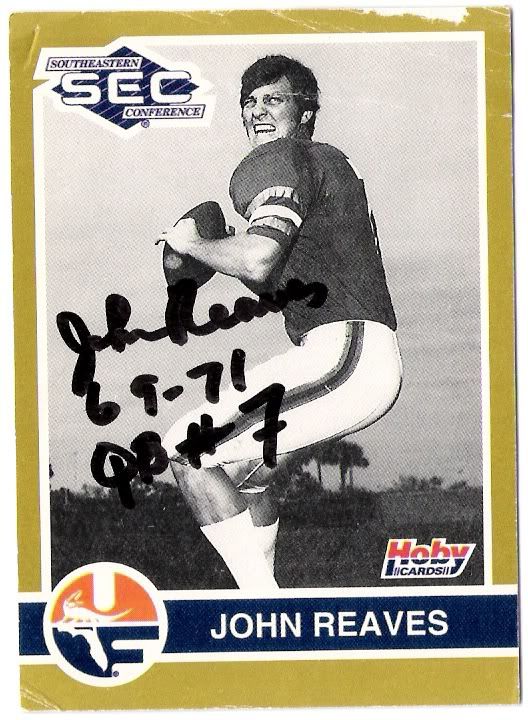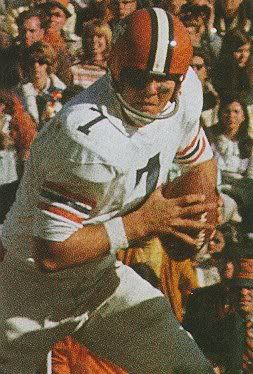 John Reaves and Carlos Alvarez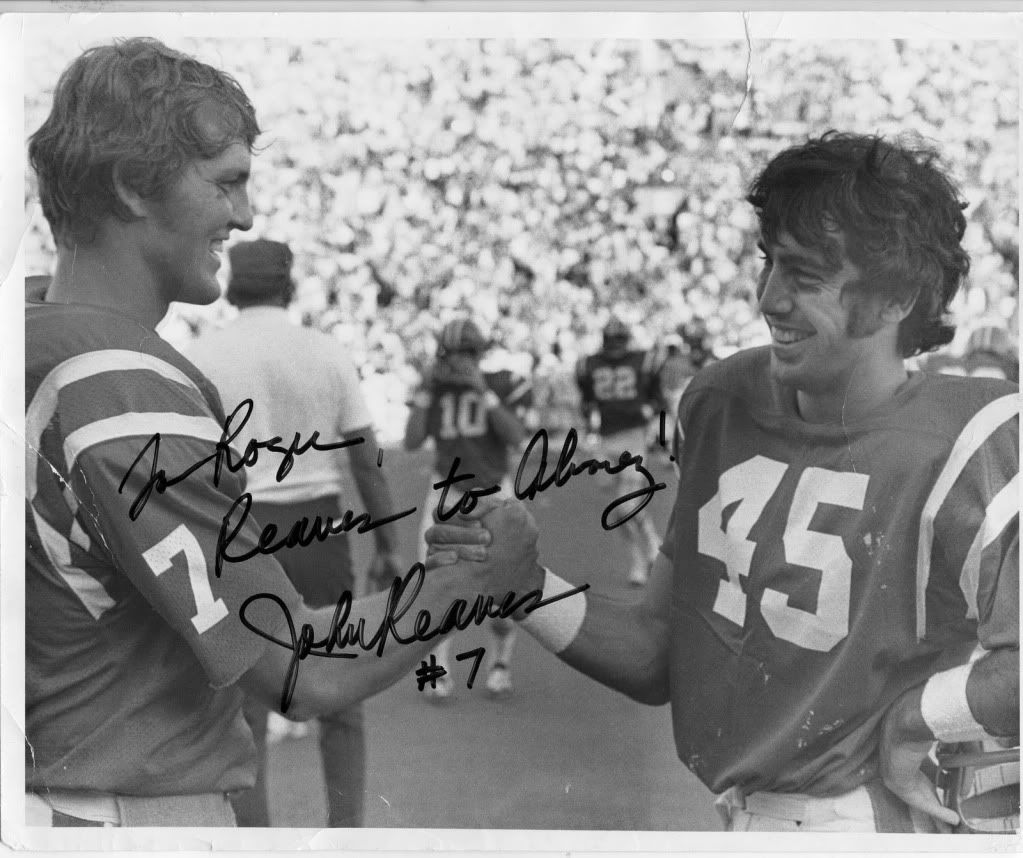 Jack Youngblood
1968-1970 Defensive End was selected as an All American his Senior year, and was a 1st round draft pick. He enjoyed a 14 year NFL career and was selected for the pro football hall of fame. Additionally, Youngblood was one of only 3 unanimous choices of sportswriters for the all 70's SEC team and was selected as one of 5 players for the Gator Ring of Honor. He is considered to be the best DE in Gator history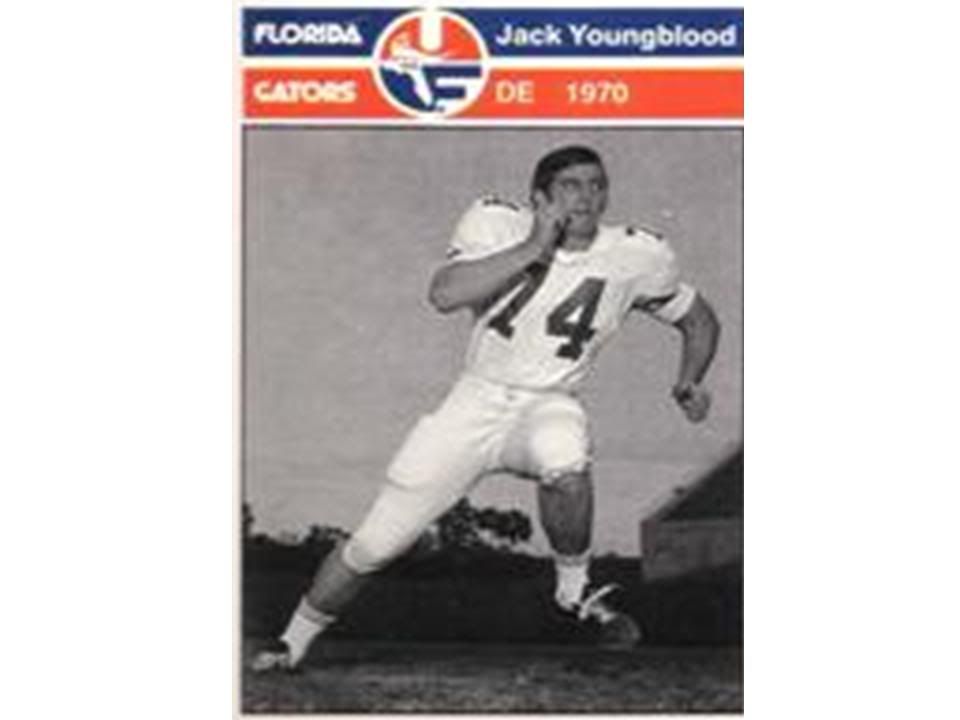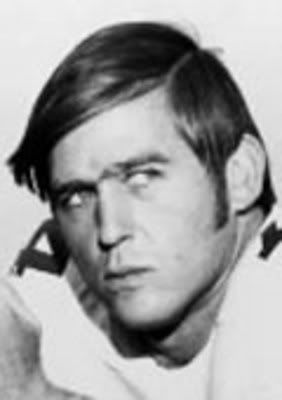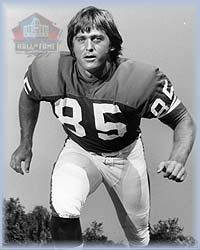 Nat Moore
1972-1973 Tailback transferred to UF from Miami Dade Community College. Moore shifted to Wide Receiver in the NFL where he enjoyed a productive 13 year career. Moore is also known for his humanitarian services. In 1984, the NFL voted Moore as "Man of the Year," an honor given to a player who gives outstanding service to his community. Moore also received the Byron White Humanitarian Award in 1986. In 1998, he created The Nat Moore Foundation, an organization which works with disadvantaged youths in the Miami area. Moore is currently a football broadcaster for Gator games on Sunshine Network.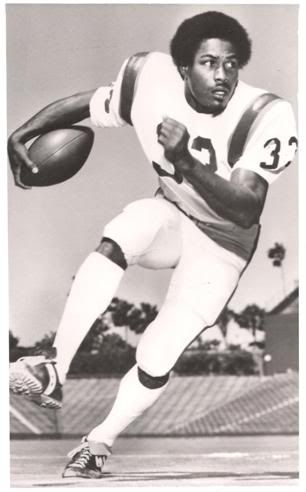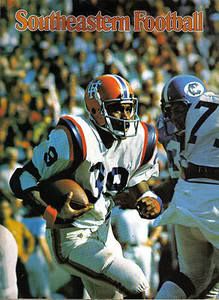 Doug Dickey
58-43-2 record 57.2 winning percentage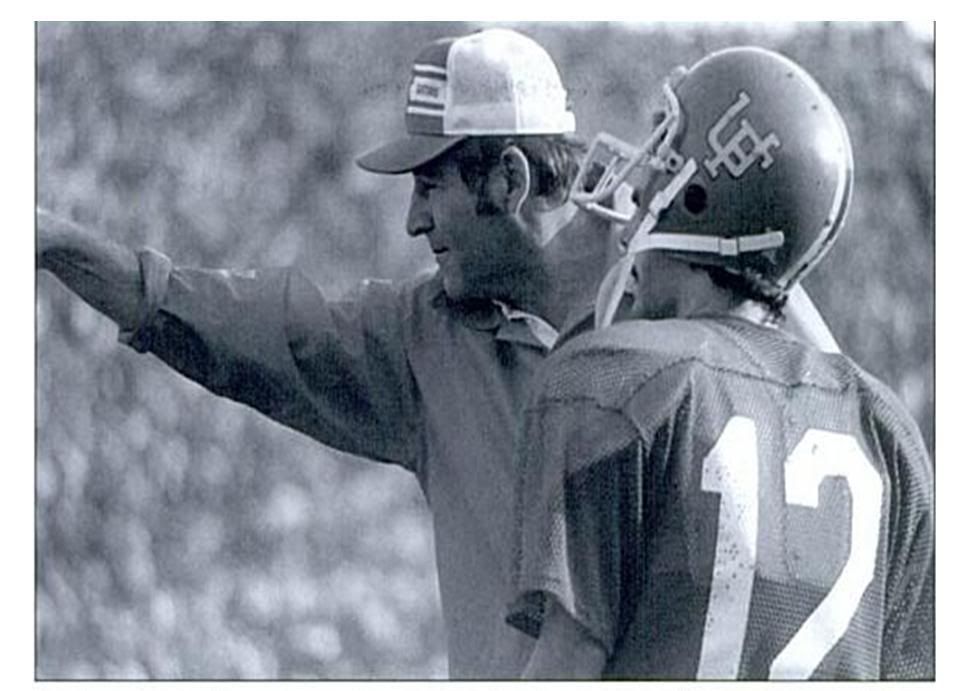 Scot Brantley
1976-1979 Linebacker – Brantley was a star player in Ocala and was the subject of a very heated recruiting battle in which he chose Florida over 80 other schools which had also made offers. He was a very productive player for the Gators twice being named All SEC. His 193 tackles in his junior year ranks second in the record book for single season tackles in school history. He was injured early in his Senior season and missed the remainder of the year. Brantley enjoyed an 8 year NFL career before immediately starting a career in broadcasting where he served for years on the Gator Radio Network as both a color analyst during pre-game, halftime and post game shows and filled a similar role for the Tampa Bay Bucaneers.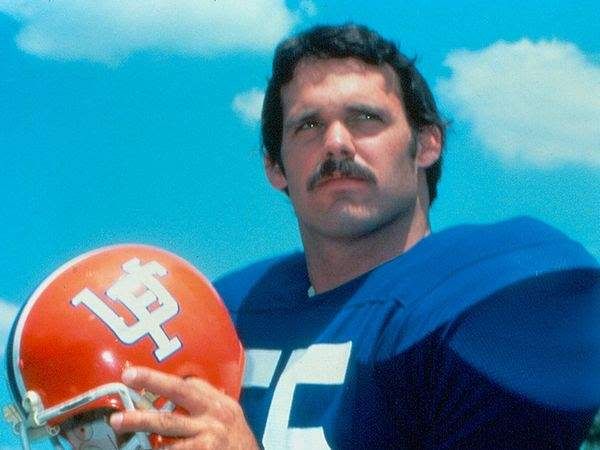 Tony Green
1974-1977 Tailback Rushed for over 2,000 career yards. 2nd round Draft pick in the NFL draft.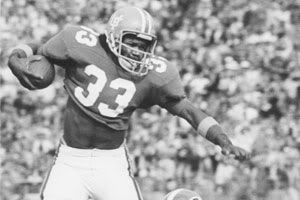 Burton Lawless
1972-1974 Offensive Guard – was particularly effective as a pulling guard due to his excellent quickness. He was the only rookie to start in the next year's Super Bowl after being selected in the NFL draft, his 6 year NFL career was cut short by a farming accident.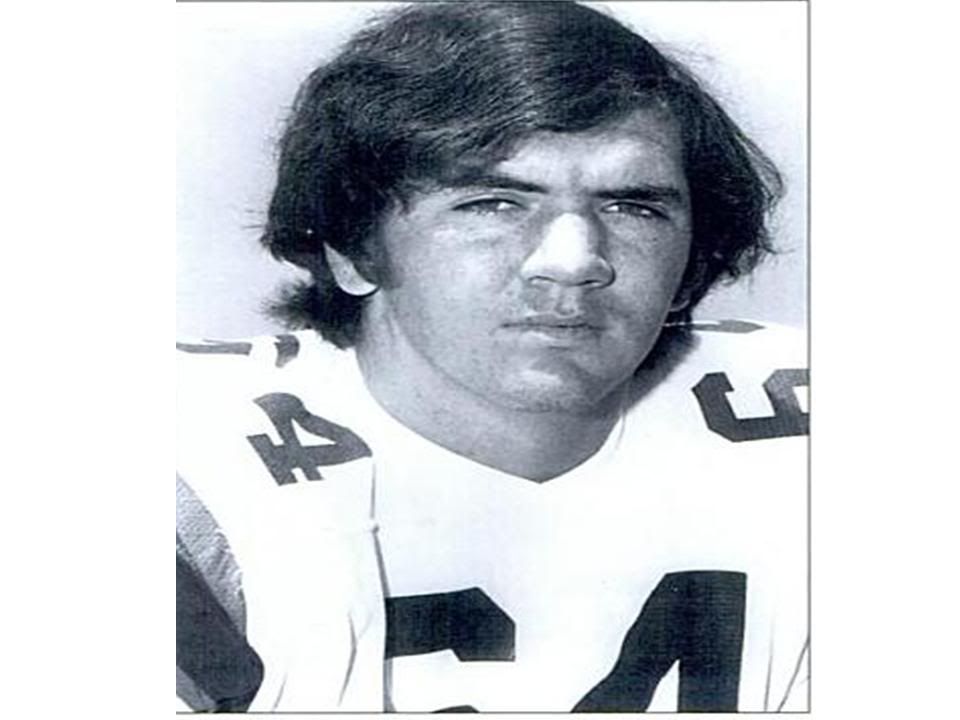 Sammy Green
1972-1975 Linebacker set a school single season record with 202 tackles his senior year in which he was named an All American. Green had a 5 year NFL career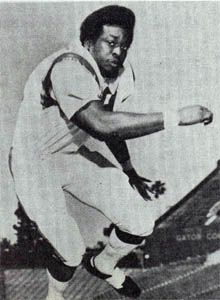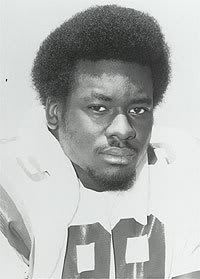 Ralph Ortega
1972-1974 Linebacker twice All SEC and an All American in his Senior Season, 6 year NFL career.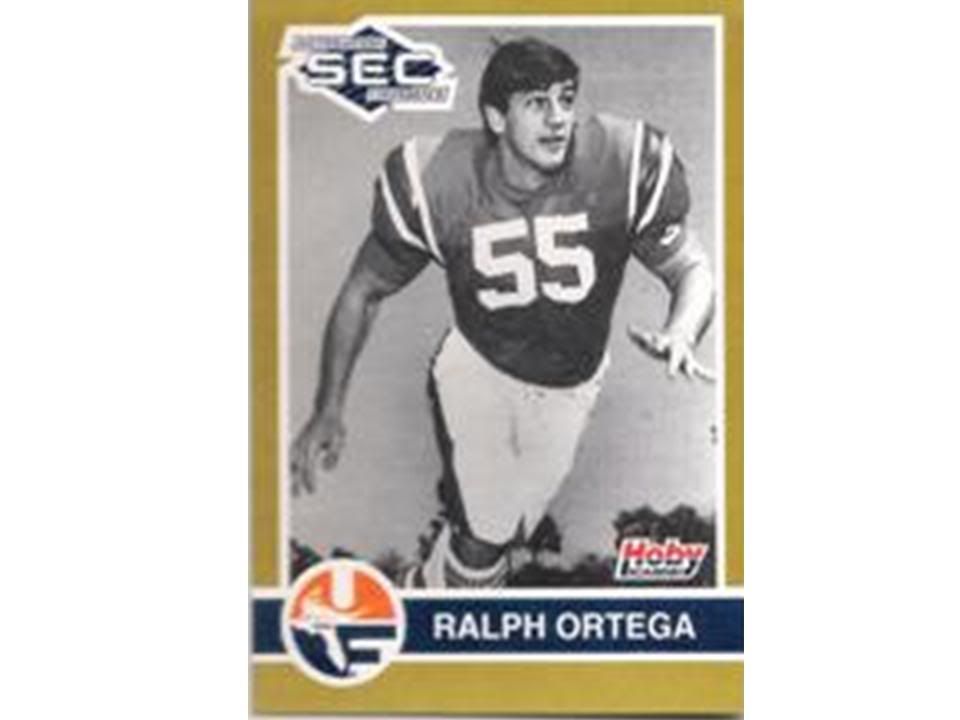 Wes Chandler
1974-1977 Wide Receiver - During his career with the Gators, he caught 92 passes for 1,963 yards and a (then) school record 22 touchdowns in a run-oriented offense, adding 6 more scores on rushes and kick returns. Chandler was an All American selection in 1976 and 1977 and is widely considered to be one of the best football players to ever play at the University of Florida, having been named to several all-time school and all-SEC teams. He was a 1st round selection of the New Orleans Saints and enjoyed a very productive 11 year NFL career in which he amassed 10,526 all-purpose yards. At the time of his retirement, Chandler ranked 12th in NFL history in receiving yards and 13th in receptions. He also earned four Pro Bowl selections,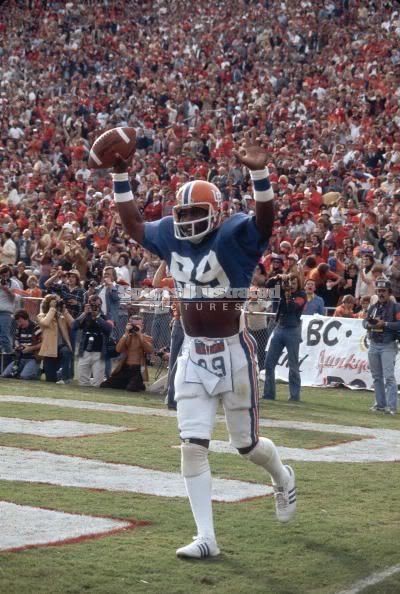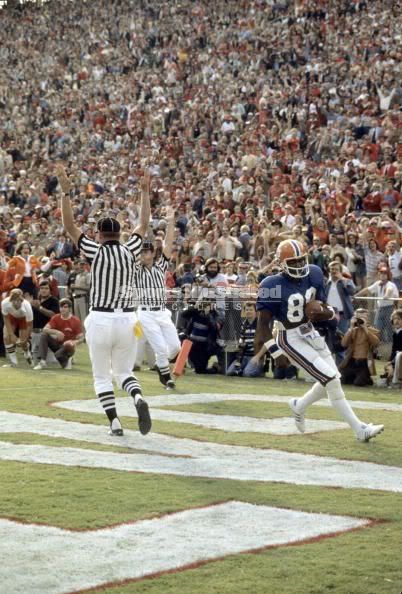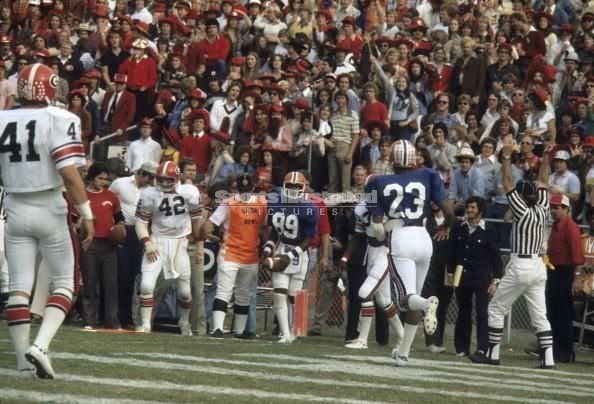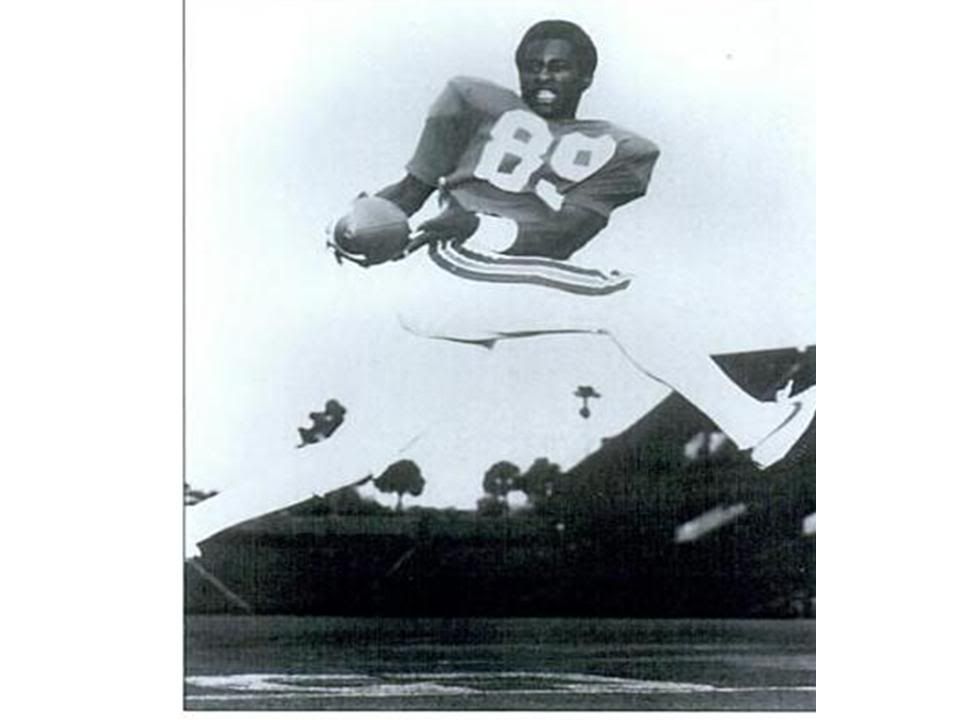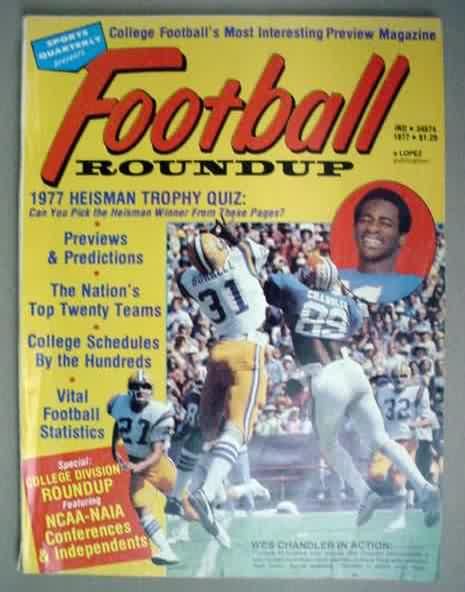 Glenn Cameron
1972-1974 Linebacker – he was selected as an All American his senior year in 1974. Cameron and good friend Ralph Ortega were all set to become scUM (they were from Miami) until they attended a game in the Swamp. They both immediately fell in love with UF and came to Gainesville despite his father having been in the scUM hall of fame. Although Ortega got more notoriety, Cameron was a more steady player. He was a 1st round draft pick and enjoyed an 11 year NFL career.
Lee McGriff
1972-1974 Wide Receiver - Despite playing in a Wishbone Offense which rarely threw the ball, former walk-on McGriff was still named to the ALL SEC squad and went on to play a year in the NFL.
Jimmy Dubose
1973-1975 Fullback - Dubose was a very effective blocker and an excellent runner. He set a single season school record with 1307 rushing yards in 1975 which stood until the arrival of Emmitt Smith. He went on to a 3 year NFL career.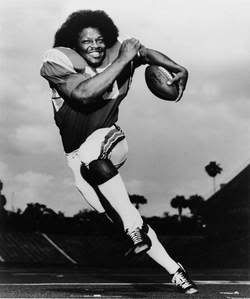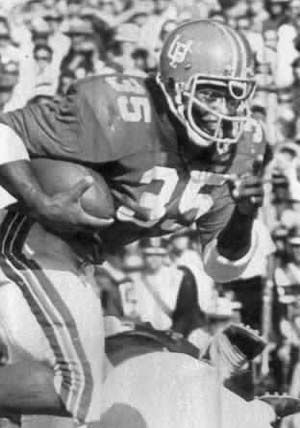 "Touchdown" Tommy Durrance
1969-1971 Tailback – the main ground threat for the Super Sophs, Durrance scored 18 touchdowns in his Sophomore season – a record that stood until Tim Tebow's Heisman winning season of 2007. He finished his career as a Team Captain in 1971.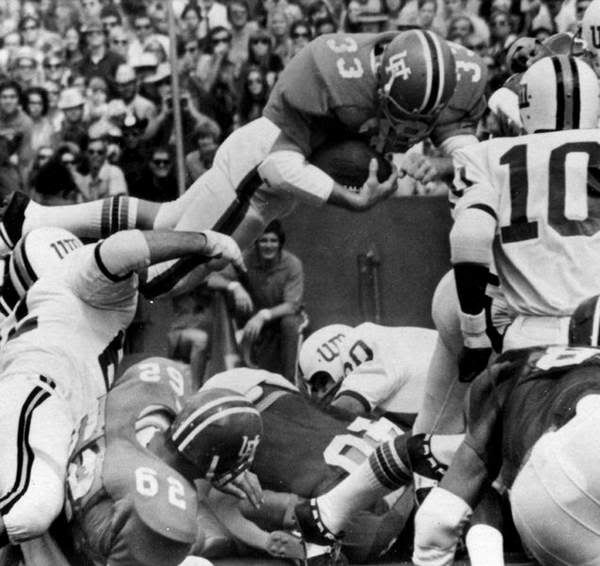 Super Sophs John Reaves, John, John Rich, Tommy Durrance, Carlos Alvarez
Offensive Coordinator Fred Pancoast with Carlos Alvarez & Andy Cheney
Derrick Gaffney
1974-1977 Wide Receiver – the brother of starting Gator QB Don Gaffney, Derrick was a talented receiver in his own right who was named all SEC in 1977 and went on to a 9 year NFL career. His most famous play was a 99 yard Touchdown reception from Cris Collinsworth vs Rice in 1977 tying an NCAA record.
Don Gaffney
1973-1975 Quarterback a gifted runner and the best of Florida's Wishbone Quarterbacks of the 1970's, he led the Gators to their first victory over Auburn in Jordan-Hare stadium in 1973, and their best record in the Dickey era (9-3) in 1975.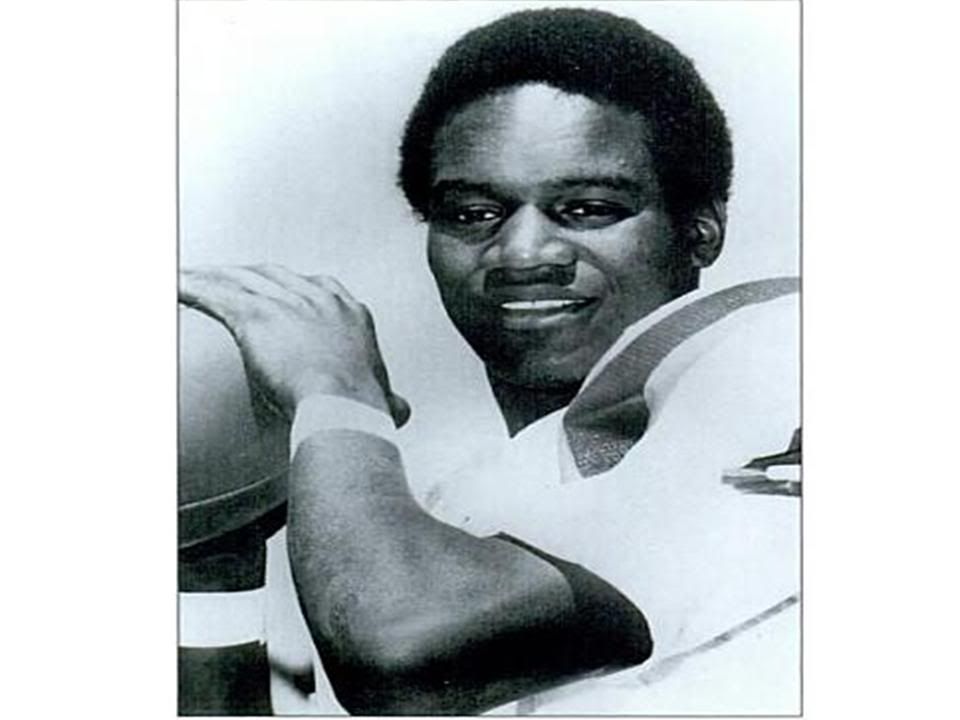 Earl Carr
Fullback 1975-1977A talented sturdy fullback who went on to play 2 years in the NFL.
Terry LeCount
Quarterback 1974-1977 – used as a Quarterback in UF's wishbone Offense, he was much more of a natural receiver where he went on to play in the NFL for 9 years.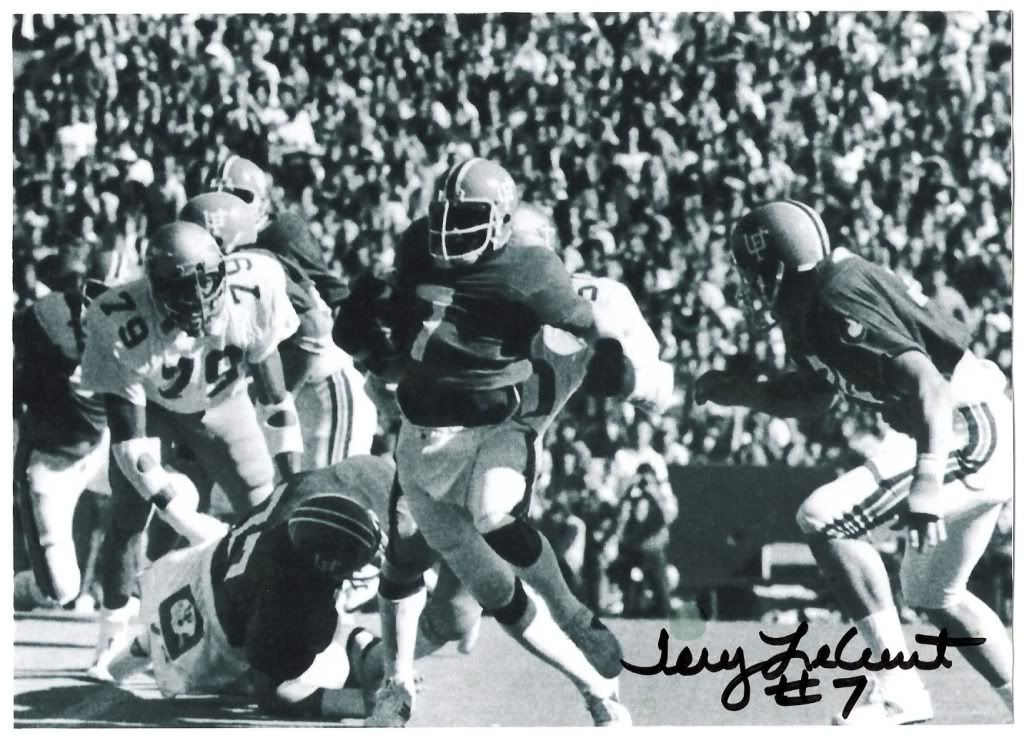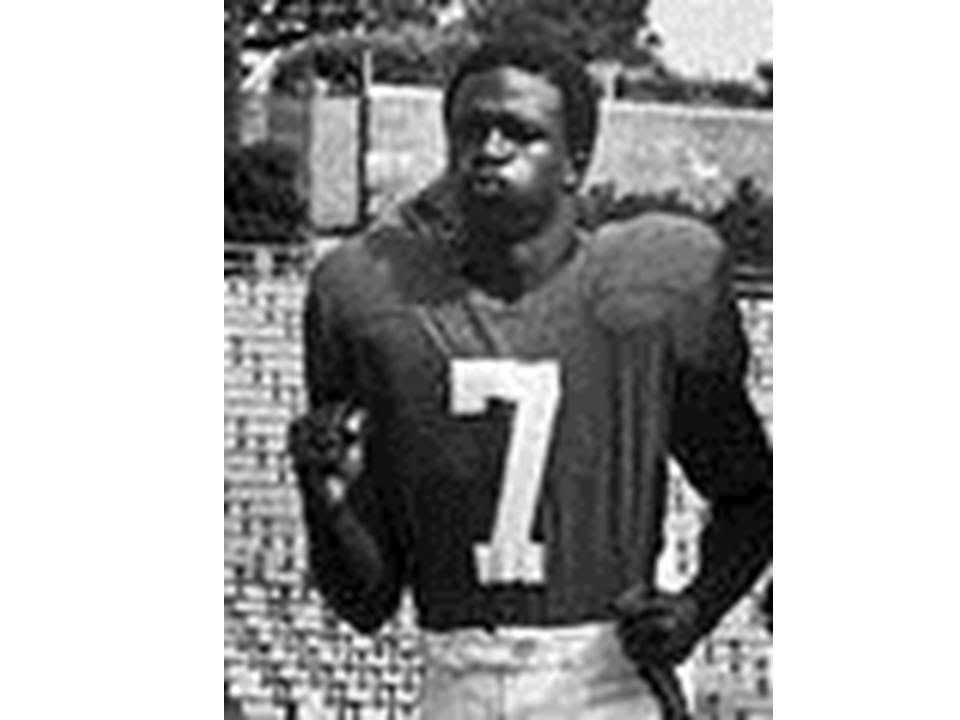 John Brantley Sr
Quarterback 1976-1978 the brother of star Linebacker Scot Brantley, John played well enough to allow Cris Collinsworth to move to his natural WR position.
Preston Kendrick
Defensive End 1972-1974 voted all SEC in his senior season he went on to be a 3rd round draft pick in the NFL.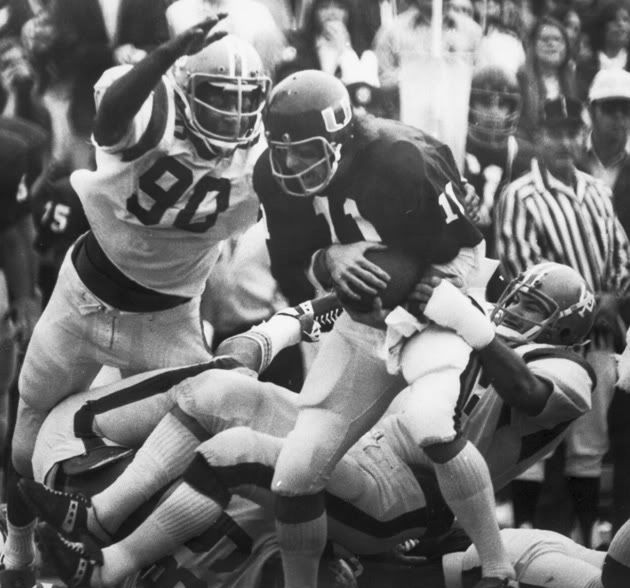 The Florida Flop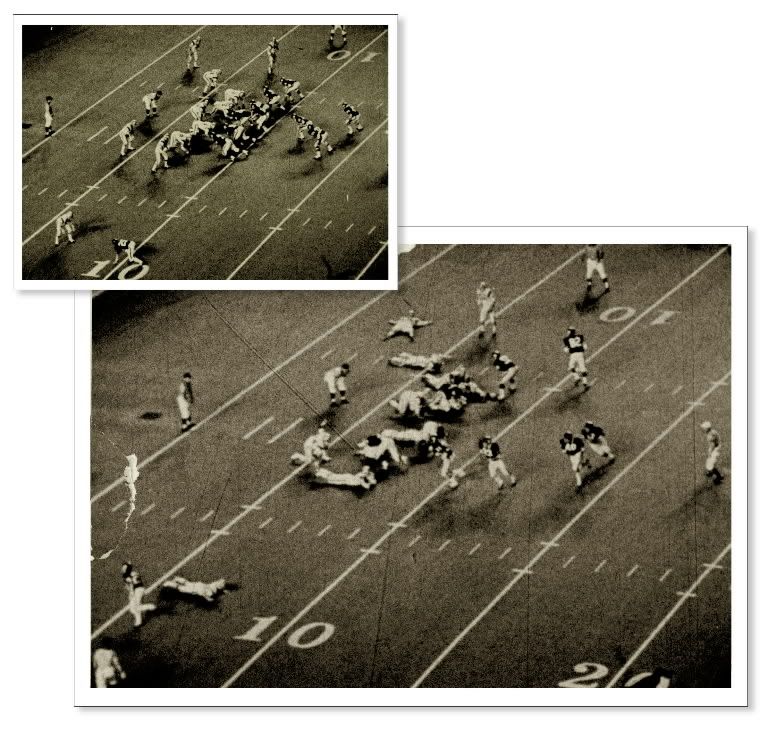 1972 Gators vs fsu 42-13
Gators vs miami 1970's game action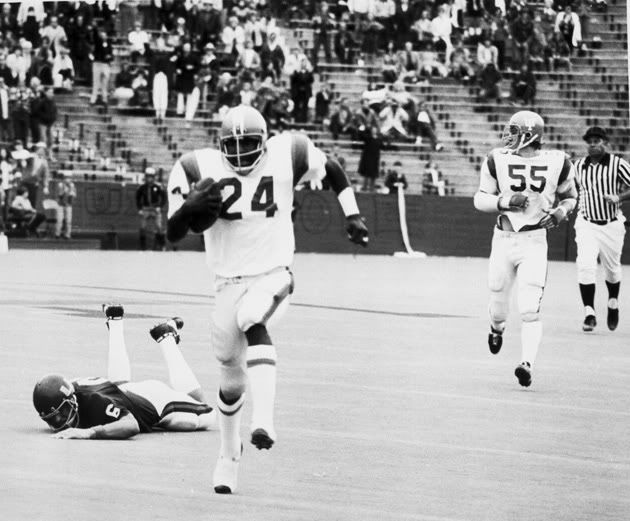 QB Jimmy Fisher and Coach Dickey 1975
Gators vs Kentucky 1975
Early 70's Gator Helmet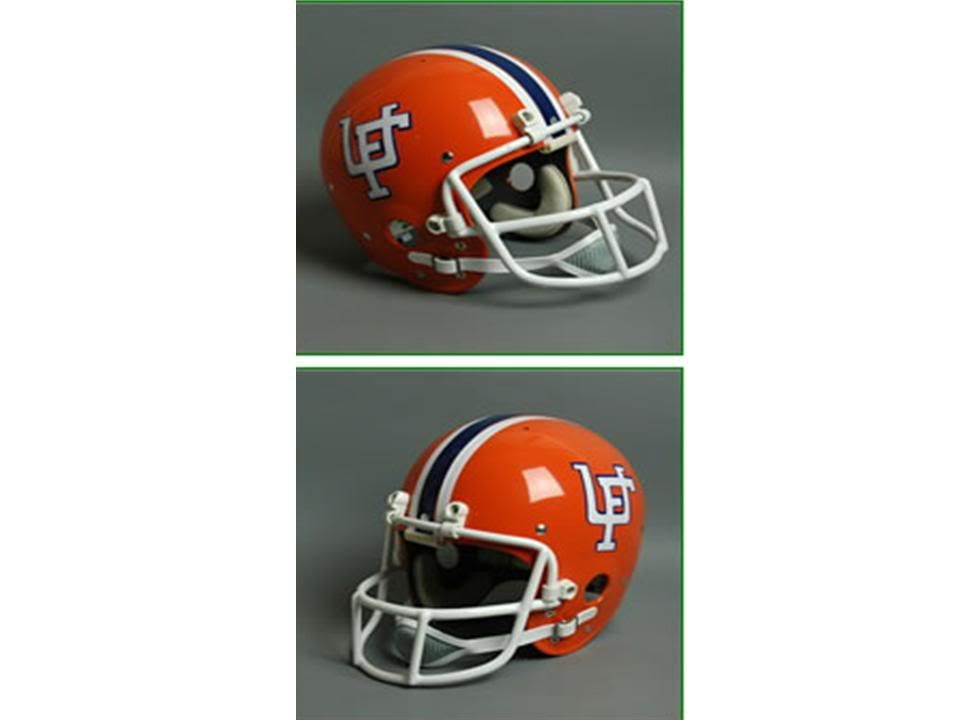 Mid 70's Gator Helmet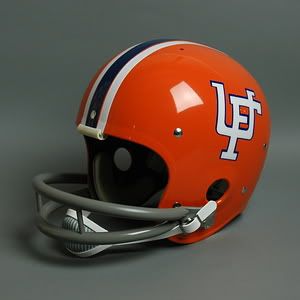 Gator Uniform 1975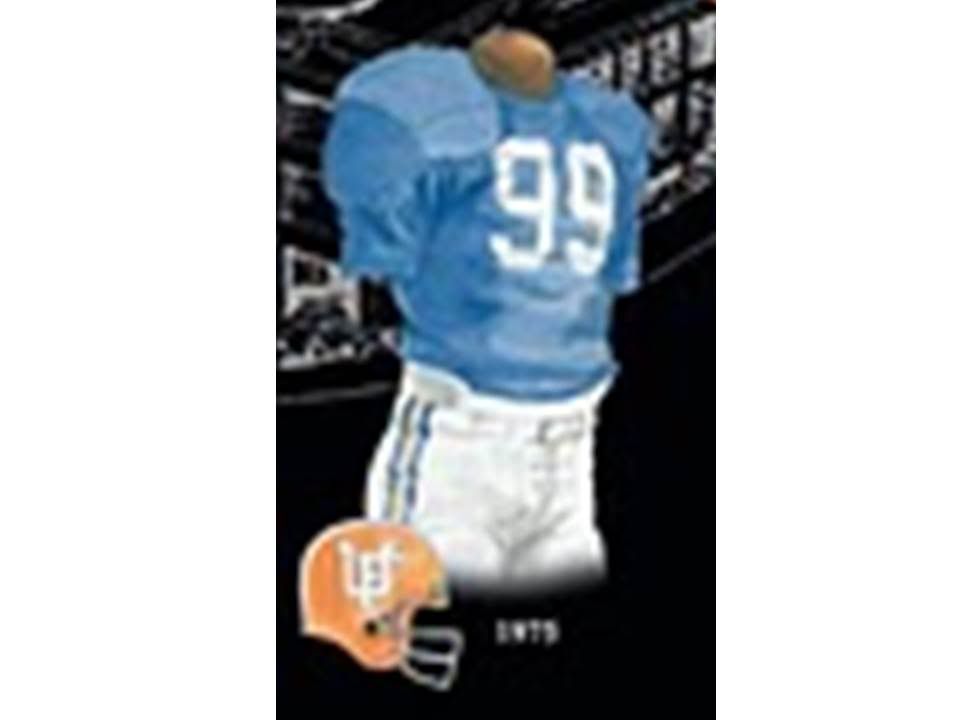 Florida Field 1979
before South Endzone enclosure raised seating capacity to 82,000
Albert 1979