Post by deathroll on Oct 31, 2014 13:09:53 GMT -5
Just like the snap of a Florida Alligator's jaw, the Spurrier era got off to a bang with a 50-7 drubbing of Oklahoma State. The Gators, showing an efficient passing attack led by Quarterback Shane Mathews which had been lacking since the 1986 season, moved up and down the field at will unveiling their new Offense which was to take the SEC by storm over the next decade. Season highlights included crushing defeats of Auburn and Georgia (48-7 and 38-7 respectively). Although the Gators again finished with the best record in the SEC as in 1985, they were unable to claim the conference crown due to the NCAA imposed one year bowl ban stemming from the 1989 investigation. The Defense was keyed by All-Americans Defensive End Huey Richardson and Safety Will White as well as outstanding play from stalwarts like Cornerback Richard Fain and Defensive Tackle Brad Culpepper as well as Linebackers Godfrey Myles and Tim Paulk. The Pass Defense proved vulnerable to strong passing teams though with its new 8 man front scheme and contributed greatly to losses against Tennessee and fsu. Florida finished with a 9-2 record.
The Gators were again strong in 1991 due to the talented Senior class which had been the backbone of the team for the previous two seasons. Standouts on Defense included DTs Brad Culpepper and Tony McCoy and LB Tim Paulk while the Offense was again led by QB Shane Mathews, a veteran and talented receiving corps, Tailback Errict Rhett and a powerful Offensive Line composed of 4 Seniors including All SEC Center Cal Dixon and Guard Hesham Ismael. After suffering a surprising road loss to Syracuse, Florida rolled through its SEC schedule handily defeating Alabama (35-0), LSU (16-0), Tennessee (35-18), Auburn (31-10), and Georgia (45-13). The Gators then held off a determined Kentucky team 35-26 at home to claim their second SEC Championship and set up a huge showdown with in-state rival fsu. In a very physical and emotional game in the Swamp, the Gators prevailed by a 14-9 score as fsu's last pass fell incomplete in the endzone in the final minutes. The Gators were rewarded with a trip to the Sugar Bowl vs. Notre Dame. Despite registering 511 yards in total offense including a record 370 yards passing by Shane Matthews, the Gators suffered a 39-28 setback to the Irish largely due to a now injury depleted Defense and the powerful running of Notre Dame Fullback Jerome Bettis. Notre Dame scored three TDs in the last five minutes of the game after Florida had moved ahead 22-17 early in the fourth quarter. Florida finished the season 10-2 – the first 10 win season in school history.
With the departure of so many Seniors including all four starting Defensive Linemen and four of five starters on the Offensive Line, Florida experienced a "disappointing" 9-4 season in 1992. The season included a victory over Auburn and a 26-24 upset victory over Georgia. Despite suffering two defeats in conference play, Florida won the Eastern Division of the newly expanded SEC and faced undefeated Alabama in the inaugural SEC Championship game on "neutral" Legion Field in Birmingham Alabama. In that game, Florida moved the ball surprisingly well against Bama's stingy Defense but suffered a last minute interception returned for a touchdown to fall 28-21. The season was capped by a Gator Bowl invitation where Florida faced ACC runner-up NC State. Errict Rhett rushed for 182 yards, the third top total in Gator Bowl history and the second best total for a Florida player in a bowl game, to highlight an impressive 27-10 win. UF's defense had a fine night as it held the Wolfpack to just 13 first downs and 267 yards in total offense while Shane Matthews closed out his brilliant career leading a Gator offense that registered 26 first downs, ran 88 plays, and totaled 445 yards in total offense. Rhett was named MVP of the game – although many Gator fans not only on TV but also in the stands did not see much of the action due to a very thick fog bank that rolled in during the 1st quarter. Shane Mathews finished his career as the school's leading passer after accumulating over 9,000 passing yards and was twice named SEC Player of the Year.
The 1993 Gators led by outstanding Freshman Quarterback Danny Wuerffel and on-again off-again Junior Terry Dean finished with an 11-2 record –the best in school history. The Gators also won their third SEC Championship after downing Alabama by a 28-13 score in the second SEC Championship Game held once again on "neutral" Legion Field in Birmingham Alabama. Season highlights included a thrilling 41-34 shootout win over Tennessee in the Swamp and 33-26 over Georgia in Jacksonville as well as a 58- 3 drubbing of LSU (the most lopsided win in the series). Losses included heartbreaking last second defeats to Auburn (35-38) and fsu (21-33). The Gators were again rewarded with a trip to the Sugar Bowl to face undefeated West Virginia where they easily prevailed by a 41-7 score. The win was UF's first Sugar Bowl victory in four appearances and represented the school's first New Year's Day bowl win since a 27-12 win over Georgia Tech on Jan.1, 1967 in the Orange Bowl. Errict Rhett, who rushed for 105 yards and three TDs, was named the game's MVP and finished his outstanding 4 year career with 4,163 rushing yards – the most in school history.
After being tabbed as one of the front runners for the national championship and attaining the number 1 ranking for the second time in school history (1985 just prior to the Georgia game was the first) Florida finished the 1994 season with a "disappointing" 10-2-1 record and the school's 4th SEC Championship. The highlights of the season included a 31-0 victory over Tennessee in Knoxville and a 52-14 wipeout of Georgia in the first game in the series played in Gainesville since 1931 and only the second overall. Lowlights included blowing a 31-3 fourth quarter lead in Tallahassee to allow fsu to tie the game and an eventual 23-17 loss to fsu in a Sugar Bowl rematch.
Less was expected from the 1995 squad after the graduation of several key starters on Defense including All American DE Kevin Carter and first round draft choice DT Ellis Johnson among others. The Defense did indeed prove somewhat more vulnerable but the Offense now directed by QB Danny Wuerffel as the full time starter was so potent it didn't matter. The Gators put together a string of twelve straight victories including a thrilling 62-37 shootout over Tennessee on a rain drenched afternoon that saw Florida overcome a 30-14 deficit and score touchdowns on seven straight possessions. Other key victories included a 49-38 come-from-behind victory over Auburn and a 28-10 victory over LSU. Florida faced Georgia in Athens for the first time since 1932 and hung a 52-17 blowout on UGA becoming the first visiting team to score more than 50 points in the history of Sanford Stadium. Florida then put together workmanlike victories over fsu (35-24) and Arkansas (34-3) in the SEC Championship Game to claim the school's 5th SEC Championship and its third in a row. The Gators, now undefeated and ranked #2 in the country were to face one of the strongest teams in college football history – the undefeated #1 ranked Nebraska Cornhuskers in the Fiesta Bowl for the national championship. The Gators started strong, holding a 10-6 lead at the end of the first quarter, but the Cornhuskers were too much as they posted a 62-24 victory and captured their second consecutive national title.
The 1996 season marked the debut of new Defensive Coordinator Bob Stoops brought in to shore up the Gators leaky pass Defense and the end of the 8 man front in favor of a traditional 4-3 scheme. The Gators opened with 10 straight wins - most of them being in blowout fashion over Tennessee, LSU, Auburn and UGA setting up a #1 vs #2 showdown with in-state rival fsu in Tallahassee. The injury riddled Florida Offensive Line had difficulty holding off a fierce fsu pass rush and the Gators dropped a 21-24 heartbreaker seemingly knocking them out of the national title picture. Team spirits received a considerable boost however when Texas defeated Nebraska in the Big 12 Championship Game thus paving the way for a Sugar Bowl rematch if Florida could get past Alabama in the SEC Chamionship Game.in Atlanta. Belatedly Spurrier adopted the shotgun to give Danny Wuerffel a bit of extra time behind the injury depleted Offensive Line, and that was all Wuerffel needed as Florida pulled away from Alabama in the second half for a 45-30 win and Florida's 6th SEC Championship and 4th in a row. The Gators received a bit more help from the football gods when Ohio State won in the last minute over undefeated Arizona State making the Sugar Bowl rematch with fsu a de facto National Championship game.
Both teams opened the contest throwing the football, combining for 238 yards passing and a 10-3 Gator lead at the end of the first quarter. Florida, which worked out of the shotgun for much of the game and with a now healthier Offensive Line, twice extended its lead to 14 points, but the seminoles responded each time, cutting the UF lead to 24-17 with under a minute to play in the half. fsu trimmed the Gator lead to 24-20 on a 45 yard field goal less than five minutes into the second half, but they would not score again. Florida sealed the victory by scoring the final 28 points of the game, a run that began with Ike Hilliard's third touchdown reception of the game on an eight-yard strike from Danny Wuerffel. Wuerffel then scrambled 16 yards for a score to put UF up 38-20 with 13 seconds left in the third quarter, and Terry Jackson added two fourth quarter scoring runs, including a 42-yarder, for the final margin. The Gator defense was strong from start to finish, stopping the seminoles on downs at the UF 23 on the game's opening possession and holding FSU to just 42 total net yards rushing, just two yards shy of the UF bowl record set against Baylor in the 1960 Gator Bowl. For his outstanding play all season, Danny Wuerffel was named as the second Heisman Trophy Winner in school history.
The Gators opened the 1997 with five straight wins behind the running of Tailback Fred Taylor and a fierce Defense to aid new starting Sophomore Quarterback Doug Johnson. Johnson's inconsistent play was to come back to haunt Florida though in a close 21-28 loss at LSU and for the first time after seven straight wins, the Gators lost to Georgia in Jacksonville. With Florida now out of the race for the SEC Championship there was just one major goal left for the regular season – dashing the hopes of undefeated and #1 ranked in-state rival fsu in the Swamp. In a tight see-saw battle that saw Fred Taylor lose two fumbles and rush for 162 yards and 4 touchdowns, Florida drove down the length of the field before Taylor bulled in from the 1 yard line for the 4th time of the day to put the Gators ahead 32-29. The Gator Defense then sealed one of the most thrilling wins in the history of the Swamp with an interception with less than a minute to play. On New Year's Day 1998 in Orlando the Gators defeated Penn State and legendary Nittany Lion coach Joe Paterno at the Florida Citrus Bowl. Fred Taylor rushed for 234 yards, the most ever by a Gator in a bowl game and he most ever in the Citrus Bowl, to lead the Gators to a 21-6 victory. The Gator defense was also a top story of the days as it held Penn State to just 139 total yards, the lowest ever for a Penn squad under Paterno, and twice stopped the Nittany Lions from scoring on fourth and goal situations inside the one-yard line in the second quarter. With the Citrus Bowl victory, Florida finished the season with a 10-2 record.
The 1998 season got off to a bad start early as the mistake prone Gators lost in overtime against Tennessee after committing five turnovers. Florida recovered well from that defeat rattling off seven straight wins including victories over LSU, Alabama, Auburn and Georgia but injuries took big toll on the team forcing Florida to face its in-state rival fsu without eight starters including Quarterback Jesse Palmer who had won the starting job, and the entire starting Defensive Line. fsu had injury problems of its own having to play without starting Quarterback Chris Weinke, but the lack of depth on the Defensive Line as well as the erratic play of Quarterback Doug Johnson was too much for the Gators to overcome. A healthier Gator squad faced Syracuse in the Orange Bowl and won handily 31-10 with a now healthy Jesse Palmer substituting at Quarterback for Doug Johnson who broke his leg in the contest. The Gators again finished with a 10-2 record. Florida's sixth consecutive season with at least 10 wins is something that has never been matched in SEC history.
The 1999 season started promisingly with the Gators winning nine of the first ten contests behind the leadership of Quarterback Doug Johnson. Included in that string of victories were wins over Tennessee, LSU, Auburn and Georgia. The lone setback was a heartbreaking 39-40 defeat to Alabama in the Swamp as the Gator Defense proved unable to stop Alabama's super Tailback Shaun Alexander in the second half. Uniquely for a Gator squad under Steve Spurrier, the play of the 1999 team seemed to get worse as the season wore on rather than better. This became readily apparent when the Gators dropped their final 3 games of the season to finish with a disappointing 9-4 record.
The Gators finished the decade with a 102-22-1 good for an 82% winning percentage making the 90's the best decade in Florida's history. Achieving 100 victories in a decade is also considered to be a major milestone and is something few programs have accomplished.
Huey Richardson
1987-1990 OLB/DE A first team All-America selection in 1990 and two time first team all SEC choice, Richardson finished his career with a school record 26.5 sacks and 50.5 tackles for loss-the third highest total in school history. He was a first round selection in the NFL Draft.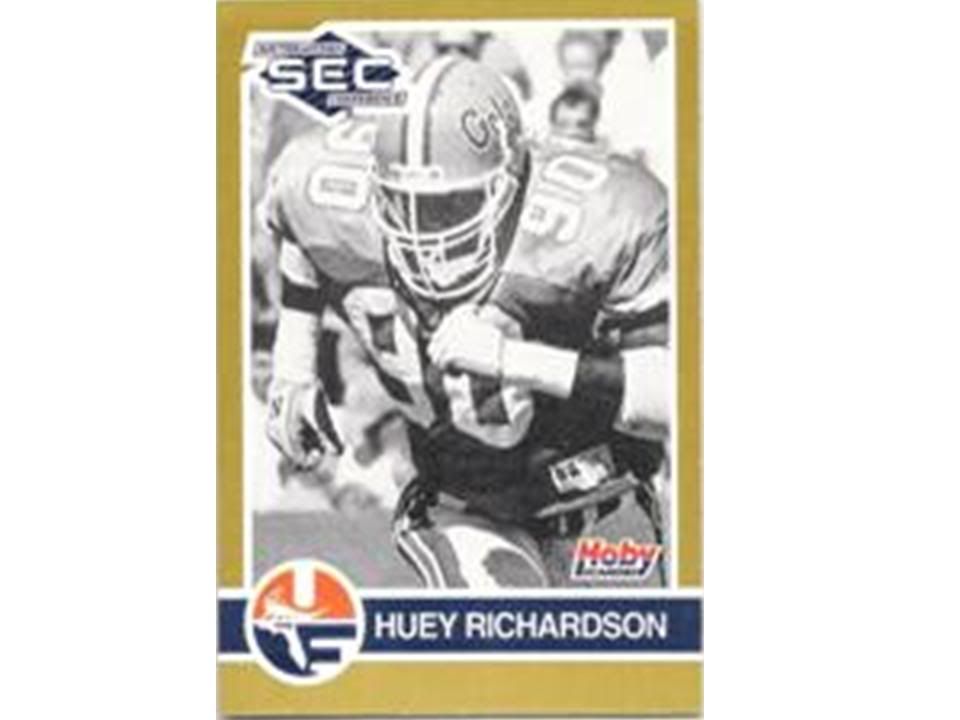 Shane Matthews
1989-1992 Quarterback. Operating Steve Spurrier's "Fun 'n Gun" Offense, Mathews was twice selected at SEC Player of the Year and finished his career with over 9,000 career passing yards making him the all-time leading passer in school history. He went on to a 13 year NFL career.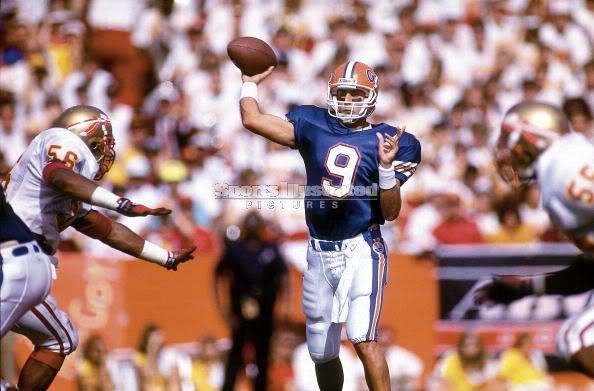 Brad Culpepper
1988-1991 Defensive Tackle Is both the son, grandson and nephew of former Gator players, he was named as a first team All-American in 1991, Culpepper set a school record for tackles for loss by an interior Defensive Lineman that year (21.5) and for his career (47.5). In his Senior season he was also elected as the student body vice president. He enjoyed a productive 9 year career in the NFL and is currently an attorney residing in Tampa.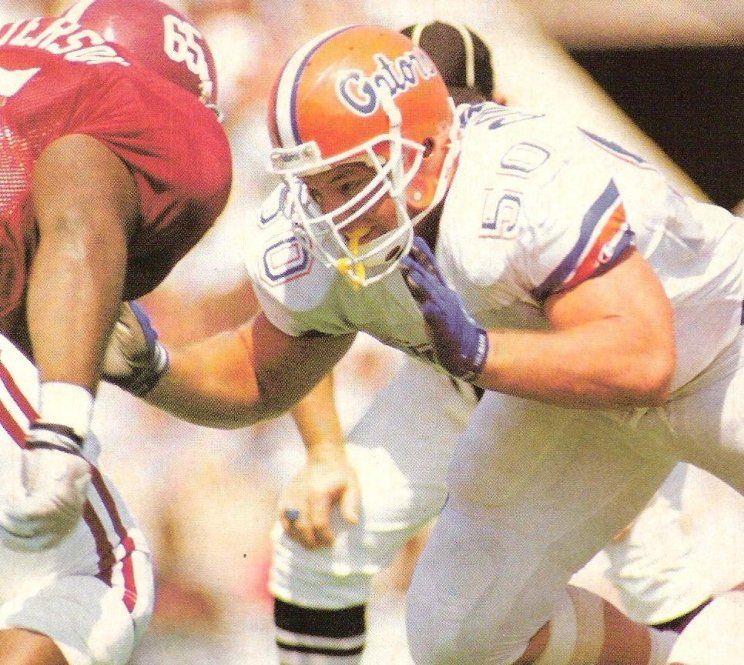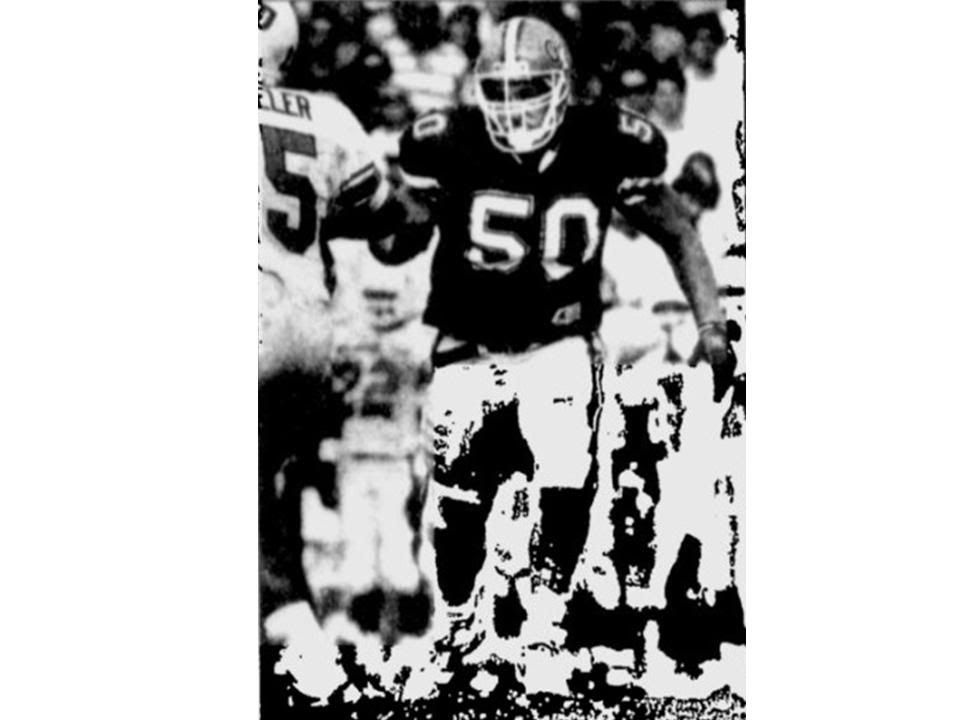 Tony McCoy
1988-1991 Defensive Tackle a quick, strong and fiery competitor, McCoy teamed with Brad Culpepper to give Florida the most dominating interior Defensive Line in the nation in 1991. He went on to a 10 year NFL career. McCoy is currently a pastor in Groveland, Florida.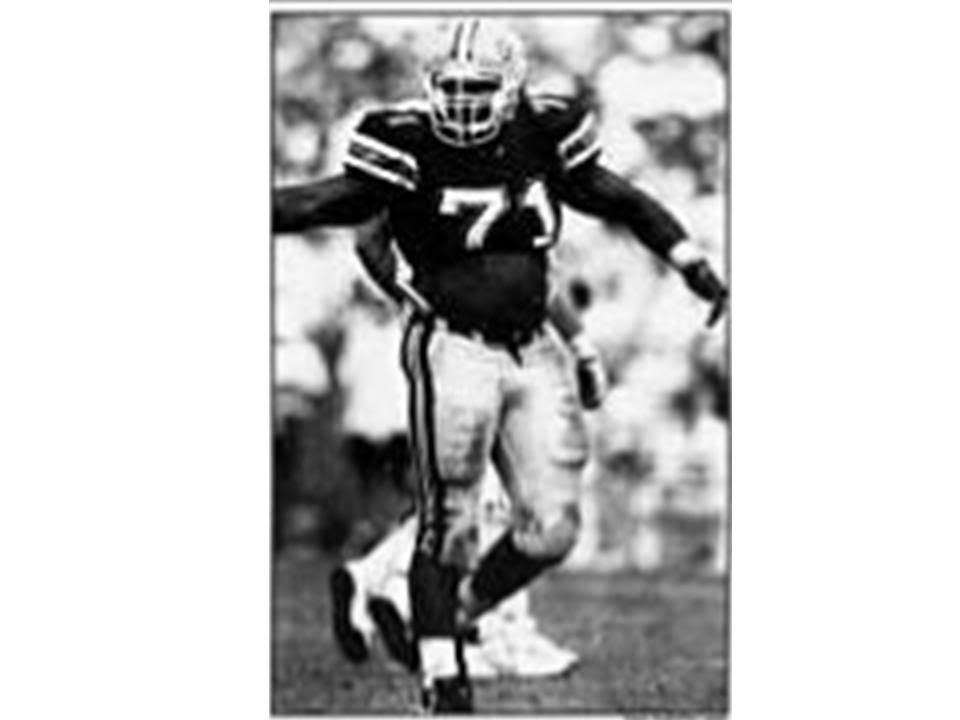 Errict Rhett
1990-1993 Tailback Rhett was a first team All-America choice in 1993 and a first team All SEC choice in 1991 and 1993. This strong slashing back with excellent power finished his career with 4,163 yards making him the school's all-time career rushing leader. In addition to being an outstanding runner, Rhett was also an outstanding receiver with 143 career receptions to his credit. He was a second round selection in the NFL draft and was named NFC Offensive Rookie of the Year in 1994. He went on to a 7 year NFL career in which he posted more than 4,000 career yards. .
Kevin Carter
1991-1994 Defensive End Named a first team All-American in 1994, and a two time first team All SEC selection, Carter teamed with Ellis Johnson to give Florida one of the most dominant Defensive Lines in the country in 1994. He was a first round choice in the NFL draft, has been a two time pro bowl selection and has so far enjoyed a 15 year professional career.
Ellis Johnson
1991-1994 Defensive Tackle A quick and powerful athlete, Johnson became an early starter despite being just 17 years old when he reported to practice as a freshman. He went on to become a dominant Defensive Tackle in his Senior season. Johnson was a first round selection in the NFL draft and enjoyed a 10 year career in which he accounted for over 50 sacks and over 350 career tackles.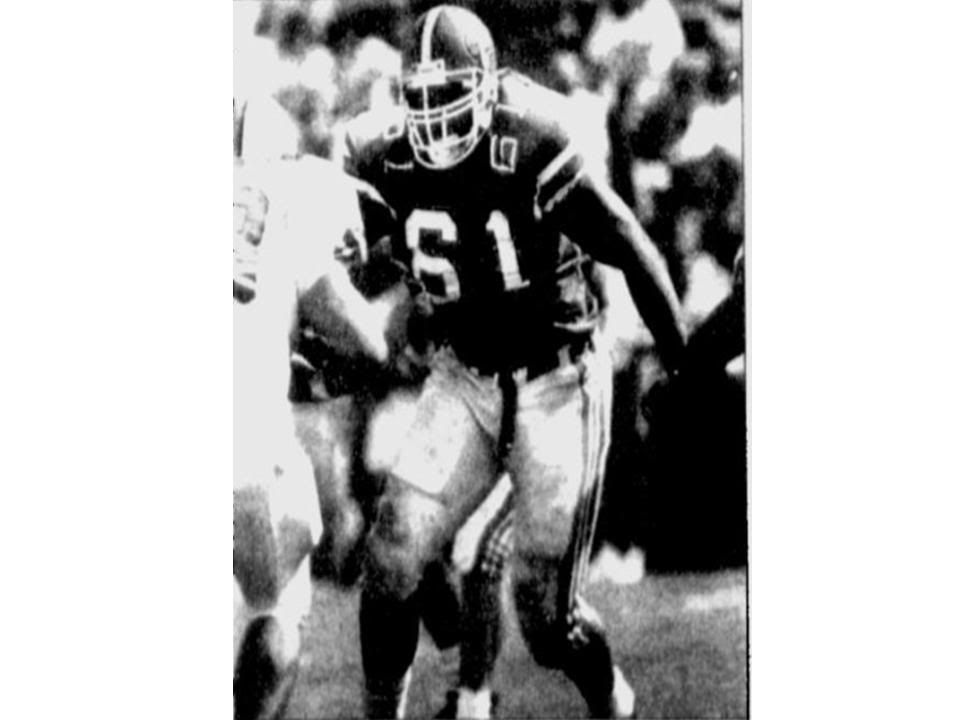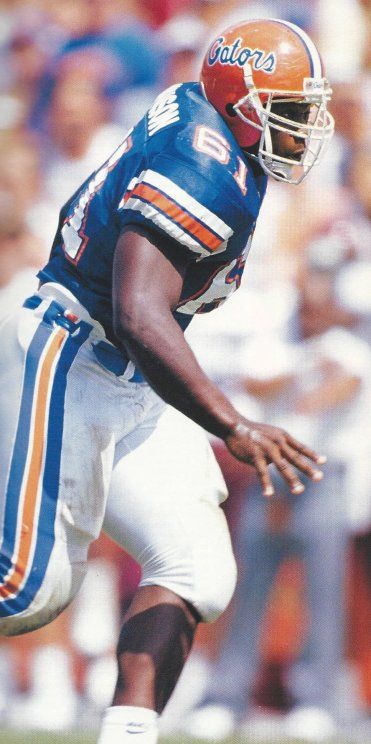 Jack Jackson
1992-1994 Wide Receiver Jackson earned all-SEC honors his Junior season and opted to enter the NFL draft prior to his Senior year. His electrifying catches and returns were a key part of the Fun n' Gun Offense of the early 90's
Jason Odom
-1992-1995 Offensive Tackle named as a first team All-American in 1995, Odom was a 4 year starter for the Gators. He was twice awarded the Jacobs Blocking Trophy given annually to the best Offensive Lineman in the SEC. He went on to a 4 year career in the NFL.
Danny Wuerffel
1992-1996 Quarterback One of the most decorated players in Florida's football history, Wuerffel won the 1996 Heisman Trophy while quarterbacking the Gators to the consensus national championship. He led the Gators to four consecutive SEC titles between 1993 and 1996, and the 1996 National Championship. He is the only Heisman Trophy recipient to receive the Draddy Award, which is presented by the National Football Foundation and the College Football Hall of Fame to the nation's top football scholar-athlete. Wuerffel was a First-team All-America selection in 1995 and 1996 and two-time recipient of the Davey O'Brien Award as the nation's top college quarterback both of those seasons. He was named to the Gainesville Sun's UF Team of the Century in 1999 and was chosen the century's top Gator offensive player. He is also a member of the Florida Gator's 100th Anniversary Team, which was chosen in 2006.
He finished his Gator career by completing 708 of 1,170 passes for 10,875 yards with 114 touchdown passes, the best in SEC history and second-most in major college history. His career pass efficiency rating of 163.56 was the best in major college history and his percentage of passes which went for a touchdown (9.74) ranked first in collegiate history. In 1995, his efficiency rating of 178.4 set a single-season collegiate record. During his Heisman-winning season of 1996, he completed 207 of 360 passes for 3,625 yards (an SEC record at the time) for 39 touchdowns (leading the nation) and his efficiency rating of 170.6 made him the first quarterback to ever post a rating of 170 or better in back-to-back years. His 10,985 career passing yardage total also makes him the school's all-time leading passer. After a 6 year NFL career Wuerffel retired to start Desire Street Ministries which is focused on spiritual and community development in one of the poorest areas of New Orleans. He was one of 5 players selected for the Gator Ring of Honor.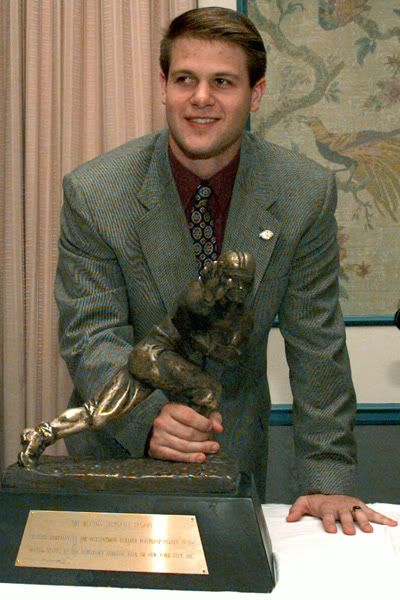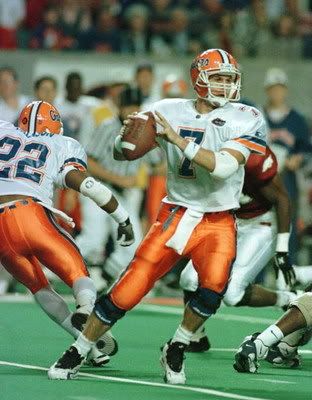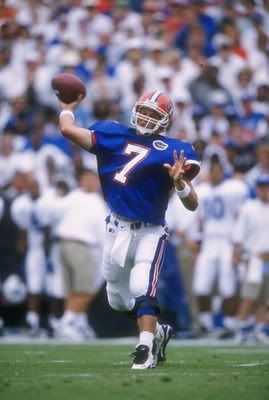 Ike Hilliard
1994-1996 Wide Receiver In his junior year in 1996 he chosen as an All American and was a key cog in the powerful Gator Offense which lead the team to the national championship. He finished his career at Florida with 126 receptions for 2,214 yards and 26 touchdowns. After leaving school a year early for the NFL, Hilliard was the seventh overall pick in the 1997 draft and enjoyed a 12 year career in the league.
Jeff Mitchell
1993-1996 Center The anchor of the powerful Gator Offensive Lines of the mid 90's, Jeff Mitchell started three seasons. He was selected as a first team All-SEC player in 1995. Mitchell earned academic honors for four consecutive seasons. As a senior in 1996, he started eight games at center for the Gators before suffering a broken right ankle, forcing him to undergo surgery and ending his season. He went on to enjoy a 10 year NFL career.
Reidel Anthony
1994-1996 Wide Receiver In 1996, along with winning the national championship, Anthony set the SEC regular season receiving touchdown record with 18 touchdown catches while recording at least one touchdown reception in 9 consecutive games. For his efforts he was named a First Team All-American that year. Anthony was a first round selection in the NFL draft.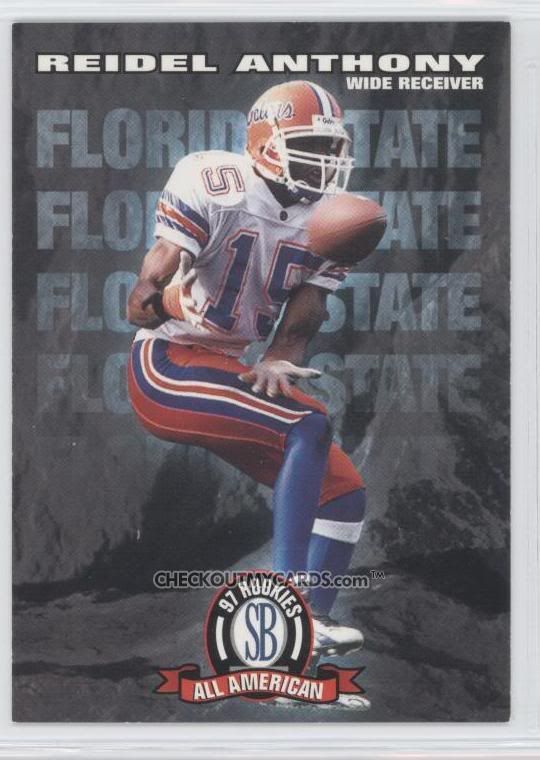 Chris Doering
1992-1995 Wide Receiver During his career at Florida, this tall rangy former walk-on receiver caught 149 passes (fourth best in Florida history) for 2,107 yards (eighth best in Florida history) and 31 touchdowns (best in Florida history and best in SEC history). His best-remembered play as a Gator was a game-winning touchdown pass he caught from Danny Wuerffel to defeat Kentucky, 24-20, in 1993. It is also known as "Doering's Got a Touchdown" after the repeated exclamation from Gator radio host Mick Hubert. Doering went on to an 8 year NFL career.
Travis McGriff
1995-1998 Wide Receiver. The son of former Gator All-SEC Wide Receiver Lee McGriff, this small but very quick receiver went on to earn All-SEC honors himself and set the school single season receiving record with over 1,300 yards in his magical 1998 season. He was a third round selection in the NFL draft and enjoyed a 4 year NFL career.
Fred Weary
1994-1997 Cornerback One of the best cornerbacks in school history, Weary was selected as a first team All-American in 1997. Weary completed his career with fifteen interceptions – the highest total in school history. His six interceptions in 1997 is the second best season total in school history. He enjoyed a 6 year NFL career.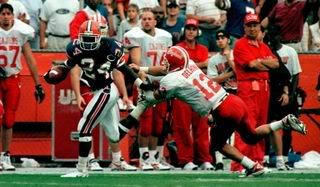 Jacquez Green
1995 -1997 small by very quick, elusive and fast, "Quezzie" Green was a first-team All-America selection in 1997 as well as a first team All-SEC choice after catching 61 passes for 1,024 yards that season. He may best be remembered for a long reception very late in the 1997 Florida-Florida State game that propelled the underdog Gators over fsu. He was a 2nd round selection in the NFL draft and enjoyed a 5 year career in the league.
Lawrence Wright
1993-1996 Free Safety This hard hitting safety was the emotional leader of the 1996 Gator Defense. He was a two time first team All-SEC selection as well as an All American selection in his senior year. Wright also won the Thorpe Award that year given to the nation's top Defensive Back. He went on to play in the NFL for 3 years.
Fred "Shake" Taylor
1994-1997 Tailback a fast, powerful yet shifty back, Fred Taylor was named as an All-American in 1997 in which he rushed for 1,292 yards, Taylor finished his career with over 3,000 career yards. Taylor was the 9th overall selection in the NFL draft and has so far enjoyed a 12 year NFL career in which he has become the 15th leading rusher in NFL history with 11,540 career rushing yards.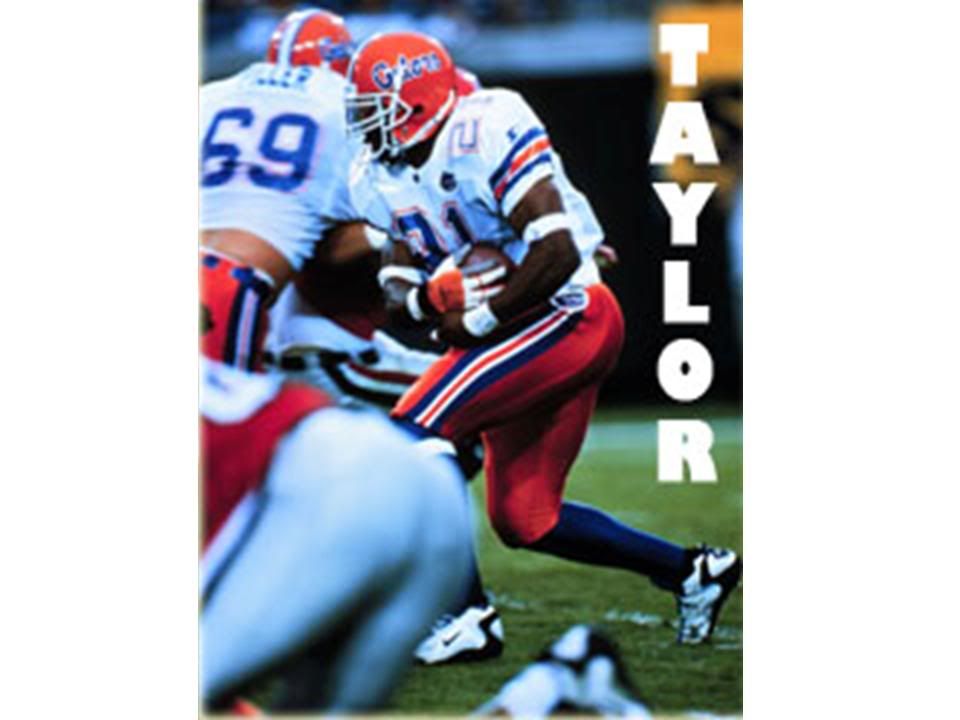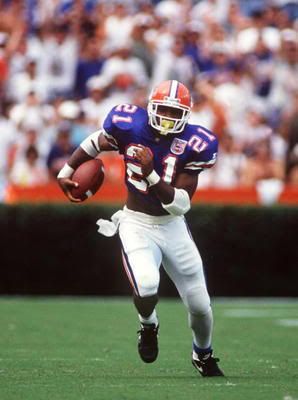 Jevon "The Freak" Kearse
1996-1998 DE Jevon "the Freak" Kearse was a first team All-American selection in 1998 as well as a two time first team All-SEC selection who was also chosen by the AP as the SEC Defensive Player of the Year. He was a first round selection in the 1999 NFL draft and was named NFL Defensive Rookie of the Year. He has so far enjoyed an 11 year NFL career and been selected to the Pro Bowl three times.
Mike Peterson
1995-1998 Outside Linebacker In his senior season, Peterson was named a first team All-American. Although quiet, he was a very productive player for Florida posting 249 career tackles, 13 tackles for loss and 8.5 sacks. Peterson was a second round selection in the NFL draft and so far enjoyed a productive 11 year career.
Donnie Young
1992-1996 Offensive Guard a two time all-SEC performer, he was a key cog in the Fun n' Gun Gators who won 4 consecutive SEC championships.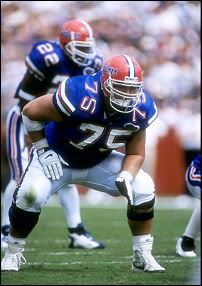 Willie Jackson Jr.
1989-1993 Wide Receiver the son of Gator receiver Willie Jackson Sr. Willie was a big physical receiver with excellent leaping ability and hands. He had a very productive career at Florida and went on to an 8 year career in the NFL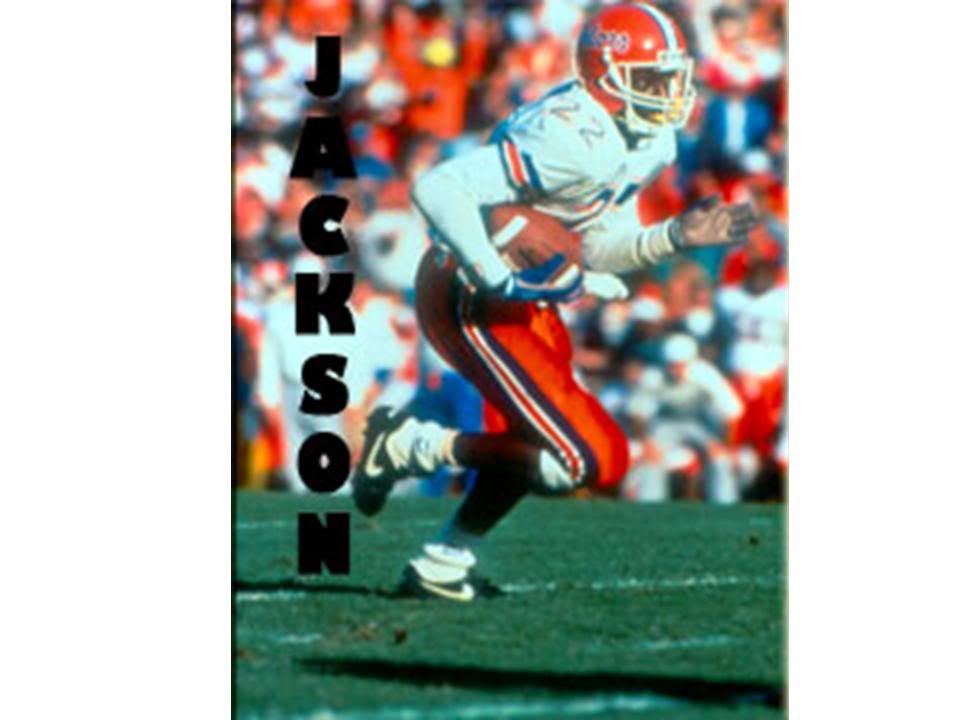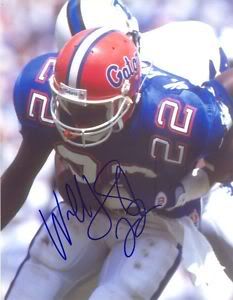 Monty Grow
1989-1993 OLB Originally a safety Grow was converted to Linebacker in his second season. He went on to a 2 year NFL career before a foot injury ended his playing days.
Johnny Rutledge
1995-1998 Linebacker a 2nd round draft pick, he went on to a 5 year NFL career
Darrel Jackson
1997-1999 Wide Receiver a highly touted prospect who lived up to his press clippings. Jackson had a breakout year in his Junior season and entered the NFL draft after that year where he went on to have a productive 9 year career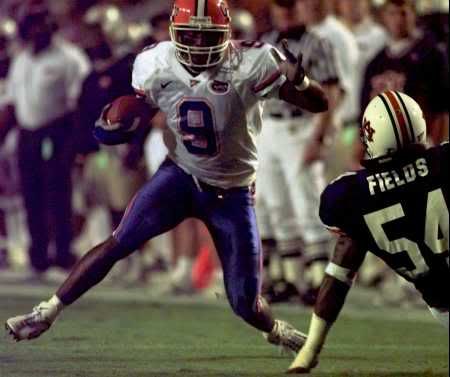 Jerry Odom
1987-1990 Linebacker an undersized but fiery player, Odom's ability to quickly read Offenses and quickness of foot made up for his lack of size at only 5'10 and 215 pounds.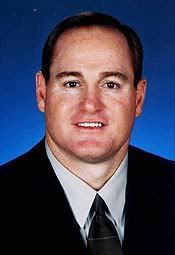 Ed Robinson
1990-1994 Linebacker The half brother of Dexter McNabb, Robinson was a solid 3 year starter
Zach Pillar
1996-1998 Offensive Guard after transferring from Georgia Tech, Pillar went on to be a 3 year starter at Florida and was named first team All SEC in 1998. He was selected in the 3rd round of the draft and went on to an 8 year NFL career
Tim Paulk
1987-1991 Linebacker Paulk was a very quick and physical Linebacker who played a key part of the stout 1991 Gator Defense which paved the way for Florida's second SEC championship.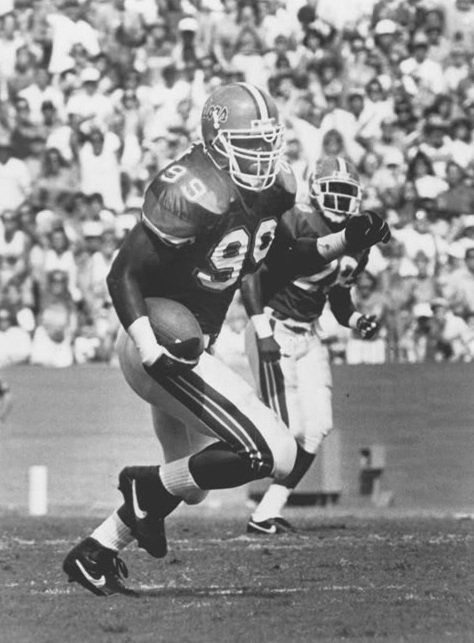 Cal Dixon
1987-1991 Center Dixon was quite simply one of the best centers in Gator history along with Jeff Mitchell. A highly touted prospect who lived up to his billing he was twice named all SEC and went on to a 5 year NFL career.
Richard Fain
1986-1990 Cornerback Twice named all-SEC, Fain was a lockdown corner for the outstanding Gator Defenses of the late 80's
Ed Chester
1994-1998 Defensive Tackle A dominant Defensive Lineman, Chester was an excellent pass rusher who was a sure-fire first round NFL draft pick until suffering a devastating knee injury in his Senior season which ended his career.
Eli Williams
1993-1997 Tailback/Cornerback Eli Williams was a productive player at Tailback for his first three season who made the switch to cornerback and played very well in his Senior season. He went on to play four seasons in the NFL
Terry Jackson
1995-1999 Tailback The son of Willie Jackson Sr and brother of Willie Jackson Jr, Terry was a productive back who suffered through an injury marred career at Florida. He went on to play 7 years in the NFL
Tony George
1994-1998 Free Safety George was a productive player being named All-SEC for the Gators despite his diabetes. He went on to play two years in the NFL
Ernie Mills
1986-1990 Wide Receiver A speedster who had difficulty early in his career catching the ball, Mills developed into a very good receiver by his Senior season. He went on to have a 9 year career in the NFL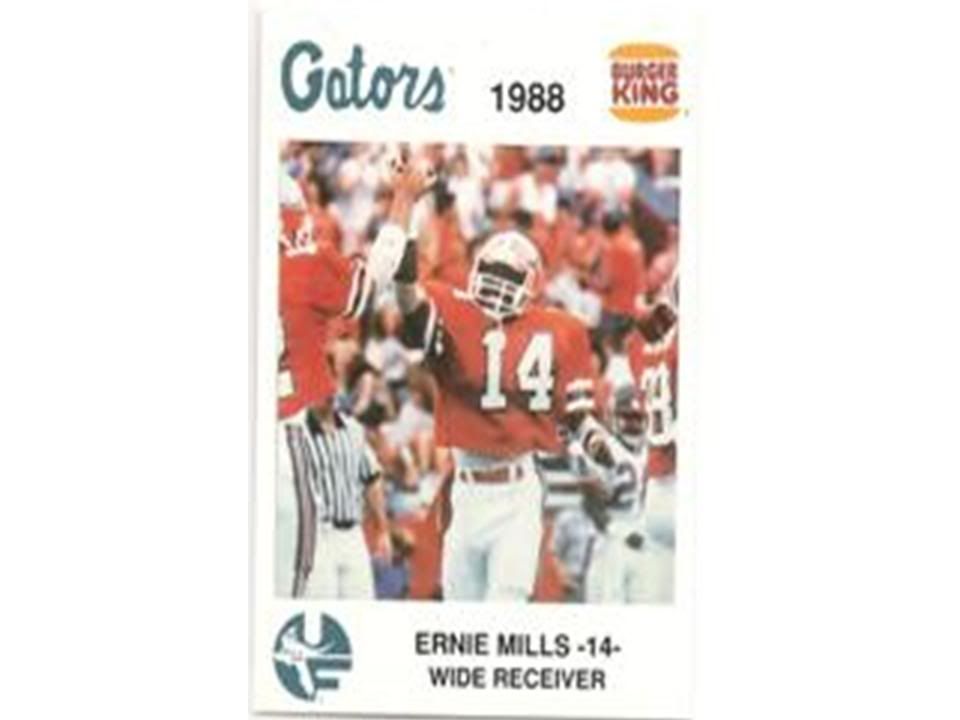 Mark Murray
1986-1990 Defensive End teamed with Huey Richardson to give the Gators a pair of bookend Defensive ends. His 17 career sacks rank among the top 10 Gators all-time
Willie McClendon
1988-1991 Tailback a highly touted prospect who never quite lived up to his billing, McClendon often had problems holding on to the ball. He was an effective runner though
Kirk Kirkpatrick
1986-1990 Tight End One of the better pass catching Tight Ends in Gator history, Kirkpatrick was finally given a chance to shine in Steve Spurrier's pass oriented Offense in his Senior season. He made the most of the opportunity by hauling in 55 catches which remains a single season record for Gator Tight Ends.
Godfrey Myles
1987-1990 Outside Linebacker Myles was a superb athlete with excellent speed. He and good friend Tim Paulk who were high school teammates insisted that they were a package deal for any school considering them. Florida was more than happy to take that package. Myles went on to play 6 years in the NFL
William "Big Nasty" Gaines
1989-1993 Defensive Tackle a very big and physically imposing Tackle, Gaines unfortunately suffered a knee injury which set back his progress while at Florida. He went on to a 4 year career in the NFL
Harrison Houston
1990-1993 Wide Receiver a very quick little slot receiver with good hands, Houston was a dependable performer for the Gators.
Reggie McGrew
1995-1998 Defensive Tackle McGrew was a key contributor from 1996 to 1998, including being a big part of the defense as only a redshirt freshman during the 1996 national championship season. He was named a freshman All-American that year and rewarded as the Gators Outstanding Freshman of the year.a First round draft pick, he went on to a 4 year NFL career.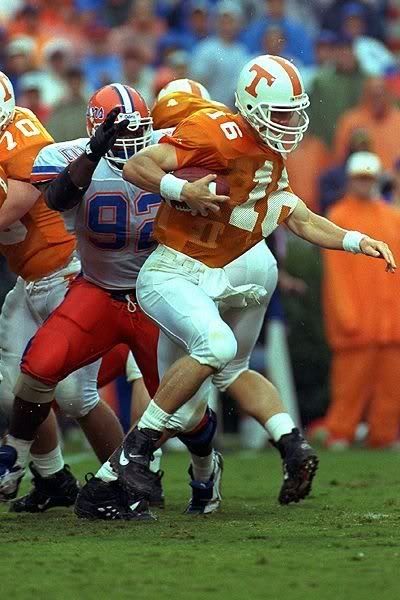 Aubrey Hill
1990-1994 Wide Receiver Hill was a never a fulltime starter but was a productive player often being used on 3rd down situations with many of his catches resulting in first downs for the Gators
Mo Collins
1996-1997 Offensive Tackle a 3 year starter who was a first round selection in the NFL draft after his Junior season. He enjoyed a 6 year career in the NFL
Fee Bartley
1988-1991 Outside Linebacker named all SEC in 1991 he played one season in the NFL
Will White
1989-1992 Free Safety named all SEC in his Sophomore, Junior and Senior seasons.

Glen Neely
1987-1990 Offensive Tackle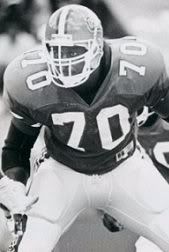 Anthone Lott
1993-1996 Cornerback A 4 year starter for the Gators, he earned all SEC honors as a Junior and Senior
Dexter Daniels
1992-1995 Middle Linebacker A 3 year starter who earned all SEC honors as a Senior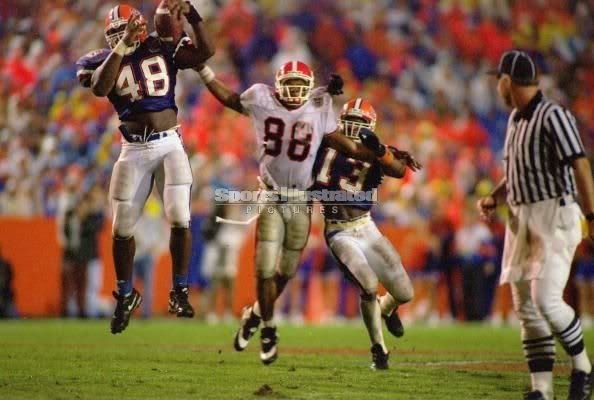 Teako Brown
1996-1998 Free Safety A solid 3 year starter who was named all SEC as a Senior in 1998
James Bates
1993-1996 Middle Linebacker Injury plagued early in his career, Bates overcame the injuries and was a key starter his last two seasons earning all SEC honors as a senior in 1996
Hesham Ismael
1987-1991 Offensive Guard - a lesser rated prospect who blossomed into a 3 year starter and an all SEC performer for the Gators
Mark White
1987-1991 Offensive Tackle – considered to be a throw in along with HS teammate Emmitt Smith, White developed into a very solid 3 year starter at UF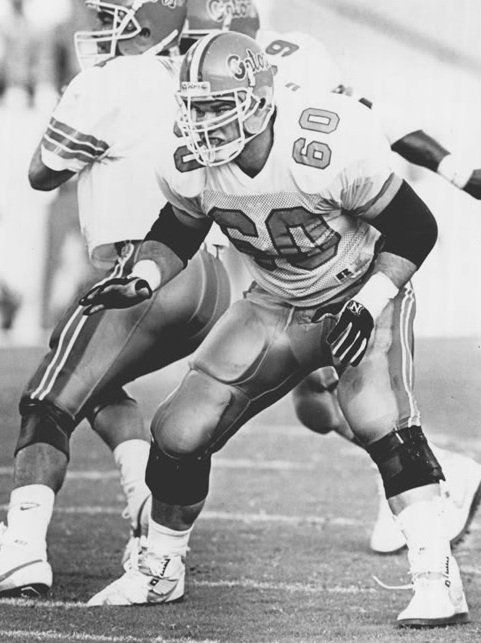 Terence Barber
– 1987-1990 Wide Receiver a highly touted prospect Barber turned out to be a solid performer at UF blossoming in 1990 with the advent of the Fun n' Gun Offense
Gators 1991 Uniform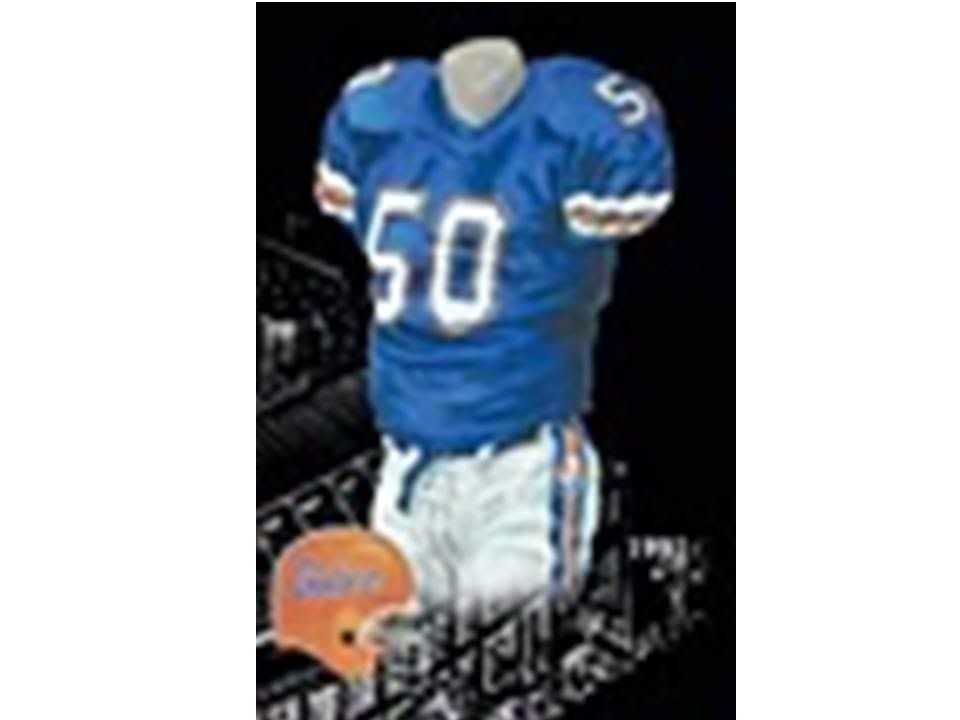 Gators 1996 Uniform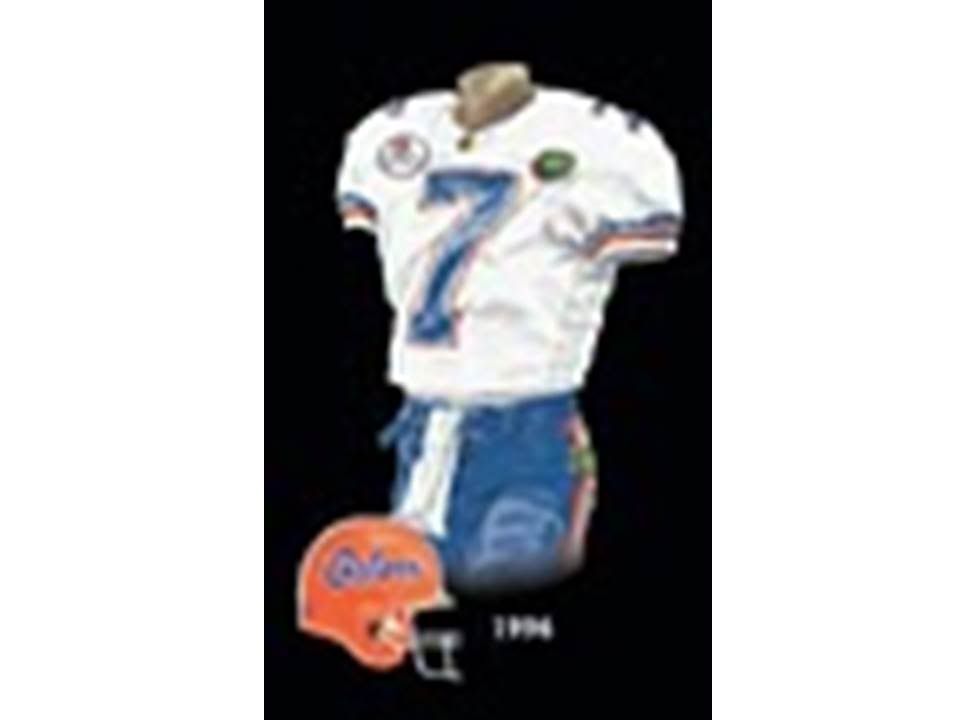 Gators 1996 National Championship Team Photo

1997 Sugar Bowl
vs fsu 52-20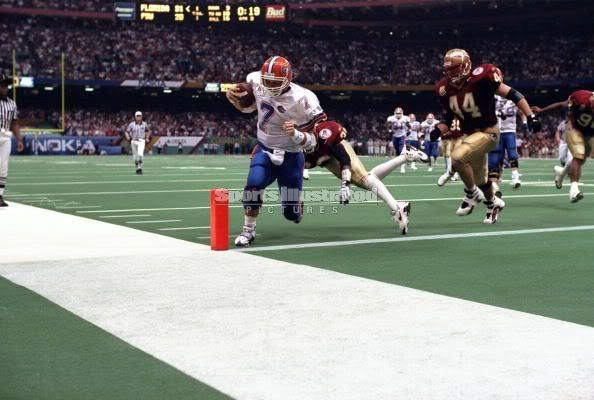 The Swamp

The Swamp Only Gators Get Out Alive
Albert and Alberta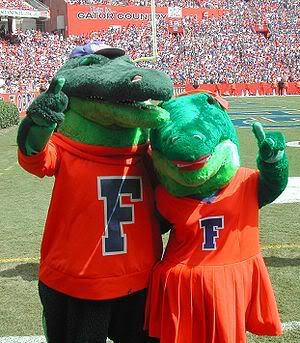 1996 National Championship Trophy